5 Best Antivirus Apps for Android 2021
Just like computers, our smartphones also need protection from malware. Malwares pose a big challenge to Android users and what can address this challenge is to install an antivirus app on your device. Most antivirus apps do more than just detecting and removing malware. They also help in anti-theft protection, WiFi security, blocking malicious websites and more. In this article, we explore the best antivirus app on the market.
1. Bitdefender Mobile Security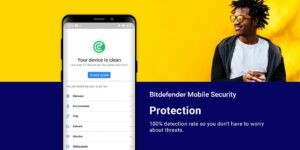 Bitdefender has a solid malware protection and a host of other useful features. The app features malicious website blocker and a VPN client all for your security needs. It boasts of tools to protect your privacy like app lock, WiFi scanner, and anti-theft features. The Bitdefender app with all of these features is a premium app that requires subscription. The free version only scans for malware. You can use the VPN client freely at a cap of 200MB to do some minimal browsing. If you want more than that, you'll have to shell out some money. Overall, Bitdefender is a solid app and one of the best Antivirus apps for Android.
Download Bitdefender Mobile Security
2. Norton Mobile Security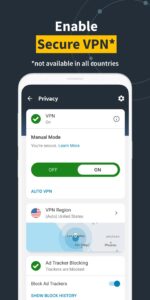 If you want a whole lots of security features in an antivirus app, then Norton is a good choice for you. Norton boasts of an App Advisor that checks apps for any privacy risks. Powered by Norton Mobile Insight, it also vets other apps behaviours like heavy battery usage. It is top-notch antivirus app as noted by AV-Test findings. Not only are the features above there, it also features call blocking that blocks spam calls, anti-theft features that help you when you lost your device, WiFi security that protects you from insecure WiFi network. You have excellent security at your disposal with Norton.
Download Norton Mobile Security
3. Avira Antivirus Security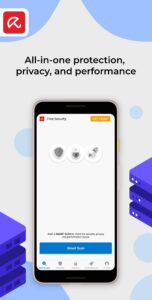 For an excellent antivirus, choose Avira Antivirus Security. The virus detection and removal app comes bundled with lots of useful features. It is able to detect viruses, trojan and spyware and subsequently remove them. It boasts of other features like Anti-theft protection, app privacy scanner, App Lock and VPN. With its anti-theft feature, you can track your phone in real time when stolen. Avira also works well to check apps on your phone and ensure privacy. If you want more features like Anti-Phishing protection, password manager, you'll need to upgrade.
Download Avira Antivirus Security
4. McAfee Mobile Security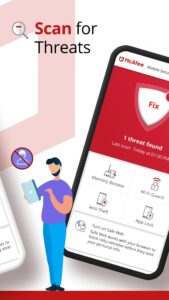 McAfee Mobile Security is loaded with tons of great features. One of such features is the McAfee Anti-theft protection tool. The anti-theft tool is very much robust. It features Capture Cam which snaps a selfie after 3 failed PIN entry. It can also wipe your phone data and you can trigger an alarm in the case of theft. That's not all; McAfee also has real-time malware protection, an app scanner, and device optimization tools. If you want more features, you can go for McAfee Mobile Security Standard which boasts of file backup tools, app locking tools or McAfee Mobile Security Plus which features an advanced ad-blocker.
Download McAfee Mobile Security
5. AVG Antivirus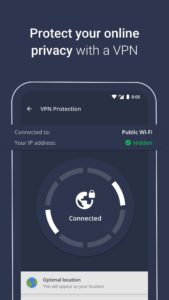 AVG is a capable antivirus app that has been proven to deliver excellent protection. It has a solid antivirus engine that protects your phone from even the most stubborn viruses. Not only does it have antivirus features, it also boasts of anti-theft tools which you can use to locate or wipe your lost phone. All these you get for free. However, if you want more advanced features, you can pay for the pro version which has even more features such as a Photo Vault, an App Lock, and WiFi security scanner.
Rounding Up…
It is very important to have an antivirus app installed on your Android device. Given the increasing rates of malware attacks, you want to stay protected of course. We hope you found this guide helpful? If you did, kindly leave a comment and don't forget to share.
You can also check out
How To Edit A Zoom Recording
How to Change your Background in Zoom
How to Change Your Name in Zoom Before a Meeting
How to Change Your Name in Zoom During a Meeting
How to Add Photos on TikTok
How to Know Those That Viewed Your Profile on TikTok
TikTok: How To Edit A Video Caption After Posting
How to Check NIN on MTN, Glo, Airtel and 9mobile
DStv Subscription Package, Prices with Channels
Startimes Subscription Package, Prices, And Channel List For Each Plan
GOtv Subscription Package GOtv Max, Jolli, Jinja and Lite Channel List and Price
GOtv Assigned Channel Number with Channel
GoTV Customer Service Contact, Social Media Handle & Email Address
StarTimes Customer Care Contact, Social Media Handle & Email Address
Top 5 Best Web Browsers for Android
Top 5 Best Music Player Apps for Android
Top 5 Best Alarm Clock Apps for Android
Top 5 Best eBook Reader Apps for iPhone and iPad
Top 4 Best VPN Apps for iPhone and iPad
Top 5 Best Apps for Monitoring Data on iPhone and iPad
Top 5 Best Translation Apps for iPhone and iPad
Top 5 Best Alarm Apps for iPhone and iPad
Top 5 Best Calendar Apps for iPhone and iPad
Top 5 Best Photo Editing Apps for iPhone and iPad
Hope with this, you have learnt the 5 Best Antivirus Apps for Android 2021.
Please share and like below, also comment below for any problem faced or encountered.