5 Best Photo Editing Apps for iPhone and iPad
Your iPhone comes with a camera, no doubt, but it is unlikely that you would upload an unfiltered photo to Instagram just like that. These days, everyone want their photos to look better and it really should. But the camera or photos app on your iPhone is limited when it comes to editing tools, that's why you should go for a third-party app that will make those photo of yours look better. We've gathered the 5 best photo editing apps for iPhone from the App Store.
Best Photo Editing Apps for iPhone and iPad
1. Snapseed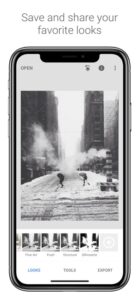 Snapseed is one of the best photo editing apps for iPhone and iPad. It is very easy to use and has an extensive set of editing tools. One great thing about it is that it is free to download and use. Both novice photographers and experts can use the app as it is suited for both. The tools included in Snapseed enables you to crop, straighten and rotate photos. You can also improve exposure, sharpness and colour. With selective tools and brushes, you will be able to edit, adjust and tweak certain areas of your photo. The healing tools does justice to helping you remove objects from images. Snapseed has the Portrait tool, which is useful for creating perfect portrait photos with sparkling eyes and smooth eyes. There are various filters available to make you photos have certain feel and moods. You can use these filters to make your coloured photos black and white, or make them have a vintage look.
2. VSCO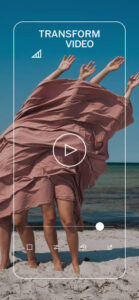 VSCO has set of features for camera, editing and, even an online community. The app is loaded with tons of filters. The free app has a host of beautiful filters that will bring about different moods in your photos. VSCO brings soft and subtle filters that will give your photos class. You can tweak things with adjustable sliders. In the app are the standard editing tools you should find in every photo editor: borders, cropping, adjustments, and vignettes. It is also possible to use VSCO to adjust skin tones, temperature, exposure and contrast of your photos to make them look better. When you're through with your editing and pleased with the result, you can share with VSCO community or an external social network like Instagram.
3. Instasize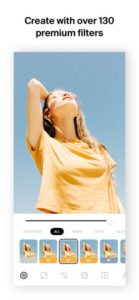 When you need to do photo editing, you can trust Instasize to get the job done for you. With it having many features in a single app the app has been termed an "all-in-one" app. The app offers powerful features such as an expansive set of filters, retouching tools, resizing options, photo frame packs, video editing, and much more. With an intuitive design that's easy to navigate, newbies will not find it difficult to use the app. The app boasts of 100+ filters that will improve the look of any image instantly. There are various resizing options that allow you to crop, scale and transform photos. You can make use of the over 10 photo adjustment tools (sharpness, contrast, brightness, etc.) present in Instasize alongside the 6 retouching tools ( blemish remover, glow enhancer, and more.
4. Adobe Lightroom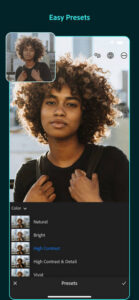 Adobe Lightroom is a powerful photo editing app for iPhone and is suitable for professional photographers. It is one of the mobile photography apps that allows you to edit, view and organise many images. The app features a powerful camera that's capable of shooting photos in RAW so that you can use your smartphone to tweak the aperture, exposure and other attributes. There are various filters that works to add effects with just a single tap. The premium version of Lightroom has more advanced tools like selective adjustments, healing brush, cloud storage, and more. There are also professional-grade features like curves that allow you to adjust colour, exposure, contrast and tone.
5. Afterlight 2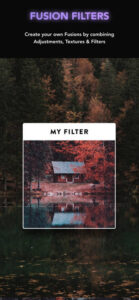 Even though After light 2 is very comprehensive, it is still an easy to use photo editing app. The app possesses the standard editing tools such as exposure, crop, sharpness etc. It isn't limited to these tools, but offers advanced tools like curves and selective colour. They allow you to make the most out of the colours and tones of your images. With the filters and overlays present in After light 2, you will be able to improve the mood of your photos. There are basic filters in the app, but you can add more for free. You can use the customisable text options to add text and even graphics to your images. With the double-exposure tool, you can blend photos together to make a unique result.
You can also check out
Top 5 Best Music Player for iPhone and iPad
Top 5 Best eBook Reader Apps for iPhone and iPad
Top 4 Best VPN Apps for iPhone and iPad
Top 5 Best Apps for Monitoring Data on iPhone and iPad
Top 5 Best Translation Apps for iPhone and iPad
Top 5 Best Alarm Apps for iPhone and iPad
Top 5 Best Calendar Apps for iPhone and iPad
Hope with this, you have learnt the 5 Best Photo Editing Apps for iPhone and iPad.
Please share and like below, also comment below for any problem faced or encountered.