5 Best Translation Apps for iPhone and iPad
Your iPhone can do many things. That little computer in your pocket can let you take photos when you travel to Korea and it can also help you translate words that the Koreans speak. With a translation app, you can have languages you don't understand translated. We have here 5 best translation apps for iPhone.
Best Translation Apps for iPhone & iPad
1. Google Translate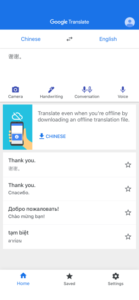 Google Translate is one of the best apps for translation and it is also a popular one. The app supports over 100 languages. On the home screen of the app, you'll see the source and target language at the top. To start the translation process, first tap the language you are translating from and the the one you're translating to. You can then type, speak or draw the words you want the app to translate for you. It is also possible to do real-time conversation with translation by employing a special Conversation mode. If you typed or drew the words, tap the arrow beside the translation. Next, tap the speaker icon and the app will read it aloud. If you spoke the words, Google Translate will read aloud the words.
2. Microsoft Translator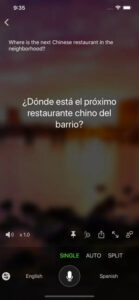 Microsoft Translator was created by the tech giant as you would have known from the name. With high rating on the Apple App Store, this translation app boast of many impressive features. One feature that speaks of it's awesomeness is the superb quality of the conversation mode. The app does transcribes speech between multiple parties in real-time. What this means is that, your conversation is translated instantly. The Translator app can do text-to-text translation in 60 languages and speech translation to text in 11 languages. With the camera translation option, you can translate text in picture. The app can be used offline and you can employ the in-built phrasebook when you want to check for popular categories.
3. SayHi Translate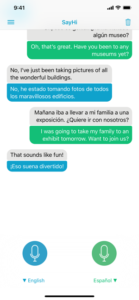 SayHi is popular for making speech translation that are accurate. The app mixes language and dialect to provide more accurate translation. The app is able to do different international versions of English, Spanish, French, Arabic, and more. If you need to translate specifically from Portuguese, or Egyptian Arabic, then you may need to consider another app like iTranslate. The downsides of the app include its inability to save phrases, lack of offline translation, and lack of more convenient features that its rivals pack.
4. iTranslate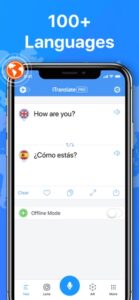 iTranslate is another best translation app for iPhone. The app can translate text in over 100 languages and do speech translation in 40 languages. The app is one of the leading translation apps on the Apple App store with robust set of features. It also has a language dictionary in the package. Aside text-to-text translation and voice-to-voice translation, the app also lets you do voice-to-text translations. The handy tool will help you in communicating when you travel to different parts of the world. iTranslate boasts of other useful features such as transliteration, translation sharing, male and female translation, etc. There is also a phrasebook in it. If you upgrade to premium, you'll be able to access the camera translation, website translation, offline mode features, and more.
5. TripLingo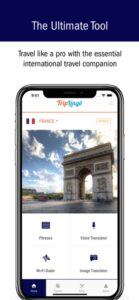 If you love travelling, then you should take TripLingo with you. TripLingo is one of the best translation app on the market. The app was designed to help travelers minimise confusion and miscommunication. The app is able to translate text, image, and voice in 42 languages and can even distinguish between speech that are formal and the ones that are informal. The app also contains courses that teach you about social etiquette and local customs. If you're a business traveler, you'll sure find the app useful when dealing with receipts. The receipt translation feature will translate receipts into your preferred language after you have captured them with your camera. The translated version of the receipt can be saved to a PDF file. There are other set of features that make the app interesting to use. If you get lost in translation and need help from a live translator, you can pay a fee and connect to the translator via TripLingo who will help you out.
You can also check out
How to Download YouTube Playlist using a Download Manager
View Milliseconds in VLC Media Player
How to Download Facebook Video using a Download Manager
How to Unlock Your Android Device if your Forgot the Password
How to check BVN on MTN, Glo, Airtel and 9mobile
How to Download Facebook Private Video using a Download Manager
Hope with this, you have learnt the 5 Best Translation Apps for iPhone and iPad.
Please share and like below, also comment below for any problem faced or encountered.