Standing fan are popularly used in homes and offices in Nigeria. The reasons are not far fetched; they are convenient, flexible, and effective in their operation. You can find them in almost every home or office. Standing fans come in different sizes, quality, and number of blades. There are even standing fans that are rechargeable, so that you can still be cooled even if there is no electricity. There are even some that are recharged by solar power.
One of the advantages of a standing fan over a ceiling fan is that the former is capable of covering much wider areas than the former. Also, standing fans are flexible. You can direct the airflow towards any area you want. Standing fan allows you to control the speed, and you can even do it with a remote, depending on the type of standing fan you purchase. Standing fans come in different specifications, so you will need to decide which fits your needs.
What to Consider Before Buying a Standing Fan in Nigeria
Standing fans are readily available and sold in market all over the country. However, you need to know the right fit for you. Standing fans come in various sizes, quality, ease of use and more, and so you can get confused as to which is best for you. However in this section, we will look at what you should look.out for when buying a standing fan.
Your Budget

: You need to know your budget and determine the standing fan that fits into this budget. You will need to know the intended purpose of buying the fan, so that you can determine what fan you want to go with, and if it matches your budget.

Intended purpose:

Because different fans are made to fit into different environments, it is important to know why you're buying the fan. What is the purpose for the fan? Is it for your home or your office? If it is your home, is it for your bedroom or the sitting room?

Rotational speed and standing height

: When selecting a standing fan, you also want to look at the way it rotates, and how it stands. A fan that tilts forward or backward won't be the best. You also want a fan with a high speed.
Other things to consider are:
The brand.

The durability

The number of inch of the fan

Type and number of blades

Easy mobility of the standing fan

The warranty on the product
1. Binatone 16-Inch Powerful Super Cool Quiet Standing Fan A-1691 (₦21,000)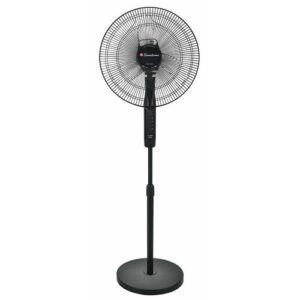 Features
40 CM (16″)

High-efficiency blades

Swivel and height adjustment

Silent & breezy

128-rib safety grill

1.5M height
Checkout Lowest Price
Nexus 18″ Standing Fan NX-SF5400B (₦18,900)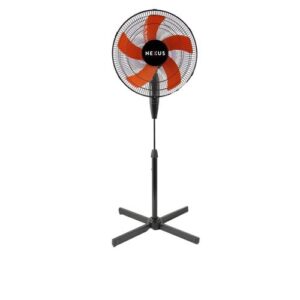 Features
18 inches

Stand Fan: 3-speed Selector

3 High-Efficiency Aluminium Blades

2 Metre Height Heavy Duty Motor

Single-Phase Power Supply

Heavy Duty

Silent and Breezy
Checkout Lowest Price
Century 18″ Inches Rechargeable Fan With Five Blades (FRC 45-E) (₦ 40,900)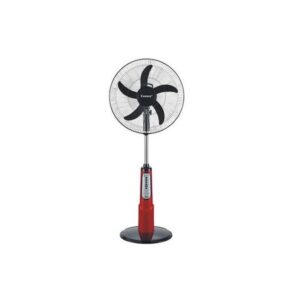 Features:
5 Blade Technology for Superior Airflow

9 – 12 hours battery life

Automatic Oscillation

USB port for mobile device charging

Five blade technology for superior airflow

Bright led lights

Charging & full charge indicator light

Battery capacity indicator light

Discharge & overcharge protection

Touch & tilt nec

Extra low noise & durable motor
Checkout Lowest Price
Qasa 18-Inch Rechargeable Standing Fan With 20w Solar Panel (₦ 55,000)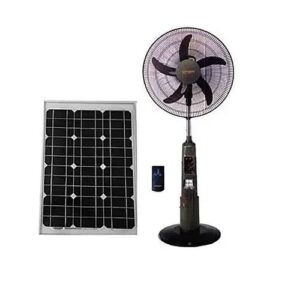 Features
Adjustable height

DC input socket

USB charger

LED night light

Rated power:02

Duration time:

Rechargeable battery:

Fan size: 18"

Fan speed: High /Middle/Low

Remote Control Included
Checkout Lowest Price
OX Plus 18″ Stand Fan (₦ 13,690)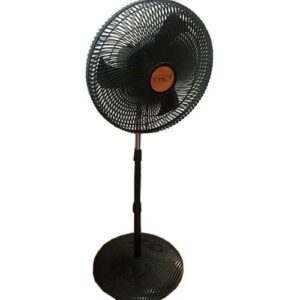 Features
18 Inch Fan

Rust free blade and net/guard

Elegance base

Easy to couple/assemble

Cost effective

High quality
Checkout Lowest Price
Nexus 16 Inches Standing Fan (NX 4400B) (₦11,000)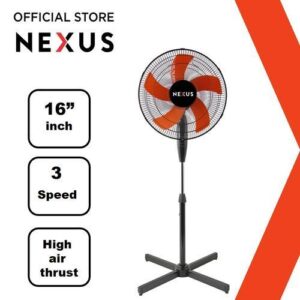 Features
​16 Inches

5 Fan Blades

Built in power cord

Speed selector

Strong electric motor

Single phase power supply

Oscillation control knobs

Color: Black
Checkout Lowest Price
Binatone 1.6 Metre Stand Fan (ITAL 1660) (₦ 36,810)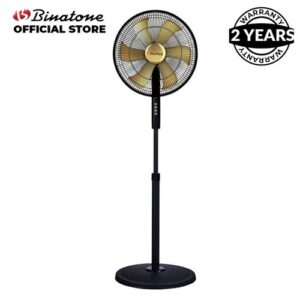 Features
High efficiency blades

Super high performance

3 speed push button selector

Swivel and height adjustable

Silent & breezy

Elegant design

128 rib safety grill

Long life motor
Checkout Lowest Price
Rounding Up…
Standing fans like we have seen are more convenient to use than ceiling fan. They blow more air, are mobile, and flexible in their operations. However, there are a lot of standing fan manufacturers in the market, and choosing the right standing fan can be difficult. That is why we have highlighted the best that you can buy. We hope you found this helpful? If you did, kindly leave a comment, and don't forget to share