5 Best Alarm Clock Apps for Android
In the mornings, you've got to push yourself up from the bed to get started for the day. This is a challenge for many people because sleep can take a better part of them. What's worse is when we hear the alarm, and stretch our hands rather unconsciously to slam the snooze button just to continue with those dreams. If you're the type that finds it difficult to get up and prefer to hit the snooze button as many times as possible, we've made this post for you. Here, we have a rundown of the best alarm apps for Android.
Best Alarm Clock Apps for Android
1. Alarmy (Sleep If U Can)
If you want to defeat your habit of turning off the alarm so as to continue your sleep, then you should have this app on your phone. The app is popularly known as the most annoying alarm clock app for Android as it has an outstanding method of waking its users. You have to solve a puzzle or complete a certain task before the alarm can be turned off. It is possible to adjust the difficult levels of these tasks and challenges. So if you're the type that's so stubborn desiring to sleep, you can set the difficulty mode to the toughest, and your eyes would be open trying to solve the challenges. Additionally, the app also features news, and weather check.
2. Alarm Clock Xtreme & Timer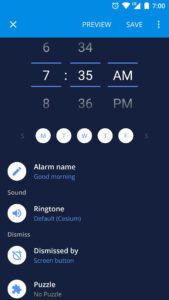 If you find yourself hitting the snooze button and getting away from the intent of an alarm clock, Alarm Clock Xtreme & Timer is designed to help you combat this. By solving maths problems and other challenges, you won't even have the chance to lie down back on bed and doze off. Alarm Clock was built with a purpose to help defeat excessive usage of snooze. The app will reduce the time between snoozes, so it's not what you will expect. The alarm is designed to wake you up with gradually increasing volume. Snooze can be triggered by either pressing the side buttons, shaking the phone, pushing the screen or solving some maths. There are other features in the package: a stopwatch, sleep tracker and timer.
3. Snap Me Up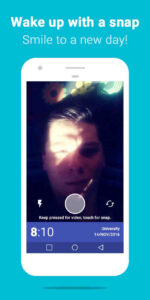 What if to wake up involves you taking a selfie of yourself? Does that sound interesting or do you think it would get you out of bed? Snap me Up helps you achieve waking up by prompting you to take a photo of your sleepy face. You may not be glad sharing those faces, but Snap Me Up requires that you take the selfies. To stop the alarm, you have to snap a selfie. When the alarm is dismissed, the app will ask that you go to a lighter area to take an early morning selfie, and you can share this photo with the world. This is a fun way to wake up early which is different from the usual way alarm clocks wake users up. A dream diary is also included in the app.
4. Sleep as Android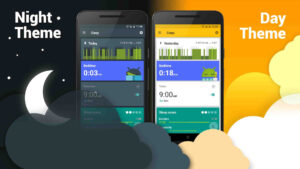 Sleep as Android is basically a sleep tracking app. It monitors and studies your sleep pattern throughout the night and gets you up at the best time with a gentle alarm sound. The sleep tracking feature can be activated by turning on sleep mode and putting the phone close to you on the bed. Just like the other apps we mentioned on this list, you can set options for setting up puzzles and tasks. One of the best thing about this app is that it can work with wearable devices such as Optional Pebble, Android Wear, Galaxy Gear, Google Fit, Samsung S Health. It also supports Philips Hue smart bulbs and Spotify.
5. Alarm Clock for Me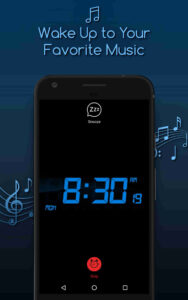 Alarm Clock for Me focuses on customisation, making available themes that replicate digital digits, with names such as Odometer, C-Motion Clock, Ultrasonic, Retro, Digital, Worky. When you first launch the app, it will request that location be turned on, so that you can have access to weather updates. The app is loaded with a full bunch of alarm options such as various snooze options, using your own music, a shake-to-turn-on-flashlight option, a timer, and more. This alarm clock app also supports background alerts so that the alarm rings even if it is not running during the nights. It is also ad-supported.
You can also check out
How to Download YouTube Playlist using a Download Manager
View Milliseconds in VLC Media Player
How to Download Facebook Video using a Download Manager
How to Unlock Your Android Device if your Forgot the Password
How to check BVN on MTN, Glo, Airtel and 9mobile
How to Download Facebook Private Video using a Download Manager
Hope with this, you have learnt the 5 Best Alarm Clock Apps for Android.
Please share and like below, also comment below for any problem faced or encountered.