5 Best Web Browsers for Android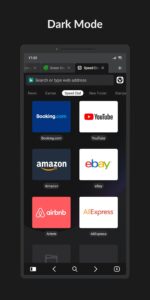 Browsing the internet on your Android can't be done except you have a web browser installed. A good web browser will be one that meets your need whether in the area of customisation, privacy, or something else. Now there are a bunch of good ones on the Google Play Store, but how do you know which is best? Here, we'll take a look at the best.
Best Web Browsers for Android
1. Google Chrome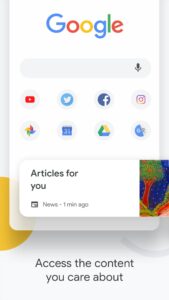 This browser from Google offers great features and optimum performances for web browsing. Available on Android, the app works on all Android devices. The web browser is developed to be fast and very secure. Google translate comes with the app which is a bonus when visiting sites with languages you don't understand. With Google Chrome, you can have your favourite website pinned on your homepage for fast access. The browser updates saved bookmarks and performs catching of searching words curated from previous browsing history, so that there is no need for you to type them fully. It has a syncing feature that lets you have access to your saved passwords across all your other devices. The browser has integrated into it voice search which you can use to search for things by making commands. There also safe browsing on the browser and with end-to-end encryption, you can be rest assured of security. Chrome helps maintain privacy for you by providing incognito browsing.
2. Opera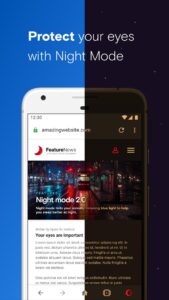 Opera is one of the best Android browser that even has a desktop version. Opera boasts of a data-saver mode that compresses videos and web pages also. This makes pages load faster and reduces the rate at which data is consumed. So, if you don't have an unlimited data plan, the browser will help you conserve your data. There's also a built-in free VPN in Opera and you get a virtual IP too. These features help you in achieving online privacy, though you can't use both the VPN and data-save mode simultaneously. Comparing Opera to other browser, Opera is the fastest with only Chrome surpassing it in speed.
3. DuckDuckGo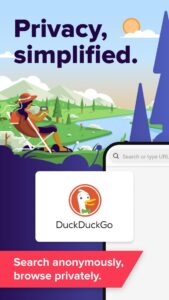 If you're interested in privacy, then DuckDuckGo is the go to browser. The developers made the app with privacy in mind. DuckDuckGo works in contrast to Google in this regard. The company behind the browser says it will block any hidden third party trackers that comes along to disturb the privacy of your browsing session. The browser is also equipped to make known to you the major advertising networks that are on a mission to track you. Sites you visit are made to use an encrypted connection where available, so you privacy is not tampered with. DuckDuckGo also claims that the browser will never keep track of your browsing activities.
4. Firefox Focus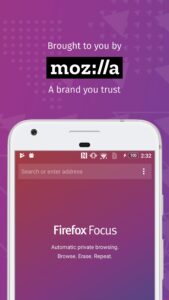 Firefox is suited for general-purpose browsing, but it is also security inclined. The simple and streamlined interface hides ads, displays the number of web trackers that are blocked on every page you load, and gives you alert to remind you to delete your browsing history. With Firefox Focus, you can have security and privacy with the knowledge that ad-tracking programs cannot get you and disturb your surfing. The browser is also space-conscious and if you own a phone with limited space, it is suited for it. The download just takes about 4MB space on your device.
5. Vivaldi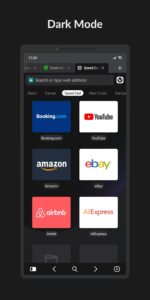 Vivaldi for desktop has tons of customisation settings but the Android version has focus on features that makes it standout from other Android browsers. On the main screen of the app are speed dials and quick launchers which add an appealing look to the interface. If you're the type that conducts online research, the Notes tab, the Clone tab option, and the native full page screen capture with prove handy to you. Aside the search engine which you set as default, you can also switch to another search tool by inputting the first letter of its name in the address bar.
You can also check out
How to Download YouTube Playlist using a Download Manager
View Milliseconds in VLC Media Player
How to Download Facebook Video using a Download Manager
How to Unlock Your Android Device if your Forgot the Password
How to check BVN on MTN, Glo, Airtel and 9mobile
Hope with this, you have learnt about the Top 5 Best Web Browsers for Android.
Please share and like below, also comment below for any problem faced or encountered.