5 Best Alarm Apps for iPhone and iPad
Waking up early can play a major role on your outcome in the day. A lot of people find it difficult to wake up early and sleep which is therapeutic can also be problematic when excessive. So how do you combat excessive sleep and wake up at the right time? Alarm apps will help you achieve this. Below is a rundown of the best alarm apps for iPhone.
Best Alarm Apps for iOS and iPadOS
1. Bedtime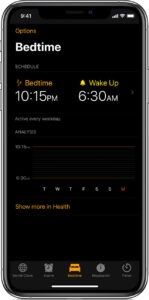 Your iOS device probably came with this one. The latest versions of iOS come with Bedtime. Bedtime is a little alarm clock that has a sleep tracker also in the package. The Bedtime tab is available within the standard iOS clock app. When you launch it the first time, you will be asked the time you want to wake up and the amount of sleep your body needs. The app proceeds to calculate your ideal bedtime and notifies you when that time is coming. It is possible to change your wake time with the clock interface. You have the option to choose specific days for your Bedtime alarm, but it's not possible to choose different alarms for different days – which is one feature that advanced alarm apps have.
2. Sleep Cycle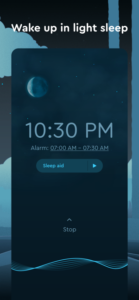 Sleep Cycle helps you to get quality rest. The sleep analyzer app relies on your device's accelerometer and microphone to monitor your snoozing and calculates the best time (during your lightest sleep period) and the best way to wake you up. You will know how quality your sleep is, as the app compares it to that of the other users of the app. If you still want to sleep more, you can tap snooze or pick up the phone. However, the snooze gets shorter each time you do this and that's if you enable the Intelligent Snooze feature. You can sync your data into the Apple Health app, and the app can communicate with Phillips Hue smart bulbs to brighten at wake time, just like the way sunrise does.
3. AlarmMon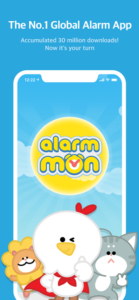 If you want your mornings to begin with a bunch of cool stuffs, then AlarmMon was made for you. The alarm clock employs varieties of stickers and cartoon characters to aid you in waking up. You can use any or the alarm options ranging from noisy or quiet alarms to the types where you have to play games and work with characters. The app not only has alarms as one of its features, it can also give you weather and news update at the end of your alarm. An interesting feature of AlarmMon is that it will track your alarm behaviour, monitoring and logging how long it took you to snooze and turn off alarms.
4. Alarmy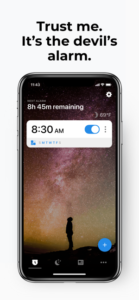 Alarmy is known to be the "world's most annoying alarm" by users all over the world. If you're the stubborn type that only wakes up to turn off the alarm so that you could go back to sleep, then Alarmy was specifically made for you. Using Alarmy requires you to solve a particular task to turn off the alarm. The app's alarm can been turned off by solving a math problem or shaking your phone. If you want it tougher, to force you out of bed, you can set the mode to one that requires you to snap the picture of a particular area of your house so that the alarm goes off.
5. FreakyAlarm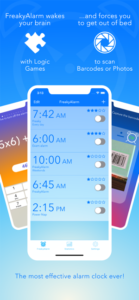 FreakyAlarm was designed with a goal to wake you up to be active, mentally and physically, instead of being lazy to wake up. With respect to that, the app boasts of minigames and annoying sounds coupled with a wake-up music and alarm clock mix. The aim is to ensure that you're active enough to solve basic logic problems before hitting the snooze button. You can set the randomize option to prevent the alarms and games from being repeated. You can also set the alarm app to require a photo to be taken before the alarm is disabled.
You can also check out
Top 5 Best Music Player for iPhone and iPad
Top 5 Best eBook Reader Apps for iPhone and iPad
Top 4 Best VPN Apps for iPhone and iPad
Top 5 Best Apps for Monitoring Data on iPhone and iPad
Top 5 Best Translation Apps for iPhone and iPad
Hope with this, you have learnt top 5 Best Alarm Apps for iPhone and iPad.
Please share and like below, also comment below for any problem faced or encountered.