How to Uncompress Archive Files
There are various reasons why you may want to archive files. Maybe to have a compact folder or to reduce the size of large size of files. There are many types of archive file formats including the more popular ones like .zip, .rar, .7zip. They can be extracted or uncompressed to help reveal the files which can further be used for whatever you want to use them for. In this post, we guide you on how to extract archived files on the major operating systems.
Extracting RAR Files on a Windows
1. Extract via WinRAR
A very suitable software for extracting .rar files is WinRAR. It features a 40-day trial period but even after that you can use the core feature for free indefinitely. Here's how to use WinRAR
1. Right-click the file you want to extract and select Extract Files… to launch the extraction options. You can click Extract Here so that all the files are uncompressed into the current directory.you can also select Extract to [folder name] to create a new folder with the .rar name for the extraction.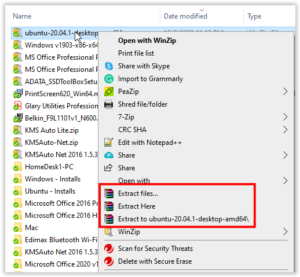 2. You can also click File and navigate to Open Archive. You'll be prompted to choose the .rar file you want to uncompress. Next, hit Extract to button.
2. Extract via WinZip
WinZip is another appropriate tool for uncompressing .RAR file. You have to pay for WinZip too, but it also has a trial version. But you must pay to access the core features after the free trial. You can use WinZip through the following steps:
1. Locate the RAR file and right-click on it. Use your mouse cursor to hover over the WinZip icon and from the menu that opens up, select "Unzip to"…, "Unzip to here" or "Unzip to folder [folder directory/name]."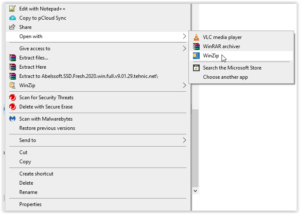 2. Double-click on the file in the explorer so that it opens in WinZip and you can then choose from the extraction options.
Extracting RAR Files on Mac
You can also use WinZip and WinRAR we discussed above on Mac by downloading the macOS version. Mac also has a built-in Archive Utility software which can let you extract RAR files easily.
Extract Using Unarchiver
Unarchiver is a tool that can be downloaded free from the App Store. It offers more robust options than the native macOS archival tool. It also lets you work many kinds of archive file types.
1. Launch Unarchiver and select File from the menu.
2. Select an option: Unarchive to Current Folder, Unarchive to Desktop or Unarchive to. Locate the file you want to extract and hit Unarchive.
Extracting RAR Files on an Android Device
You would also be dealing with archive files on your Android. There are many apps on the Google Play Store that you can help you achieve this.
1. RAR
RAR is a robust tool for archiving, extracting and using basic file explorer functions. The RAR app boasts of many reviews and a decent rating. When you open the app, you'll see a file explorer that will allow you browse for files to extract and you can then use the extraction options.
2. ZArchiver
This is a simple app that helps you extract files from an archive and it works pretty well. Open the archive file in the app and specify the location you want to it decompressed.
Extracting RAR Files on iOS
The iPhone has an archiver built-in but this tool can only work for Zip files. You can only open RAR files and other files if you have a third-party apps.
iZip
With iZip, you will be able to extract archived files with RAR, Zip and 7Zip formats. To use iZip, do the following:
1. Launch iZip and select Document Browser.
2. When you've found the archived file, select it. You will see a prompt asking you to open it. Hit Yes.
4. Hit OK when prompted to unzip.
The files will be extracted to the folders you select.
Rounding Up…
Managing space hasn't been any more possible than archiving files. And there are a lot of format you can do this in. RAR is a popular option and in this post we have been able to help you know how to extract RAR files. If you found this post helpful, kindly leave a comment and don't forget to share…
You can also check out
How To Edit A Zoom Recording
How to Change your Background in Zoom
How to Change Your Name in Zoom Before a Meeting
How to Change Your Name in Zoom During a Meeting
How to Add Photos on TikTok
How to Know Those That Viewed Your Profile on TikTok
TikTok: How To Edit A Video Caption After Posting
How to Check NIN on MTN, Glo, Airtel and 9mobile
DStv Subscription Package, Prices with Channels
Startimes Subscription Package, Prices, And Channel List For Each Plan
GOtv Subscription Package GOtv Max, Jolli, Jinja and Lite Channel List and Price
GOtv Assigned Channel Number with Channel
GoTV Customer Service Contact, Social Media Handle & Email Address
StarTimes Customer Care Contact, Social Media Handle & Email Address
Top 5 Best Web Browsers for Android
Top 5 Best Music Player Apps for Android
Top 5 Best Alarm Clock Apps for Android
Top 5 Best eBook Reader Apps for iPhone and iPad
Top 4 Best VPN Apps for iPhone and iPad
Top 5 Best Apps for Monitoring Data on iPhone and iPad
Top 5 Best Translation Apps for iPhone and iPad
Top 5 Best Alarm Apps for iPhone and iPad
Top 5 Best Calendar Apps for iPhone and iPad
Top 5 Best Photo Editing Apps for iPhone and iPad
Hope with this, you have learnt How to Uncompress Archive Files.
Please share and like below, also comment below for any problem faced or encountered.