How to Manage your Privacy on Facebook
In a time when our smartphone are smarter that ever and social media is increasingly advancing in its technology, we find ourselves using social media platform than we even meet physically. Social Media platforms have made communication easier, faster and seamless.
When Facebook first got launched, little did the world know that it was going to dominate the social media space, and that's exactly what's happening. With it being one of the largest social media platform, the platform has brought communication to a new level.
At the core of Facebook features is the ability to make post, react and comment. If you're a user, you must have seen this being done often on the platform. The only issue is that you could have people whose comment can affect your sanity through their hate comments or annoying comments. So what do you do? Simply edit your privacy settings to avoid them. In this guide, we teach you how:
Edit Facebook Privacy Settings
You can edit your Facebook Privacy Settings to control what people see on your profile. Here's how:
1. First, you need to log in to Facebook. You'll need to go to the Settings menu. Do this by clicking the three horizontal lines icon at the top-most right, scroll down and then select Settings & Privacy.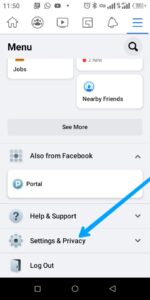 2. Tap Settings again when the menu opens up. Since you're interested in your Privacy Settings, Select Privacy.
3. In the Settings page, scroll down to the Privacy section. Here, you will be able to specify who can see your posts, and control & review tags among other options.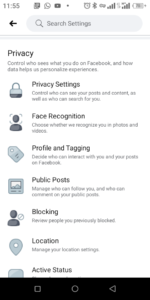 Edit Activity Settings
You can also control what others do on your timeline.
You can set your post privacy to "Only Me". By setting this option, you're the only one who will be only to view that post and also comment. You can change this settings whenever you like. Here's how to change the privacy for a particular post:
1. Tap the three vertical dots at the top of the post.
2. Locate Edit Privacy from the resulting menu. The Edit Privacy option allows you to choose the privacy of your post.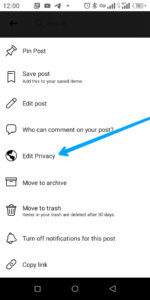 3. You can select any from 'Public', 'Friends', or 'Friends except…'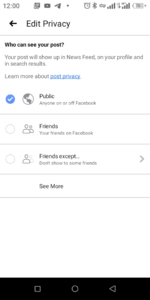 You can also turn off notifications for posts. Simply select "Turn Off Notifications for this Post". When people make a comment, you won't be alerted.
Review Post you're Tagged in Before they Go Live
You can also activate a settings that will allow you to review posts you're tagged in before they go live on your profile. This way, there will be a pending period for you to review them before those post are posted to your profile. You'll see the settings in the accounts settings page.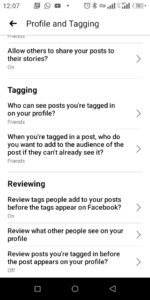 How to Delete Comments
Facebook allows you to manage comments by deleting them. If it's a comment you don't want, you can easily delete them. Here's how:
Deleting Facebook Comments in the App
1. Get to the particular comment, and press and hold on it.
2. From the menu that appears, tap Delete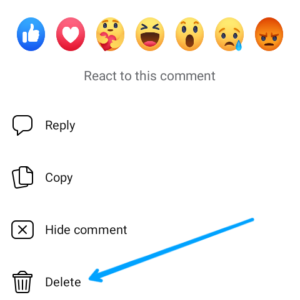 3. Confirm your action.
You will also see the option to hide comments here.
Deleting Comments from the Website
It is also possible to delete comments on the website version of Facebook.
1. Locate the particular comment.
2. Next, click the horizontal dots by the right side of the comment.
3. You'll see a menu that has the options: "Delete and Hide Comment". Select the one you want.
Rounding Up…
Managing your privacy on Facebook isn't s bad thing. In fact, it gives you control and peace of mind. Mental health is an important factor to consider when using social media, so you want to keep that in check. We hope you found this guide helpful? If you did, kindly leave a comment and don't forget to share.
You can also check out
How To Edit A Zoom Recording
How to Change your Background in Zoom
How to Change Your Name in Zoom Before a Meeting
How to Change Your Name in Zoom During a Meeting
How to Add Photos on TikTok
How to Know Those That Viewed Your Profile on TikTok
TikTok: How To Edit A Video Caption After Posting
How to Check NIN on MTN, Glo, Airtel and 9mobile
DStv Subscription Package, Prices with Channels
Startimes Subscription Package, Prices, And Channel List For Each Plan
GOtv Subscription Package GOtv Max, Jolli, Jinja and Lite Channel List and Price
GOtv Assigned Channel Number with Channel
GoTV Customer Service Contact, Social Media Handle & Email Address
StarTimes Customer Care Contact, Social Media Handle & Email Address
Top 5 Best Web Browsers for Android
Top 5 Best Music Player Apps for Android
Top 5 Best Alarm Clock Apps for Android
Top 5 Best eBook Reader Apps for iPhone and iPad
Top 4 Best VPN Apps for iPhone and iPad
Top 5 Best Apps for Monitoring Data on iPhone and iPad
Top 5 Best Translation Apps for iPhone and iPad
Top 5 Best Alarm Apps for iPhone and iPad
Top 5 Best Calendar Apps for iPhone and iPad
Top 5 Best Photo Editing Apps for iPhone and iPad
Hope with this, you have learnt How to Manage your Privacy on Facebook.
Please share and like below, also comment below for any problem faced or encountered.