How to Extract Images from PDF
Whether it's a book, or official document or form, PDF is a popular option for making these kind of documents. They are documents that can't be easily modified and can be conveniently shared. This makes it very useful for having information that can be accessed on several platforms and apps. You can even use a browser to open such documents.
A PDF may contain images and you may be interested in extracting those images. The problem is that extracting an image from PDF is not as straightforward as right-clicking and selecting "Extract" or "Save". However, we have steps here that can help you achieve that.
Extract Images from PDF Files Via Adobe Acrobat
Adobe Acrobat is a tool that can help you extract images from a PDF. The software will extract every image within every page of the PDF document. The good thing is that each image will be in a separate image file. Follow the steps below to achieve this:
1. Right-click the PDF document you're interested in.
2. Open it using Acrobat Reader.
3. When the software opens, navigate to Tools tab > Export PDF.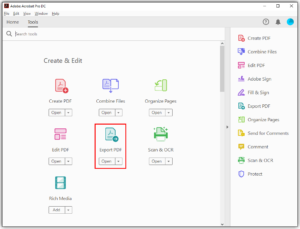 4. Choose from the image file format available.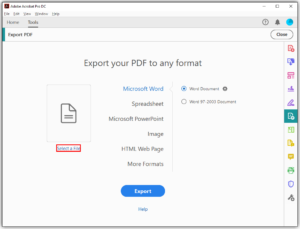 5. Next, click the gear icon.
6. In the Export All Images As window, specify settings that you prefer.
7. You can also specify settings under Extraction settings. You can dictate image sizes to be exempted or if you want to extract all images, select No Limit.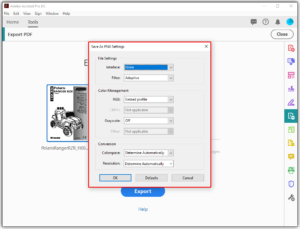 8. Click OK to go back to Export Your PDF To Any Format window.
9. Next, extract the images.
This is a great solution for getting pictures from that PDF. The only issue with this method is that you may not be able to select a specific picture to be extracted.
Extract Images from PDF Via PkPdfConverter
PkPdfConverter is a software that is useful for saving image from a PDF. It is a lightweight portable program that you can use directly from a flash drive. The simple steps below will guide you on how to use it:
1. Open the software.
2. Specify the PDF file you want.
3. Select the pages you want the tool to get images from.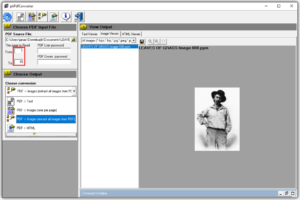 4. Click Extract Images From Pages.
5. In the Advanced Settings window specify the image quality.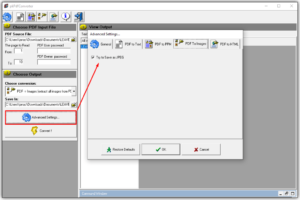 6. Hit Convert.
The conversion process will begin and the extraction will be done. The images will be saved to your computer.
Taking a Screenshot
You can screenshot images from a PDF. This is a simple and easy way of getting those image from your PDF.
You don't need to download a software for this as you can do it directly on your computer. Here's how to do it:
1. Locate the picture you want saved.
2. Use the Zoom function to get its best resolution.
3. Hit the Print Screen key on your keyboard.
4. Launch Microsoft Paint.
5. Paste the screenshot into Paint by pressing Ctrl + V.
6. Edit the image and crop out the parts not needed.
So there's no need to be stuck not having those photos from that PDF. With the steps we outlined above you can save an image from a PDF in no time. What's more, we provided various methods by which you can do this. So what are you waiting for? Go grab that PDF and go all the way extracting. We hope you found this article helpful? If you did, kindly drop a comment and don't forget to share.
You can also check out
How To Edit A Zoom Recording
How to Change your Background in Zoom
How to Change Your Name in Zoom Before a Meeting
How to Change Your Name in Zoom During a Meeting
How to Add Photos on TikTok
How to Know Those That Viewed Your Profile on TikTok
TikTok: How To Edit A Video Caption After Posting
How to Check NIN on MTN, Glo, Airtel and 9mobile
DStv Subscription Package, Prices with Channels
Startimes Subscription Package, Prices, And Channel List For Each Plan
GOtv Subscription Package GOtv Max, Jolli, Jinja and Lite Channel List and Price
GOtv Assigned Channel Number with Channel
GoTV Customer Service Contact, Social Media Handle & Email Address
StarTimes Customer Care Contact, Social Media Handle & Email Address
Top 5 Best Web Browsers for Android
Top 5 Best Music Player Apps for Android
Top 5 Best Alarm Clock Apps for Android
Top 5 Best eBook Reader Apps for iPhone and iPad
Top 4 Best VPN Apps for iPhone and iPad
Top 5 Best Apps for Monitoring Data on iPhone and iPad
Top 5 Best Translation Apps for iPhone and iPad
Top 5 Best Alarm Apps for iPhone and iPad
Top 5 Best Calendar Apps for iPhone and iPad
Top 5 Best Photo Editing Apps for iPhone and iPad
Hope with this, you have learnt How to Extract Images from PDF.
Please share and like below, also comment below for any problem faced or encountered.