How to Delete Your Instagram Account
Instagram is one of the platforms owned by tech giant, Facebook. With over a billion users on the social media platform, it is indeed popular. Instagram allows users to share photos and videos and has some other amazing features like IGTV, IG Live that makes it an interesting platform to spend time on.
Unlike Facebook which deals with mainly friends, Instagram allows you to follow anyone and get contents from them. Many businesses and celebrities use the amazing platform to connect with their customers and fans respectively.
Maybe you want to take a break from Instagram or you don't want to be there because of some reasons, you can permanently delete or temporarily disable your account. We'll show you how in this post.
How to Download Your Instagram Account Data
Deleting your Instagram account means deleting all that is in it. All your photos, likes and comment will be gone permanently. Note that when you delete an Instagram account, you cannot restore the deleted data. You'll have to start afresh.
It is better to have a record of your account data that will include your posts, comments and profile details, so you can always view them. If you want to do this, follow the steps below:
1. Launch Instagram and navigate to your profile settings by tapping the profile icon at the bottom.
2. Tap the three vertical menu lines at the top and select Settings on the page that opens. Select Security from the Settings page.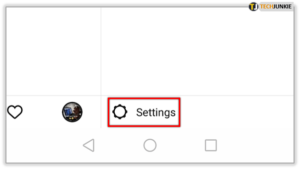 3. Next select Download Data option. Type in your email address and hit Request Download.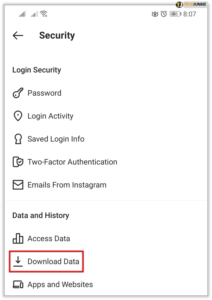 After that, you'll receive an email containing all your photos, comments, profile information in the email address you provided. This is an important step to take if you want to delete your account so that you don't lose all your data completely.
Delete Instagram Account – The Permanently Method
If you've saved you data, you can now proceed to deleting your account. You can delete your Instagram account permanently or temporarily
To permanently delete you Instagram account, do the following:
1. Navigate to the Instagram account deletion page on your device. Ensure you are logged in or do so if you are not.
2. You will be asked for the reason why you want to delete. Pick one.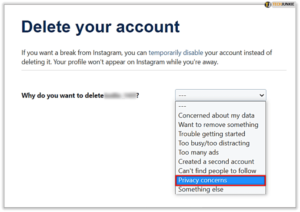 3. Hit the Delete button.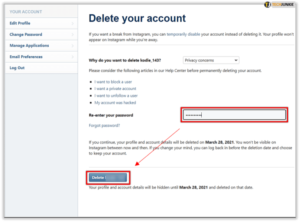 How to Disable Your Instagram Account
If you don't want to be seen on Instagram but you don't want to delete your account permanently or you simply want to take a break, then you should consider disabling your account. When you disable your account, you can return to it at anytime and reactivate it back.
1. Open Instagram on your mobile browser or your computer.
2. Get to your profile options by tapping on your profile icon and then clicking or selecting Profile. Next, select Edit Profile.
3. Move down the screen and select Temporarily Disable My Account beside Submit.
4. Select a reason for disabling from the drop-down menu and re-enter your password.
5. Hit Temporarily Disable Account.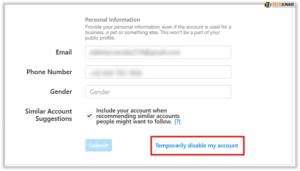 Rounding Up…
You must be sure that deleting your account is the best decision for you as Instagram doesn't have a window for recovering accounts like Facebook. Better still, just ensure you save your data before deleting. We hope you found this post helpful. If you did, kindly leave a comment and don't forget to share.
You can also check out
How To Edit A Zoom Recording
How to Change your Background in Zoom
How to Change Your Name in Zoom Before a Meeting
How to Change Your Name in Zoom During a Meeting
How to Add Photos on TikTok
How to Know Those That Viewed Your Profile on TikTok
TikTok: How To Edit A Video Caption After Posting
How to Check NIN on MTN, Glo, Airtel and 9mobile
DStv Subscription Package, Prices with Channels
Startimes Subscription Package, Prices, And Channel List For Each Plan
GOtv Subscription Package GOtv Max, Jolli, Jinja and Lite Channel List and Price
GOtv Assigned Channel Number with Channel
GoTV Customer Service Contact, Social Media Handle & Email Address
StarTimes Customer Care Contact, Social Media Handle & Email Address
Top 5 Best Web Browsers for Android
Top 5 Best Music Player Apps for Android
Top 5 Best Alarm Clock Apps for Android
Top 5 Best eBook Reader Apps for iPhone and iPad
Top 4 Best VPN Apps for iPhone and iPad
Top 5 Best Apps for Monitoring Data on iPhone and iPad
Top 5 Best Translation Apps for iPhone and iPad
Top 5 Best Alarm Apps for iPhone and iPad
Top 5 Best Calendar Apps for iPhone and iPad
Top 5 Best Photo Editing Apps for iPhone and iPad
Hope with this, you have learnt How to Delete Your Instagram Account.
Please share and like below, also comment below for any problem faced or encountered.