How to Convert PDF into JPG
PDFs are a very popular way to use documents. Many books are made in PDF as well as organisation documents. The reason is not far-fetched, it is very easy to transfer these kind of documents. No wonder it is called Portable.
JPG on the other hand is a common format for photos. You most likely have interfaced with a JPG photo before.
There are times you need those PDF pages in photo format so it will be really useful to know how to convert them. In this guide, we explain how
Convert PDF to JPG
You can use various tools to convert PDF to JPG and they are a lot of tools that does this. Even if you have a lot of pages in your PDF, you can easily convert them with these tools.
We are going to talk about a tool which you can use to achieve this – Small PDF and also a manual way of getting your PDF in JPG format.
Using Smallpdf to JPG Conversion Tool
1. Go to the Smallpdf webpage
2. When the web page opens, locate the Choose File option. You can also choose to drag and drop your PDF into that area.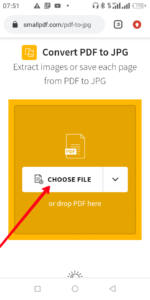 3. When you've done that, the file explorer of your device will open up.
4. Then the PDF file will start uploading and you'll be able to see the progress bar.
5. When the PDF file has uploaded completely, you will be presented with two options. To either convert entire pages or extract single images. Select your choice.
Note that the latter is a pro feature and you will be required to pay to use it.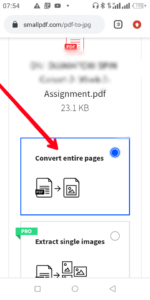 6. If you choose the first option, the conversion will start to process and then it will be ready.
7. You'll have various download options. Choose from the one that suits you.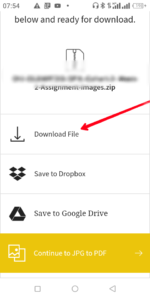 And you'll have your JPG file ready for use.
How to Get PDF Pages in JPG Manually
You can also get your PDF file in the JPG version through a method that doesn't require doing it online. It's an obvious method – you screenshot the PDF pages and then save it as PDF.
Though the process may be tedious it you have many pages. You can also use it to get the photos of a few pages.
Do the following to screenshot the pages of your PDF.
1. Locate the PDF file you want to convert in the file explorer.
2. Open the PDF file in your preferred PDF reader
3. Locate the Fit to Page option in the PDF reader and click it so that the pages are fitted on the screen.
Use Windows Snip & Sketch Tool to Screengrab Page
1. You can then use the Windows 10 Snip & Sketch Tool to get the images off the PDF page.
2. Open the tool by going to the Start menu and searching for the app.
3. When the Snip & Sketch window opens, select New from the top-left corner.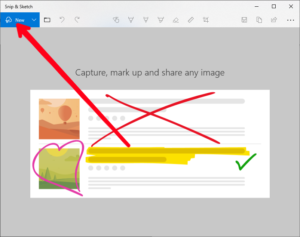 4. You'll then see that Snip & Sketch is ready to work. At the top of your screen, click the Rectangular Snip option.
5. With your cursor, select the area of the the PDF page you want to capture.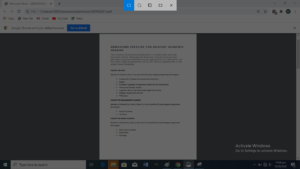 6. Once it is captured, you'll see the preview in the Snip & Sketch window.
7. You can then proceed to save the screenshot by clicking the Save As icon at the top right of the Snip & Sketch window.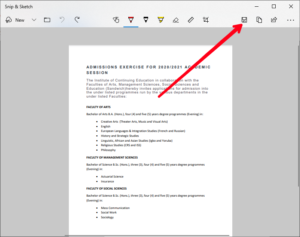 8. Once you click Save As, a window will open for you to save the JPG file.
9. Select the folder you wish to save it to and input the file name. Next, select the Save As Type drop-down menu and select JPG as the file type.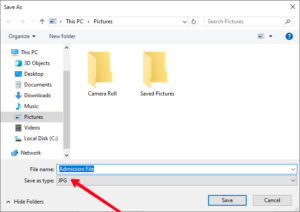 10. Finally hit Save.
Rounding Up…
Having the PDF page in JPG format could be something you really need now or in the future. And who knows this guide may just be all you need. We hope you found it helpful? If you did, kindly leave a comment and don't forget to share.
You can also check out
How To Edit A Zoom Recording
How to Change your Background in Zoom
How to Change Your Name in Zoom Before a Meeting
How to Change Your Name in Zoom During a Meeting
How to Add Photos on TikTok
How to Know Those That Viewed Your Profile on TikTok
TikTok: How To Edit A Video Caption After Posting
How to Check NIN on MTN, Glo, Airtel and 9mobile
DStv Subscription Package, Prices with Channels
Startimes Subscription Package, Prices, And Channel List For Each Plan
GOtv Subscription Package GOtv Max, Jolli, Jinja and Lite Channel List and Price
GOtv Assigned Channel Number with Channel
GoTV Customer Service Contact, Social Media Handle & Email Address
StarTimes Customer Care Contact, Social Media Handle & Email Address
Top 5 Best Web Browsers for Android
Top 5 Best Music Player Apps for Android
Top 5 Best Alarm Clock Apps for Android
Top 5 Best eBook Reader Apps for iPhone and iPad
Top 4 Best VPN Apps for iPhone and iPad
Top 5 Best Apps for Monitoring Data on iPhone and iPad
Top 5 Best Translation Apps for iPhone and iPad
Top 5 Best Alarm Apps for iPhone and iPad
Top 5 Best Calendar Apps for iPhone and iPad
Top 5 Best Photo Editing Apps for iPhone and iPad
Hope with this, you have learnt How to Convert PDF into JPG.
Please share and like below, also comment below for any problem faced or encountered.