How to Close your LinkedIn Account
When you are thinking of a platform that connects business professionals, you think LinkedIn first. The platform is a social one but is focused on helping users build professional relationships. So you don't just go there to discuss random gist and banter, there are career and industry discussions going on there.
Having a LinkedIn account is a great way to build a network of industry professionals but it could come to a point where you feel you need to delete your LinkedIn account. It could be for any reasons but if this what you feel is best for you, then this guide will help you with it. Deleting your LinkedIn account means your profile, pictures and contacts will all be gone. In this guide, we'll show you how to delete your LinkedIn account.
Delete LinkedIn Account on Computer
You can easily delete your LinkedIn account on your Mac or PC using your web browser. Here's how to do it:
1. Like for every social media accounts, you'll need to log in to LinkedIn first. From there, you can navigate to the page where you can delete your account.
2. Next, you want to get to Settings. You'll have to go to your profile page first. From your profile page, select Settings & Privacy.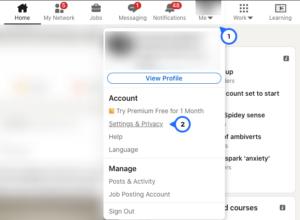 3. You're not yet done! You want the settings for your account as that's where you'll see the options for deleting your account. So, select Account Preferences located at the left side of the screen. Then, click on Account Management.
4. Almost there! Now, scroll down the screen and find Close Account. LinkedIn will provide some reasons for closing your account which you'll have to choose from. There also be a box for you to type the description of your reason. Click Next.

Finally, enter your password and then hit Close Account.
You'll see a message from LinkedIn warning you about data deletion. If you're sure you want to delete, just proceed.
Delete Your LinkedIn Account on the Mobile App
It is also possible to delete your LimkedIn account from the app. Here's how:
1. Launch the LinkedIn app on your Android or iOS. You"ll first have to get to your profile. Do this by selecting the profile icon located at the top right corner.
2. Since the account deletion option is in settings, you'll have to get to Settings. You'll see Settings at the top of the profile page.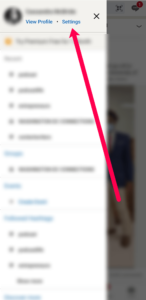 3. In Settings, tap Account Preferences. This is where the Close Account option is. To locate the option, look over the bottom of the Account tab. Select Close Account.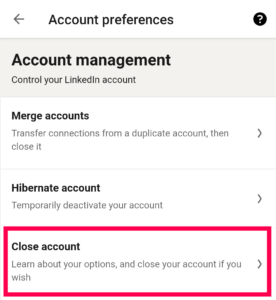 4. Select Continue and state your reason for closing the account. This is required.
5. Type in your password for security reasons and hit Done.
LinkedIn will warn you about data deletion but if you're sure it is what you want to do, proceed.
What's Next?
When you close your LinkedIn account, what happens next. Well, according to LinkedIn Terms of Service, your data is kept for around 30 days and it is deleted afterwards.
Here's what the Terms of Service says:
"If you choose to close your Linkedin (or SlideShare) account, your personal data will generally stop being visible to others on our Services within 24 hours. We generally delete closed account information within 30 days of account closure, except as noted below.
We retain your personal data even after you have closed your account if reasonably necessary to comply with our legal obligations (including law enforcement requests), meet regulatory requirements, resolve disputes, maintain security, prevent fraud and abuse, enforce our User Agreement, or fulfill your request to "unsubscribe" from further messages from us. We will retain de-personalized information after your account has been closed."
Reactivate your by LinkedIn Account
You can however reactivate your account within 20 days after is was closed. Here's how to reactivate your account:
1. Sign in to LinkedIn. Instead of the normal way it signs you in, you'll see Reactivate as one of the options when you sign in. Select Reactivate.
2. Now, you will be sent a confirmation email simply wait for it. You should then follow the instructions from the email.
3. Once you acknowledge the email, your account should be reactivated.
Rounding Up…
You should be sure you want to delete your LinkedIn account or if you change your mind, reactivate it within the 20 days window period. Deleting your account permanently means all your data will be gone. We hope you found this post helpful? If you did, kindly leave a comment and don't forget to share.
You can also check out
How To Edit A Zoom Recording
How to Change your Background in Zoom
How to Change Your Name in Zoom Before a Meeting
How to Change Your Name in Zoom During a Meeting
How to Add Photos on TikTok
How to Know Those That Viewed Your Profile on TikTok
TikTok: How To Edit A Video Caption After Posting
How to Check NIN on MTN, Glo, Airtel and 9mobile
DStv Subscription Package, Prices with Channels
Startimes Subscription Package, Prices, And Channel List For Each Plan
GOtv Subscription Package GOtv Max, Jolli, Jinja and Lite Channel List and Price
GOtv Assigned Channel Number with Channel
GoTV Customer Service Contact, Social Media Handle & Email Address
StarTimes Customer Care Contact, Social Media Handle & Email Address
Top 5 Best Web Browsers for Android
Top 5 Best Music Player Apps for Android
Top 5 Best Alarm Clock Apps for Android
Top 5 Best eBook Reader Apps for iPhone and iPad
Top 4 Best VPN Apps for iPhone and iPad
Top 5 Best Apps for Monitoring Data on iPhone and iPad
Top 5 Best Translation Apps for iPhone and iPad
Top 5 Best Alarm Apps for iPhone and iPad
Top 5 Best Calendar Apps for iPhone and iPad
Top 5 Best Photo Editing Apps for iPhone and iPad
Hope with this, you have learnt How to Close your LinkedIn Account.
Please share and like below, also comment below for any problem faced or encountered.