How to Check Passwords on Mac
Passwords are the key to your account whether offline or online. When compromised, all your details and information can be tampered with which is very dangerous. You don't want that happening to you, so you want to follow best security practices.
On Mac, there's the Keychain Access app that helps you to store all the passwords you use on Mac. Your Wi-Fi network are also saved here. You will also see passwords used on Safari in Keychain also. So, it's a place for all your passwords. Alongside that, the app helps to store all your digital keys and certificates that works for encryption. In this article, you'll know how to use the Keychain app.
How to Use Keychain Access
Since all your passwords are in this app, it is important to know how to use it. Here's how:
1. Launch Spotlight by typing Space and the Command keyboard shortcut.
2. Next, type Keychain and select Keychain Access.
3. Now, click Login or iCloud and select the account you want.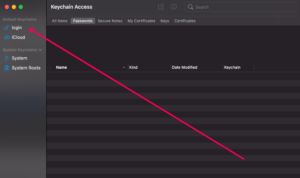 4. Select Show Password which is located down the screen by the left side of the pop-up window.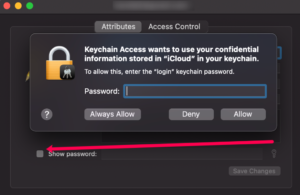 5. You can now input your Mac password.
You should note that it's not only through Spotlight that you can launch Keychain Access. You can also get to it via Launchpad.
If you're using an older version of Mac, here's how to access Keychain.
1. In the Keychain app, select the Password menu by going to the Category section and clicking Passwords. Here you'll find your accounts, password type and date modified.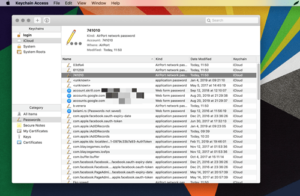 2. If you want to know the details in an account. Click the account which will bring up a pop-up window from where you can access more actions. The Search bar is available to search for anything, instead of browsing the list.
3. Select the small icon beside Show Password and this will bring up a pop-up window that will ask for your Mac's password. After doing that, you'll see the password associated with the account.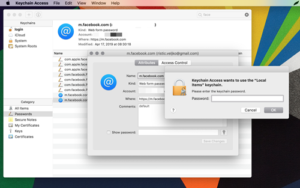 To identify web-based apps and services, you'll see a small @ icon in front of them. But the rest of the accounts will have a pen icon.
How to See your Saved Passwords in Safari
You can also see your saved passwords in Safari. It's a quick way of seeing those passwords. Here's how to do it:
1. Open Safari and select Preferences. You can also do this by pressing CMD + .
2. Click the Passwords tab and next, check the box beside Show Passwords for Selected Websites. You'll see a window that asks for password go grant administrative privileges.
3. When you grant Safari that access, all your accounts and their saved passwords will be shown.
Rounding Up…
Your offline and online security is very paramount and you should do everything possible to guard it. Since Apple devices are pretty secured, you can have some peace of mind that the Keychain app stores your passwords safely. We hope you found this post helpful? If you did, kindly leave a comment and don't forget to share.
You can also check out
How To Edit A Zoom Recording
How to Change your Background in Zoom
How to Change Your Name in Zoom Before a Meeting
How to Change Your Name in Zoom During a Meeting
How to Add Photos on TikTok
How to Know Those That Viewed Your Profile on TikTok
TikTok: How To Edit A Video Caption After Posting
How to Check NIN on MTN, Glo, Airtel and 9mobile
DStv Subscription Package, Prices with Channels
Startimes Subscription Package, Prices, And Channel List For Each Plan
GOtv Subscription Package GOtv Max, Jolli, Jinja and Lite Channel List and Price
GOtv Assigned Channel Number with Channel
GoTV Customer Service Contact, Social Media Handle & Email Address
StarTimes Customer Care Contact, Social Media Handle & Email Address
Top 5 Best Web Browsers for Android
Top 5 Best Music Player Apps for Android
Top 5 Best Alarm Clock Apps for Android
Top 5 Best eBook Reader Apps for iPhone and iPad
Top 4 Best VPN Apps for iPhone and iPad
Top 5 Best Apps for Monitoring Data on iPhone and iPad
Top 5 Best Translation Apps for iPhone and iPad
Top 5 Best Alarm Apps for iPhone and iPad
Top 5 Best Calendar Apps for iPhone and iPad
Top 5 Best Photo Editing Apps for iPhone and iPad
Hope with this, you have learnt How to Check Passwords on Mac.
Please share and like below, also comment below for any problem faced or encountered.