How to Change Profile Photo on Zoom
What do you do when you need to speak to a colleague who's miles away from where you are? Before now, many people would have thought the only way to reach the person was by call or chat, or travelling. However with the coming of the Covid-19 pandemic, video conference became extremely popular. Since people could not go out, they resorted to using Zoom and other kinds of video conferencing platform which wasn't popular as now. This guide is about Zoom, and today we show you how to change your profile photo and language on the platform.
Change Zoom Profile Picture
Zoom allows you to change your profile photo and you can do that in a number of ways. You'll have to do it via settings in the Zoom webpage. Once you have the profile photo on ground, follow these steps:
1. Sign into Zoom and select Settings.
2. Next, select Profile. Click on the existing profile photo.

3. Next, select Change.

4. You can the upload your preferred photo.
You profile photos file size must not be more than 2MB. You can upload photo in PNG, JPG, or GIF formats.
You can change other kinds of information in the profile page. Details like display name, and email address can be changed there.
Add Profile Photo During a Meeting
Even if you're in a meeting, Zoom gives you the ability to add a profile photo. Here's how to do it:
1. First, right-click on the video preview. Various options will come up.
2. Select Edit Profile Photo from the list of options.
3. After setting your profile photo, everyone will see it when your video is off.
How to Allow Participants Display Profile Photo
You might have noticed in a Zoom meeting that all participants profile photo did not show. The reason for this is that the host might have turned off the option. Only an host has the privilege of doing this. Here's how:
1. Locate the Settings option at the left side of the screen and make sure you're in the meeting tab. Click the Settings option.
2. Move down the menu and locate Hide Participants Profile Pictures and toggle it off.
Changing the Default Zoom Language
You can also change your Zoom language. The settings is right with the settings of a profile picture. If you want to change from the default language which is English, Zoom allows you to do this. Presently, Zoom has nine different languages which you can choose from. They are: English, French, Chinese, Japanese, Russian, Spanish, German, Portuguese, and Korean.
On the Zoom web portal or desktop app, you just need to go to the profile page and you'll be able to set a new language.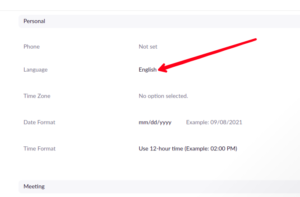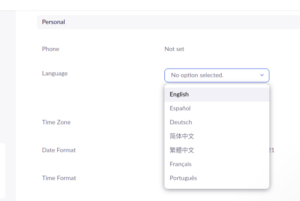 On the Android or iOS app, you'll need to change the language of your device first, and then restart it and then Zoom will take up the new language.
Rounding Up…
Zoom is no doubt very beneficial. The platform boasts of many features. Sometimes you feel changing that profile photo of yours is due, because it's old and you need a fresh face showing. This guide has shown you how to do just that. We hope you found it helpful? If you did, kindly leave a comment and don't forget to share.
You can also check out
How To Edit A Zoom Recording
How to Change your Background in Zoom
How to Change Your Name in Zoom Before a Meeting
How to Change Your Name in Zoom During a Meeting
How to Add Photos on TikTok
How to Know Those That Viewed Your Profile on TikTok
TikTok: How To Edit A Video Caption After Posting
How to Check NIN on MTN, Glo, Airtel and 9mobile
DStv Subscription Package, Prices with Channels
Startimes Subscription Package, Prices, And Channel List For Each Plan
GOtv Subscription Package GOtv Max, Jolli, Jinja and Lite Channel List and Price
GOtv Assigned Channel Number with Channel
GoTV Customer Service Contact, Social Media Handle & Email Address
StarTimes Customer Care Contact, Social Media Handle & Email Address
Top 5 Best Web Browsers for Android
Top 5 Best Music Player Apps for Android
Top 5 Best Alarm Clock Apps for Android
Top 5 Best eBook Reader Apps for iPhone and iPad
Top 4 Best VPN Apps for iPhone and iPad
Top 5 Best Apps for Monitoring Data on iPhone and iPad
Top 5 Best Translation Apps for iPhone and iPad
Top 5 Best Alarm Apps for iPhone and iPad
Top 5 Best Calendar Apps for iPhone and iPad
Top 5 Best Photo Editing Apps for iPhone and iPad
Hope with this, you have learnt How to Change Profile Photo on Zoom.
Please share and like below, also comment below for any problem faced or encountered.