How to Add a Person to a WhatsApp Group
One of the beauty of the internet is the ease and speed we are able to connect with people. Social messaging platforms helps us to communicate over long distances fast. They go beyond emails as they help us connect with others on a personal level. With many of them offering better security, you can be rest assured that you have privacy with whoever you're chatting with.
What's more, on a app like WhateApp, you have the group chat feature which allows you to communicate with a large number of people at the same time. In this article we take you through how to perform major group functions on WhatsApp.
How to Create a a WhatsApp Group and Add Contacts
WhatsApp allows only the group admin to add people to a WhatsApp group. To be an admin, you'll need to be the creator of the group. You can also become an Admin when the existing admin of the group gives you that privilege.
Follow the steps below to create a WhatsApp group:
1. Launch WhatsApp and go to the Chats tab. In the Chats tab, tap the New Chat icon and then tap New Group.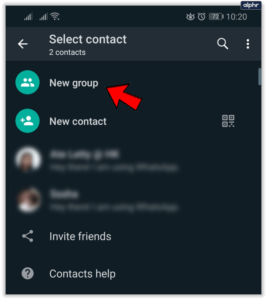 2. Choose all the contact you wish to add in the group and hit the green arrow.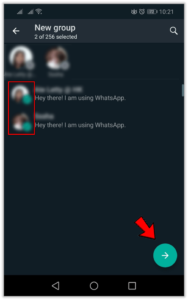 3. Enter the new group name. You can only add 25 characters and emojis.
4. Hit the checkmark to create the group.
If you already have a WhatsApp group, you can also add more participants. Here's how:
1. Open the group chat and tap the name of the group.
2. Next, navigate More Options > Group Info > Add Participants.
3. Then add more contacts to the WhatsApp group.
WhatsApp can enable new admins to be stripped of their roles without having to exit the WhatsApp group. WhatsApp also allows more than one admin in a group at the same time.
Add Contacts to WhatsApp Group even If You're not an Admin
An admin of any WhatsApp group holds the most privileges. Though other group members can change somethings like group's photo, but they are only limited to these. To add someone to a group when you are not the admin, you can request that the group admin does it for you.
You'll need to send the person's contact to the admin and they'll need to save the number to your contacts list and then add them like we described above.
Another way to add contacts is to ask the admin to make you one of the admins. Here's how to add a member as admin.
1. Launch WhatsApp and open the group chat. Click the group name and the group info will open up.
2. Tap the group member you want to make as admin. Tap Make Group Admin from the pop-up menu.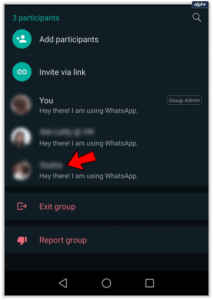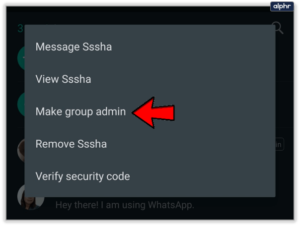 How to Invite Someone to a WhatsApp Group via Group Link
Another way to add more members to a WhatsApp group is by sharing the group link. Only admins get the link. The link can be shared and anyone who clicks it will be added.
1. Open the WhatsApp group and navigate to the group info.
2. Next, select Invite via Link. You will be able to either "Send link via WhatsApp" or copy and paste in another app or place.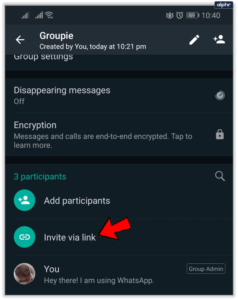 There is also the option of QR code that enables others to join your group by scanning the code.
How to Prevent Yourself from Being Added to a WhatsApp Group
You could get into a position where you're constantly being added to many groups and you don't like that. While WhatsApp doesn't allow you to block a group, you can still block those group admins from adding you.
You simply block the group admins from being able to see you and they will no longer be able to add you. Here's how to do that:
1. Launch the group chat you want to permanently exit. Locate and select the Admin you want to block.
2. Tap Send Message and when the chat opens, tap his or her name/number.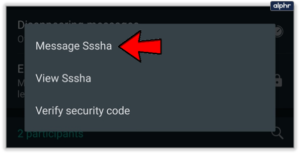 3. Hit Block.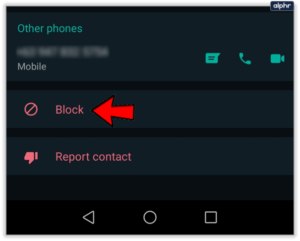 This way, the admin will not have access to add you.
Rounding Up…
Whether it is your school group, or your workplace group, the WhatsApp group feature is robust to enable you connect with your colleagues or team and share ideas that would inform everyone. We hope you found this post helpful? If you did, kindly leave a comment and don't forget to share.
You can also check out
How To Edit A Zoom Recording
How to Change your Background in Zoom
How to Change Your Name in Zoom Before a Meeting
How to Change Your Name in Zoom During a Meeting
How to Add Photos on TikTok
How to Know Those That Viewed Your Profile on TikTok
TikTok: How To Edit A Video Caption After Posting
How to Check NIN on MTN, Glo, Airtel and 9mobile
DStv Subscription Package, Prices with Channels
Startimes Subscription Package, Prices, And Channel List For Each Plan
GOtv Subscription Package GOtv Max, Jolli, Jinja and Lite Channel List and Price
GOtv Assigned Channel Number with Channel
GoTV Customer Service Contact, Social Media Handle & Email Address
StarTimes Customer Care Contact, Social Media Handle & Email Address
Top 5 Best Web Browsers for Android
Top 5 Best Music Player Apps for Android
Top 5 Best Alarm Clock Apps for Android
Top 5 Best eBook Reader Apps for iPhone and iPad
Top 4 Best VPN Apps for iPhone and iPad
Top 5 Best Apps for Monitoring Data on iPhone and iPad
Top 5 Best Translation Apps for iPhone and iPad
Top 5 Best Alarm Apps for iPhone and iPad
Top 5 Best Calendar Apps for iPhone and iPad
Top 5 Best Photo Editing Apps for iPhone and iPad
Hope with this, you have learnt How to Add a Person to a WhatsApp Group.
Please share and like below, also comment below for any problem faced or encountered.