Carbon Review: What you Need to Know About the Loan Platform
There are times that you run out of cash and you need to get something for yourself or for a particular goal. It may suffice to go borrow from people, but why do that when you have an app like Carbon?
Carbon is a lending platform that allows you to get access to loans which you can repay back when the time is due. It is an easy to use app that does not stress you with paper work. In this article, we review Carbon and examine its features.
About Carbon
Carbon has gone through various iterations before it became what it is today. Carbon started as One Credit in 2012. One Credit then only provided loans to salary earners. Paper-based application process was employed then and those that needed loans had to present documents. Along the line, One Credit became OneFi in 2015.
With the advent of Bank Verification Number (BVN) by the CBN and national credit bureau services, the company expanded its services catering for more people and providing more loans.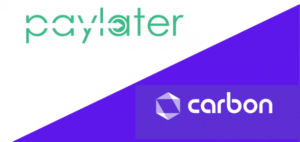 In 2016, OneFi became Paylater and they decided to leverage technology to provide better services, enabling users to have access the credit easily. This led to the launch of the Paylater app, the first service of its kind.
Ever since then, Paylater has evolved to include more services like payments, investments, and personal finance management.
The platform essentially provides users with loans that they receive within short time after being approved.
How to Apply for Loan on Carbon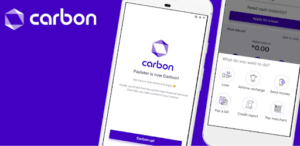 To get started getting loans from Carbon, you need to download the app. Head to the Google Play Store or Apple App Store and download Carbon. You can then proceed to use the app to apply for loans:
1. First, sign up on Carbon. You'll need to provide details like your name, email and phone number.
2. Use your phone camera to take a photo and upload it to the app.
3. Select your preferred loan option, and follow the instructions. Then tap Submit.
4. Next, you should input your card details that will enable your loan to be repaid. Also choose a repayment schedule option.
5. Wait for your loan application to be reviewed. When it has been approved, you'll receive the funds into your account. This wouldn't take time as it will be sent within few minutes of your application.
After receiving the funds, you can further transfer them to your personal bank account or use the money to do other transactions using your Carbon account.
It is possible to get as high as 1 million Naira and be able to repay it back within one year, but if you are just applying for the first time, you may not be able to get as high as that.
As you repay loans you borrow, you will be able to unlock higher loan amounts and lower interest rates.
Loan interest on Carbon ranges from 5% to 15% depending on your loan amount and repayment option.
How to Repay a Carbon Loan
You can pay a Carbon Loan using different methods:
Automatic Repayment
Carbon requires that you input your credit/debit card details in the app before you're granted a loan.
The reason for this is so that Carbon can automatically debit your account when the loan repayment is due.
When the loan repayment date for coming close, Carbon will deduct the loan amount automatically.
Repay with a Card Not Associated with your Carbon Account
Carbon allows you to repay a loan with a credit or debit card that you didn't link with your Carbon account.
Here's how:
1. Sign-in to the Carbon app or website. Next to your loan amount, click the View Details option.
2. Specify how much you want to repay. Click Repay
3. Select Make a One-Time Payment or Quickteller. Input your card details and proceed to pay.
Repay Carbon via Bank Transfer
Carbon also allows you to repay your loan with bank transfer. You can try this if the above methods did not work for you.
You need to have the Carbon account number and you can make payments via the mobile app of your bank or via a bank branch.
Rounding Up…
Carbon can be a life saver when you're broke. With its ease of use and flexibility, loans just got more accessible. We hope you found this helpful? If you did, kindly leave a comment and don't forget to share.
You can also check out
How To Edit A Zoom Recording
How to Change your Background in Zoom
How to Change Your Name in Zoom Before a Meeting
How to Change Your Name in Zoom During a Meeting
How to Add Photos on TikTok
How to Know Those That Viewed Your Profile on TikTok
TikTok: How To Edit A Video Caption After Posting
How to Check NIN on MTN, Glo, Airtel and 9mobile
DStv Subscription Package, Prices with Channels
Startimes Subscription Package, Prices, And Channel List For Each Plan
GOtv Subscription Package GOtv Max, Jolli, Jinja and Lite Channel List and Price
GOtv Assigned Channel Number with Channel
GoTV Customer Service Contact, Social Media Handle & Email Address
StarTimes Customer Care Contact, Social Media Handle & Email Address
Top 5 Best Web Browsers for Android
Top 5 Best Music Player Apps for Android
Top 5 Best Alarm Clock Apps for Android
Top 5 Best eBook Reader Apps for iPhone and iPad
Top 4 Best VPN Apps for iPhone and iPad
Top 5 Best Apps for Monitoring Data on iPhone and iPad
Top 5 Best Translation Apps for iPhone and iPad
Top 5 Best Alarm Apps for iPhone and iPad
Top 5 Best Calendar Apps for iPhone and iPad
Top 5 Best Photo Editing Apps for iPhone and iPad
Hope with this, you have learnt about Carbon Review: What you Need to Know About the Loan Platform.
Please share and like below, also comment below for any problem faced or encountered.