5 Best Keyboard Apps for Android
We can't communicate through our smartphone except we have a means to convey words and emotions. One of the most popular and easy way of doing this is by typing text, and what's typing text without a keyboard? That's why every Android smartphone comes with a keyboard pre-installed. That keyboard may do justice to your typing needs but may mot fully satisfy your wants, and that's why third-party keyboard were made. These third-party keyboards pack several features, and customisations that beat the default keyboard. That said, let us check out the 5 best keyboard for Android.
Best Keyboard Apps for Android
1. Gboard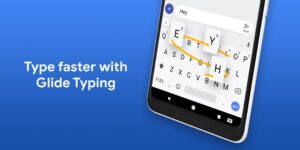 Gboard is one of the leading Android keyboard and this is because it packs great features that is hard to beat: solid predictions, thanks to machine learning, gifs and sticker packs, and a dictionary connected to your Google account, so that you can take it along with you anywhere. It boasts of all the smart features that come with other keyboard and in Gboard, you get them all for free. There aren't varieties of beautifully-looking themes like there are on other keyboards, but you have the Material Black option which is great to be used till the end of the day. Gboard for Android now lets you create your own gifs like iOS users do.
2. SwiftKey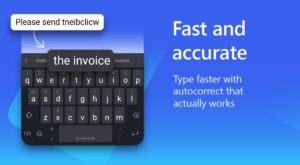 SwiftKey has been one of the best keyboard apps for Android and has done a great job at replacing the native keyboard app. SwiftKey was acquired by Microsoft in 2016 and since then its reliability has increased. The keyboard app employs artificial intelligence that lets it automatically learn your typing and hence predict correctly what you intend to type. You can also make use of the autocorrect and gesture typing functions that the keyboard has. There's also an emoji keyboard bundled in the package that is loaded with lots of emojis, GIFs and more. The customisation settings of SwiftKey is so advanced that you can create a personal theme, aside from the hundreds of themes available.
3. Grammarly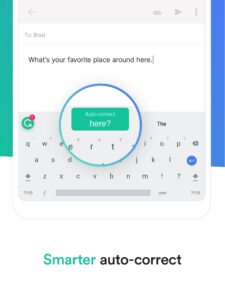 Do you type emails often and want to be very careful not to make grammatical errors while typing? Grammarly was made for you. The keyboard was made to detect Grammer errors and spelling errors in real-time while typing. This is especially useful when writing a mail or an important post. The app suggests appropriate synonyms and advanced punctuation to add colour to your writing. Grammarly works with most apps that require a keyboard which makes it one of the most convenient keyboards to use. The app provides explanation for every correction it makes so that you can learn.
4. Chrooma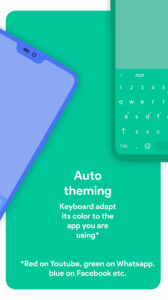 Most Android keyboards has you picking a theme and you're done. Chrooma does makes things more interesting. The colours of the Chrooma keyboard adapt to the app you're currently using: it turns green for WhatsApp, blue for Twitter, green for Spotify and so on. It features a might mode so that the colour is darkened at night. Chrooma colour adaptation works for most apps, but where it misses it, you can easily switch to the right colour. Swiping on Chrooma is excellent, and it allows you to use this gesture feature to delete whole words or sentences when you swipe further and further left.
5. Fleksy Keyboard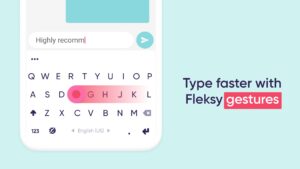 The Fleksy Keyboard holds the record as the fastest keyboard for Android. And it has held this world record twice. The keyboard depends on cutting-edge autocorrect and gesture control technology that allows you type accurately within short time. With swiping gestures, you can control functions such as quickly adding space, punctuation, deleting and word corrections. Fleksy boasts of top-notch customisation. There are over 50 varieties of colourful themes loaded in the keyboard, as well as three customisable keyboard sizes and also over 800 emojis and GIFs. Other things it allows you to do is: access apps right from the keyboard, create keyboard shortcuts, and easy access to the number row. Fleksy has support for over 40 languages.
You can also check out
DStv Subscription Package, Prices with Channels
Startimes Subscription Package, Prices, And Channel List For Each Plan
GOtv Subscription Package GOtv Max, Jolli, Jinja and Lite Channel List and Price
GOtv Assigned Channel Number with Channel
Top 5 Best Web Browsers for Android
Top 5 Best Music Player Apps for Android
Top 5 Best Alarm Clock Apps for Android
Top 5 Best eBook Reader Apps for iPhone and iPad
Top 4 Best VPN Apps for iPhone and iPad
Top 5 Best Apps for Monitoring Data on iPhone and iPad
Top 5 Best Translation Apps for iPhone and iPad
Top 5 Best Alarm Apps for iPhone and iPad
Top 5 Best Calendar Apps for iPhone and iPad
Top 5 Best Photo Editing Apps for iPhone and iPad
Hope with this, you have learnt the 5 Best Keyboard Apps for Android.
Please share and like below, also comment below for any problem faced or encountered.