5 Best Video Editing Apps for Android
Desktop video editing apps are resource intensive. You require a huge amount of processing power, tons of RAM and big hard disk space to run them effectively and efficiently. On the flip side, we have mobile devices which are smaller when compared to desktop computers, and they may not have as much processing power as a Mac, but are capable of processing video for editing. If you need a app to edit that video for your blog or that funny Instagram video, you're at the right place. We've compiled 5 best video editing apps for Android.
Best Video Editing Apps for Android
1. Adobe Premiere Rush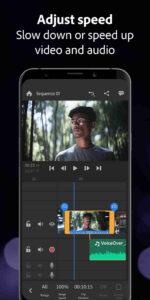 Adobe suites of software for editing videos on desktop are indeed powerful but can also be intimidating. You may not need all the tools in these software as you may just want to do quick edits for your YouTube video, and may be uninterested in learning those fully-fledged programs. Adobe realised this and decided to build Premiere Rush, a stripped down version of Adobe Premiere Pro. Premiere Rush is built to process video clips and enable you to edit them. The app can be downloaded free on Android. The app is easy to use and navigate. Launching the app, you're presented with a simple interface having large icons and panels, which makes it comfortable to use on smartphone screens. In the app are four video and three audio tracks for editing. It also boasts of options to export to various social media including Facebook, Twitter,  Snapchat, Instagram.
2. FilmoraGo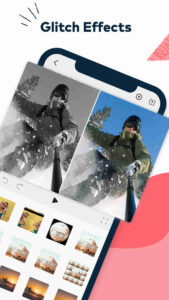 FilmoraGo is also on the list of the best video editing apps for Android. It is popular and known to be a powerful one. It features the standard functions such as cutting, trimming, music, adding themes and more. The app also allows you to make 16:9 video for YouTube, 1:1 videos for Instagram,  slow motion videos, reverse videos, add text and more. Most of the great features in FilmoraGo are available for free, though, you may need to do some in-app purchases to unlock some advanced features. There are various saving option in FilmoraGo: save to gallery directly or even share directly to social media easily. When videos are made, FilmoraGo will add a wordmark the end of the video, but you can upgrade to remove it.
3. InShot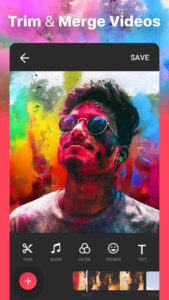 InShot is a great video editing and content creating app. With InShot app, you will be able to create videos, merge and trip clips, adjust speed, cut or delete some part of a video. Instagram users will find the app useful as it works for editing photos, blurring borders, creating collages, creating video or image square. You can add filters, voice-overs, text to make your videos look and sound better. You can adjust volume of mp3 songs and original videos with the volume control function. InShot boasts of many photo and video filters and you can add emoji to a photo. You can edit videos by flipping and rotating them. The app is feature-rich, yet simple. Your finished projects can be exported to social media platforms like Facebook, Instagram, and Twitter.
4. VideoShow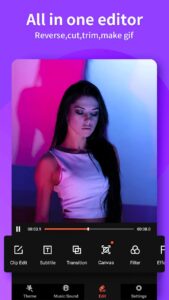 VideoShow is an award recipient and one of the the best video editing apps on the Google Play Store. It features a user-friendly interface which makes the app easy to use. The app has standard functions alongside features such as adding text, music, effects, sound effects. You can even perform live dubbing in VideoShow. Over 50 themes are available in the app to add beauty to your videos, slideshows and vlogs, and it offers compression capabilities to help reduce the size of your video. Compressing videos will not result in quality loss. You can blur backgrounds, change audio speed and use the voice enhancement  features. The app has the ability to add more than one music track to your video and you can even export the sound track or a video as an MP3 file.
5. Quik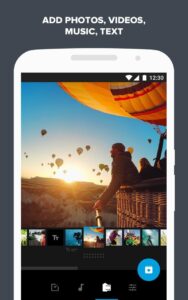 Quik processes your video and analyses it to detect faces and colours so as to find a way to perfectly frame your footage. With this free app, you can add effects and transitions to photos from your library to make them into a video. The app not only allows you to zoom, rotate and trim videos, you can also  select from different fonts, themes, graphics and filters. Quik has the capability to create HD 1080p or 720p in cinema, portrait or square formatting to enable you share on social media. There are over 100 free songs in Quik. Flashback, and QuikStories features helps create videos as it relies on your latest footage.
You can also check out
Top 5 Best Web Browsers for Android
Top 5 Best Music Player Apps for Android
Top 5 Best Alarm Clock Apps for Android
Top 5 Best Launchers Apps for Android
Top 5 Best Podcast Apps for Android
Top 5 Best Photo Editing Apps for Android
Hope with this, you have learnt the 5 Best Video Editing Apps for Android.
Please share and like below, also comment below for any problem faced or encountered.