Best Calculator Apps for Android Smartphones and Tablets
Everyone needs a calculator. Whether it is to calculate big figures at the market, or in the financial arm of your office or even at school, a calculator is always needed. Over the years, calculator have evolved from being just physical to being available on mobile devices like smartphones and tablets. Having said that, your Android device is capable of performing both basic and complex functions via apps that also add useful features in the mix. We have here the 5 best calculator apps for Android.
Best Calculator Apps for Android
1. MyScript Calculator 2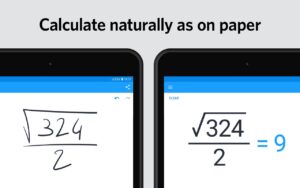 MyScript Calculator 2 not only helps you perform complex calculations, it also makes maths fun. You don't have to input number via a keypad, MyScript Calculator allows you to write the numbers on your screen with your fingers or stylus. With this feature, it would be much easier to enter complex calculations. Mathematical symbols can be entered by just drawing them. The calculator brings intuitive features such as gestures that allow you to easily edit or delete calculations. You can also use the app memory function, to save results and recall them later. It is by far one of the best natural calculator app on the market.
2. HiPER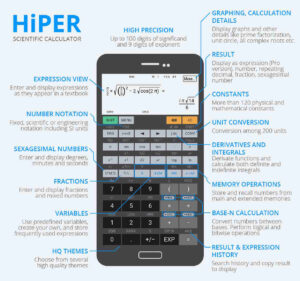 HiPER doesn't seek to give you the generic calculator experience, instead, it has focus on giving you excellent calculator functions suitable for your Android smartphone or tablet. The app uses the traditional scientific calculator layout and has basic arithmetic operations included. Alongside are tons of functions and special features, such as mixed numbers, fraction operations, and more. HiPER wants things to fit into various scenarios, so there are various kinds of layout options. If you want to remove the limitation on the free app, you can either opt for ads or pay $3.49 Pro version which has other great features in the package.
3. Scientific Calculator by Appsbuyout Tools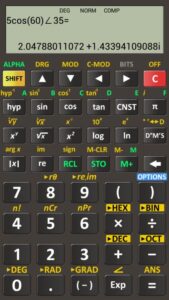 Scientific Calculator is one of the most powerful calculator app around. It is an easy-to-use one with a realistic look. The calculator is very capable of solving complex equations. It has a view editor that can hold real equations with brackets and operator priority function, normal or polar complex mode. It has a memory functions which can save results after solving. The calculator boasts of Constant Table in its memory which holds large universal, physical, mathematical, and chemical constants. Trigonometric operations can be performed, thanks to its degrees, radians and grads mode. Equation can be solved for engineering and it can also do graphical calculations.
4. ClevCalc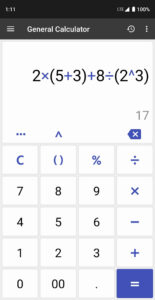 ClevCalc is an answer to your calculations needs. It is an all-in-one calculator that performs well. It has the basic functions with the usual operators. It can also perform simple trigonometric and logarithmic calculations. The highlight of the calculator is in the additional features it possesses. These additional features include unit conversion, a unit price calculator, currency conversion, and a host of other useful tools. It also boasts of discount calculator. With this tool, you input the price as well as the percentage off, and the app will calculate its new retail price.
5. Calculator ++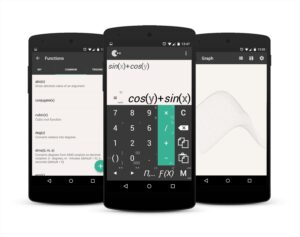 If you don't want something basic, try Calculator ++. Calculator ++ can perform basic operations as well as advanced calculations with its Simple and Engineer mode. The are a lot of features bundled in the app, from variety of functions, memory, to graph calculations. One nice feature it has is swipeable buttons. Activate an option on the top part by swiping up or do this for the bottom part by swiping down. The app is also loaded with customisation features, with tons of themes available. A widget comes with the app and it has a floating window mode.
You can also check out
Top 5 Best Web Browsers for Android
Top 5 Best Music Player Apps for Android
Top 5 Best Alarm Clock Apps for Android
Top 5 Best Launchers Apps for Android
Top 5 Best Podcast Apps for Android
Top 5 Best Android Apps for Monitoring Data
Top 5 Best VPN Apps for Android
Top 5 Best Translation Apps for Android
How to use your Android Phone as a Webcam
Top 5 Best Keyboards for Android Smartphones and Tablets
5 Best Calendar Apps for Android
Hope with this, you have learnt the Best Calculator Apps for Android Smartphones and Tablets.
Please share and like below, also comment below for any problem faced or encountered.