Top 5 Best Calendar Apps for Android
As a personal user, having a calendar will help you not to forget important appointments or miss events, thus making it useful. If you're a business person however, it is very essential. This is because you'll need to have all your appointments, meetings, deadlines and even social events in one place and be reminded at due time. So that you're not overwhelmed, it is very necessary to have a handy calendar app on your Android device. Here, we have the 5 best calendar apps for Android.
Best Calendar Apps for Android
1. Google Calendar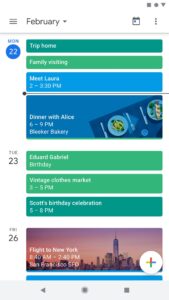 Google Calendar comes built-in every Android phone. Google Calendar works with many other Google services. Google Calendar collects data about events, like hotel visits and flight, from Gmail. It synchronises your data to one of the most extensive platform, which can work on any kind of device. It is also compatible with Google Assistant. The app itself is great. There are five main views in the app: schedule, day, three-day, week, and month, which you can change to, to fit any scenario. Two widgets exists with the app: a month view and a schedule view. Notifications work great and it offers a simple way of collaboration. You get most of what you need in a calendar and the best of it: it is already on your Android device.
2. Calendar Widget by Home Agenda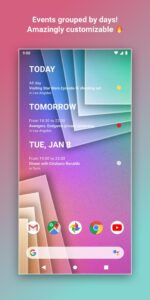 Sometimes all you just need is to view some information without opening up an app, and widgets help to achieve this. Calendar Widget by Home Agenda offers many useful options for customisation making it one of the the most customisable calendar widgets on Google Play. The app developed by Francisco Franco – involved in the rooting community – does the calendar job pretty well. You can make the Calendar look and feel like what you want. After creating a theme that looks like your phone's home screen, you can save it for later importing. The app doesn't have problem with syncing with other calendar services. The widget will sync with any account your signed to on your Android device.
3. CloudCal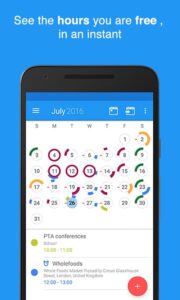 With CloudCal, you get a unique way of being showed how busy you are for the day. The app uses Magic Circles, a system which displays the days of the month as clock faces, and shows segments of a circle and different coloured circles. Each one is linked to the tasks you have scheduled for that day. If your friend has his birthday, it would be complete magic circle on that day. If it's a meeting you have for that day, the circle would have another coloured coloured segment outside it. The purpose of the magic circle system is to help you have a rough understanding of how each day will be like. CloudCal has other great features like customizable views, gesture support, calendar import, and it works with apps like Uber, maps and Waze.
4. Jorte Calendar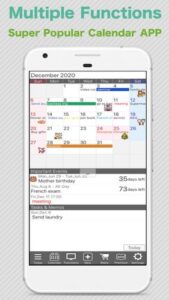 Jorte is one of those few cross-platform calendar competitors to Google Calendar. The calendar with a well designed interface is intuitive. It has various calendar view such as weekly, monthly and daily view. So that you can view things easily, the important schedules are marked in red. It is also possible to export every schedule and to-do item and synchronise with Google Calendar. The app also features multiple customisation settings and works with other calendars, task managers, and note-taking apps. It integrates fine with apps like Evernote, Google Task and Microsoft Office.
5. Business Calendar 2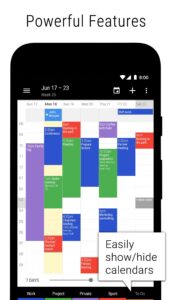 Though the name suggests that it might solely be for business, but it is not only for business. It offers a great way to highlight and put calendars separately without the need to edit them manually. There's a menu bar at the bottom that gives you the option as to which calendars to display. The calendar app boasts of 6 different calendar view options, and it syncs with apps like Google Calendar, Exchange, and more. It is possible to set custom notifications to alert you when events are close by. The app sees to your overall calendar needs: from managing events and schedules to creating time for a meeting, Business Calendar has all you need.
You can also check out
Top 5 Best Web Browsers for Android
Top 5 Best Music Player Apps for Android
Top 5 Best Alarm Clock Apps for Android
Top 5 Best Launchers Apps for Android
Top 5 Best Podcast Apps for Android
Top 5 Best Android Apps for Monitoring Data
Top 5 Best VPN Apps for Android
Top 5 Best Translation Apps for Android
How to use your Android Phone as a Webcam
Top 5 Best Keyboards for Android Smartphones and Tablets
Hope with this, you have learnt the Top 5 Best Calendar Apps for Android.
Please share and like below, also comment below for any problem faced or encountered.