5 Best Radio Apps for Android
Listening to music is a way to relieve stress and get inspiration. Whether you wake up from bed or on a commute, you can catch your favourite music from radio stations from around the world. Not only can you listen to music, you can also consume news updates, podcast, comedy shows. If you're in search of the best radio stations for Android, then you're at the right place. Let's get to the best apps for listening to radio.
Best Radio Apps for Android
1. Audials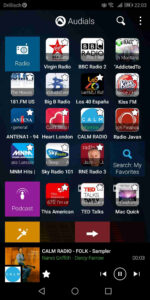 Audials is well designed with lots of functionality. The notable thing about this app is that it has a lot of radio station and robust settings which makes it excellent. The developers say there are over 80000 stations available with radio programs and several podcast included. With its excellent design, you can easily search for the station you want. It is possible to transfer your music from Audials to your TV through Chromecast. One great thing about Audials is that you can record and save music from radio stations without you bothering about copyright issues. Saved songs can also be transferred to an SD Card. The Pro version opens up premium features that allows you record music automatically and save them to your collection.
2. Radio Garden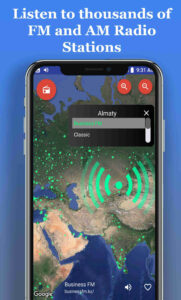 Radio Garden is another radio app that boasts of several radio stations from around the world. It's much more functional than the built-in radio app in your Android phone. Built-in radio apps lack in features, but this app will make up for the lack. The app works well letting you tune into local radio stations from around the world. It has a beautiful and modern user interface, and you can easily navigate through it. You can always catch your favourite radio shows with this app. You have access to over 25000 live radio stations giving you a wide range of options. There's the smart saving feature that allows you to save your favourite radio channels. The app will run on the background even if you put your device in sleep mode.
3. TuneIn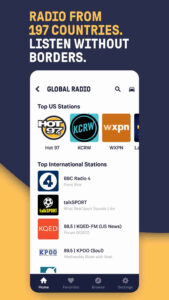 TuneIn radio has a whooping 100000 radio stations. With TuneIn on your device, you have access to over 100000 radio stations. There are various categories of radio station in TuneIn. You can listen to radio stations that play music, sports, news, comedy and others. If you really want a radio app that won't bother you with ads, then you should download this app. There's even a car mode in TuneIn that makes it work in car environment. TuneIn works cross-platform and can be used on various Android device like Android TV, Android Auto, and Google Chromecast. If you need a radio app with great features, then you should go for TuneIn.
4. PCRADIO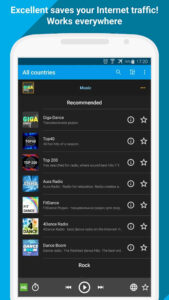 PCRADIO is a simple and lightweight radio app for Android. It is so lightweight that it can work at low internet speeds. It boasts of a great user-friendly interface with radio stations that are sorted. Radio stations are categorised in different genres such as pop, metal, rock etc. There are hundreds of radio stations available for your consumption, and you can easily use the search bar to search for a particular radio station. You can even bookmark stations you're interested in as favorite so that you can access then later. The developers of your app claim that the radio app is power efficient. The app allows playback to be controlled from your headset. PCRADIO is also loaded with a built-in equalizer and a sleep timer.
5. Simple Radio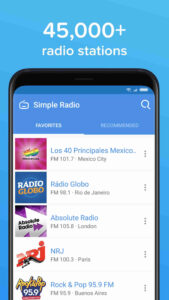 Want a simple radio app and still have access to over 50000 radio stations? Then you can't go wrong with Simple Radio. The radio app is one with clean and simple design. You'll have access to sports, news, music, weather, updates and more. It's a global radio station that curates radio contents from around the globe. The app helps you connect with your favourite FM and AM programs that run throughout the day. You won't have to deal with ads, and you get the app for free. With one tap, you'll find your favourite radio stations. You can optimise the app for your sleeping periods so that it turns off automatically during this time. Popular news stations such as TED, CNN, NPR are available in the app.
You can also check out
Top 5 Best Web Browsers for Android
Top 5 Best Music Player Apps for Android
Top 5 Best Alarm Clock Apps for Android
Top 5 Best Launchers Apps for Android
Top 5 Best Podcast Apps for Android
Top 5 Best Photo Editing Apps for Android
Top 5 Best Video Editing Apps for Android
Hope with this, you have learnt the 5 Best Radio Apps for Android.
Please share and like below, also comment below for any problem faced or encountered.