How to Send Confidential Emails in Gmail
Gmail is Google's solution to emails. The platform has served people for years making it one of the most popular email options. Gmail has a user-friendly interface allowing you to manage your emails easily. Added to that is its mobile apps, so you can send and receive emails anywhere you are.
Wondering how you can send emails that are private. Emails that not just anyone can have access to.. If this fits the description of what you're looking for, then you've come to the right place. In this guide, we'll show you how to send Confidential emails.
How Does Gmail's Confidential Mode Work?
Confidential Mode is a Gmail's method of sending emails securely. When you send confidential emails, the recipient of that email will need to input a code to be able to access and read the email.
Once you have sent your message, an email will be in your recipient inbox informing them that a confidential message is waiting for them. They'll then need to verify their identify by entering a code. This code can be delivered by email or via SMS.
Confidential emails can expire. You can set a period of 1 week, one month or even five years before it expires.
How to Send Emails in Confidential Mode in Gmail
Get into the confidential Mode by doing the following:
1. Sign into your Gmail account and click the Compose button.
2. Input the necessary details in their fields. Add the email recipient, a subject, and the message you wish to send.
3. Next, click the Confidential Mode icon down at the bottom of the compose window. (It's like a padlock)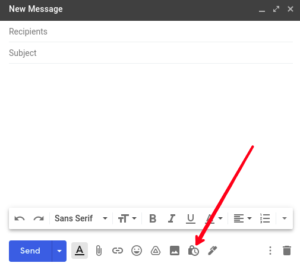 4. A window will appear. There you can set the expiration date and select whether or not to require passcode via SMS. If you don't put in for No SMS Passcode, the code will be delivered as an email to the recipient.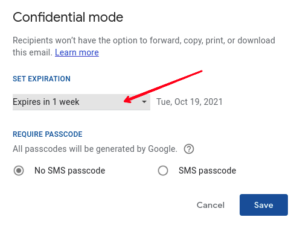 5. When you're done with all that, click Save and then proofread your message before hitting Send.
If you put in for the SMS Passcode verification, you should enter the mobile number of your recipient.
How to Remove Access to a Confidential Email
If you wish to remove the access someone has to an email you already sent, you can do that on Gmail. Here's how:
1. Go to your sent mail folder. The confidential mail will be there.
2. Next click on the message and select Remove Access.

Why You Should Use SMS Passcode Verification
It is much better to request SMS Passcode verification. With this option in place, you have a more secure email. This can prevent security issues when the device that receives the email  has been compromised. The device you're sending to might have been left security porous and requesting SMS verification will add a layer of security so that it is not easily read.
SMS Verification works like two step authentication requiring a code to be sent without which the message cannot be read.
Rounding Up…
Whether you want to send a email for your company that has private details or you want to send a message that has sensitive details, sending emails that are confidential can hide whatever you're sending so that not just anyone has access to it. We hope you found this helpful? If you did, kindly leave a comment and don't forget to share…
You can also check out
How to Check NIN
How To Edit A Zoom Recording
How to Change your Background in Zoom
How to Change Your Name in Zoom Before a Meeting
How to Change Your Name in Zoom During a Meeting
How to Add Photos on TikTok
How to Know Those That Viewed Your Profile on TikTok
TikTok: How To Edit A Video Caption After Posting
How to Check NIN on MTN, Glo, Airtel and 9mobile
DStv Subscription Package, Prices with Channels
Startimes Subscription Package, Prices, And Channel List For Each Plan
GOtv Subscription Package GOtv Max, Jolli, Jinja and Lite Channel List and Price
GOtv Assigned Channel Number with Channel
GoTV Customer Service Contact, Social Media Handle & Email Address
StarTimes Customer Care Contact, Social Media Handle & Email Address
Top 5 Best Web Browsers for Android
Top 5 Best Music Player Apps for Android
Top 5 Best Alarm Clock Apps for Android
Top 5 Best eBook Reader Apps for iPhone and iPad
Top 4 Best VPN Apps for iPhone and iPad
Top 5 Best Apps for Monitoring Data on iPhone and iPad
Top 5 Best Translation Apps for iPhone and iPad
Top 5 Best Alarm Apps for iPhone and iPad
Top 5 Best Calendar Apps for iPhone and iPad
Top 5 Best Photo Editing Apps for iPhone and iPad
Hope with this, you have learnt How to Send Confidential Emails in Gmail.
Please share and like below, also comment below for any problem faced or encountered.