How to Delete your Facebook Account
Facebook has been known to connect people together, whether they are school mates, work colleagues, city pals. Many people have even connected with people they didn't know before and some met their life partners on Facebook. This platform has helped in social interaction, communication and relationships.
Perhaps you're tired of the platform like some people and you want to move over to another social media platform or you just want to take a break for a while; you can temporarily deactivate or permanently delete your Facebook account. In this post, we explain how.
Temporarily Deactivate Facebook Account
Facebook allows you to temporarily deactivate your account. You can reactivate it back after sometime as the deactivation is only temporary.
1. Navigate to your account menu by clicking its icon at the top right of Facebook.
2. From the menu, select Settings & Privacy and click Settings again. Check the left-hand menu for Your Facebook Information option and select it.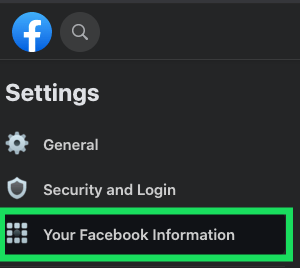 3. Beside Deactivation and Deletion, select View. Ensure that the you've selected the Deactivate Account option and the hit Continue to Account Deactivation.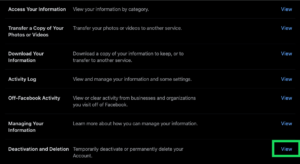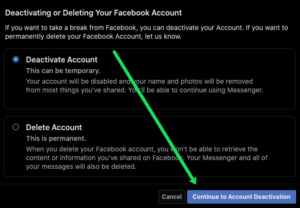 Deactivating your account means others will not be able to see your profile and you will no longer be visible in friend's list and searches. However, your Facebook Messenger account will still be available.
You can reactivate your account by logging back into the account.
Managing your Facebook Privacy
If you're privacy-conscious and you want to control what you share with Facebook and other apps, you can do so in the privacy section of the platform.
The following are ways you can manage your Facebook Privacy:
1. Navigate to the Settings & Privacy menu on Facebook and select Privacy Shortcuts. Select 'Manage your information.'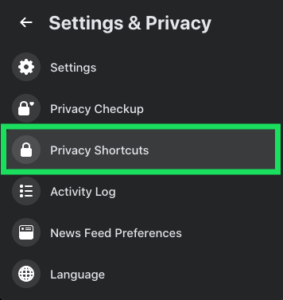 2. On the new page that opens, navigate to I Want to Manage my Data. The options you see there allow you to manage applications linked with Facebook, the data Facebook stores and shares, and ad preferences.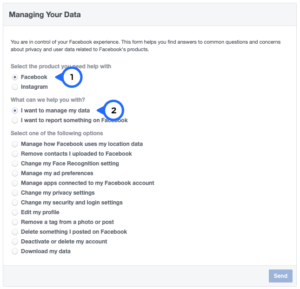 Permanently Delete Facebook Account
The above steps on temporarily deactivating your account and managing Facebook Privacy will lead you to where the Delete Your Account button is. You can also use the following direct steps to get there:
1. You have to first sign in. Facebook requires that you sign in to delete your Facebook account.
2. Facebook can allow you export your data if you want to delete Facebook permanently. To do this, navigate to Settings. Scroll down the screen to the bottom and select Download a Copy of your Facebook Data.
3. Navigate to the help pages and locate the Delete Account option within it.
4. When you locate and select it, a message will be displayed that says "If you do not think you will use Facebook again and would like your account deleted, we can take care of this for you. Keep in mind that you will not be able to reactivate your account or retrieve any of the content or information you have added" If you are sure you want to delete the account, hit Delete My Account.
5. Once you select it, you will be asked to enter your password to get to the end of the process.
6. Facebook will present you with a message once more that says "Your account has been deactivated from the site and will be permanently deleted within 14 days. If you log into your account within the next 14 days, you will have the option to cancel your request".
What this message means that it is only 14 days you have to change your mind or your Facebook account would be gone forever.
Rounding Up…
It's gone and can never be recovered again. This is what happens when you choose to permanently delete your Facebook account. You should be sure it is right for you and have your data exported so you can have a copy of the memories you created while using Facebook. We hope you found this helpful? If you did, kindly leave a comment and don't forget the share.
You can also check out
How To Edit A Zoom Recording
How to Change your Background in Zoom
How to Change Your Name in Zoom Before a Meeting
How to Change Your Name in Zoom During a Meeting
How to Add Photos on TikTok
How to Know Those That Viewed Your Profile on TikTok
TikTok: How To Edit A Video Caption After Posting
How to Check NIN on MTN, Glo, Airtel and 9mobile
DStv Subscription Package, Prices with Channels
Startimes Subscription Package, Prices, And Channel List For Each Plan
GOtv Subscription Package GOtv Max, Jolli, Jinja and Lite Channel List and Price
GOtv Assigned Channel Number with Channel
GoTV Customer Service Contact, Social Media Handle & Email Address
StarTimes Customer Care Contact, Social Media Handle & Email Address
Top 5 Best Web Browsers for Android
Top 5 Best Music Player Apps for Android
Top 5 Best Alarm Clock Apps for Android
Top 5 Best eBook Reader Apps for iPhone and iPad
Top 4 Best VPN Apps for iPhone and iPad
Top 5 Best Apps for Monitoring Data on iPhone and iPad
Top 5 Best Translation Apps for iPhone and iPad
Top 5 Best Alarm Apps for iPhone and iPad
Top 5 Best Calendar Apps for iPhone and iPad
Top 5 Best Photo Editing Apps for iPhone and iPad
Hope with this, you have learn How to Delete your Facebook Account.
Please share and like below, also comment below for any problem faced or encountered.