How to Create a Database in Notion
How about the features of Confluence, Trello and Evernote in one place? That's what Notion does, combining various workspace features to bring you a comprehensive platform. Notion allows you to take notes, collaborate, create databases, manage your projects and more. The app is all-in-one solution.
Are you stuck with creating databases on Notion? Worry not, we've got you covered. In this guide we teach you how to create databases in Notion.
How to Create a Database in Notion
An advanced way to use Notion is by creating databases. It is an advanced type of page in Notion that gives you the ability to manipulate a page.
Make a database with Notion via the following steps:
1. Launch Notion on your computer.
2. Select the New Page button like you're creating a regular page.
3. Select Table from the Database menu if what you want is a table-style database. You can also choose other types like calendar, board, table, list, gallery, or timeline. The table database is the easiest to use. You can also transform a table-view database to another type of database.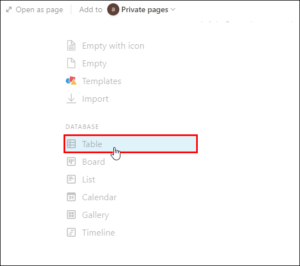 4. When you select the table database, you'll see a new table having three columns. The first columns is named "Name" where you can put in database items. There's also the Tags column which can serve as a description of items.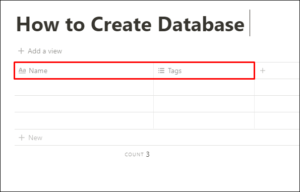 5. You can assign properties to columns and also change Properties. Select any property type you want from the drop-down menu.
6. For columns involving members that have specific task, the Person property will be appropriate.
7. Notion allows you to explore customisations to make your database look the way you want. One great thing is every database item is assigned a specific Notion page.
8. If you want to change the database view format, simply click on + Add a view. Select any of the view options to change your view.
How to Import CSV Files Into Notion
Notion works well with CSV and so if you're used to working with Google Sheets, Excel, you can use files created from them on Notion. Follow the steps below to import them into Notion:
1. On your computer, click Import which is present at the left side of Notion. You'll see a new window asking you to choose the file type you want to import. Select CSV.
2. Upload the file from the folder it is in.
3. If you wish to merge your CSV file with a database in Notion, click Merge with CSV option present in the database menu.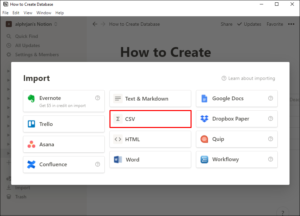 How to Add Text to a Notion Page
You'll need to add text to a Notion page to utilise the page. Follow the steps below to do this.
1. Open a page. You can also create a new page by using the New Page button.
2. On the blank space that appears, start typing on it.
3. You will begin to see a prompt that gives you suggestion such as "Type / for commands." You can use the command by typing / and then the command menu will be launched. You may also continue typing if you wish.
Rounding Up…
Creating databases on Notion doesn't have to be difficult. By just knowing what to do and performing tasks regarding it effortlessly, you can improve you productivity and efficiency. And this post does justice to that. We hope you found it helpful? If you did, kindly leave a comment and don't forget to share.
You can also check out
How To Edit A Zoom Recording
How to Change your Background in Zoom
How to Change Your Name in Zoom Before a Meeting
How to Change Your Name in Zoom During a Meeting
How to Add Photos on TikTok
How to Know Those That Viewed Your Profile on TikTok
TikTok: How To Edit A Video Caption After Posting
How to Check NIN on MTN, Glo, Airtel and 9mobile
DStv Subscription Package, Prices with Channels
Startimes Subscription Package, Prices, And Channel List For Each Plan
GOtv Subscription Package GOtv Max, Jolli, Jinja and Lite Channel List and Price
GOtv Assigned Channel Number with Channel
GoTV Customer Service Contact, Social Media Handle & Email Address
StarTimes Customer Care Contact, Social Media Handle & Email Address
Top 5 Best Web Browsers for Android
Top 5 Best Music Player Apps for Android
Top 5 Best Alarm Clock Apps for Android
Top 5 Best eBook Reader Apps for iPhone and iPad
Top 4 Best VPN Apps for iPhone and iPad
Top 5 Best Apps for Monitoring Data on iPhone and iPad
Top 5 Best Translation Apps for iPhone and iPad
Top 5 Best Alarm Apps for iPhone and iPad
Top 5 Best Calendar Apps for iPhone and iPad
Top 5 Best Photo Editing Apps for iPhone and iPad
Hope with this, you have learnt How to Create a Database in Notion.
Please share and like below, also comment below for any problem faced or encountered.