How to Create a Checklist in Google Docs and Google Sheets
Staying organised has never been more possible in this technological driven world. You just need your computer and smartphone and you're good to go. With apps that help you manage your time, and tasks, you stay productive.
The good thing is that most of these apps run on the cloud allowing you to access your data anyday anytime. Google Docs falls into this category. Though an office app, it also helps in managing your productivity. One way it helps does this is its ability to create checklist. In this article we give a guide on how to create checklist on Google Docs.
Creating Checklists in Google Docs
Google Docs allows you to make a checklist in a easy manner. Once you know what to put in the list, you just have to follow these easy steps. The steps are outlined below:
1. Launch Google Docs. Click + at the top to create a new document.
2. Locate Format from the top menu and select it. From Format, hover over Bullets & Numbering which will bring up some options.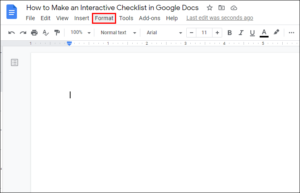 3. From the options, hover over Bulleted List. You'll be presented with many options. Select the first on the list – the checkbox bullets option.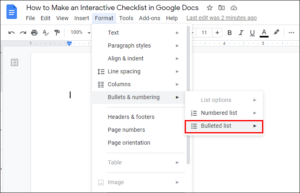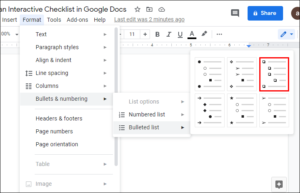 4. Your list will now posses a checkbox in front. You can then add items to the bullets.
5. If you press enter, you will be able to create a new blank checkbox. Add as many items as you want to the checklist.
6. You can then save the document after you're through.
To tick the boxes, here's what you need to do.
1. Highlight any of the blank checkbox you're interested in ticking. For PC, right-click on your mouse and for Mac, use Cmd + Click.
2. You'll see a pop-up window. Select the checkbox. The checkbox will now be transformed to a checkmark.
3. You can tick multiple checkboxes.
Doing it on Mobile
Although there's a mobile version of Google Docs, it does not come with all the formatting features available in the desktop app. Since you can't do this on Google Docs app for Android and iOS, you can actually do it on your mobile web browser. So open a favourite browser of yours, and get started.
Creating Checklists on Google Sheets
Google Sheets is another app that can help in making checklists. The checklist feature will allow you to create checkboxes that can easily be ticked with a simple click. Do the following to make checklist on Google Sheets:
1. Launch the Google Sheets app. Highlight cells which will have the checkboxes.
2. Click Insert which is located at the top. When you see the menu, click Checkbox which would add checkboxes to the cells you highlighted.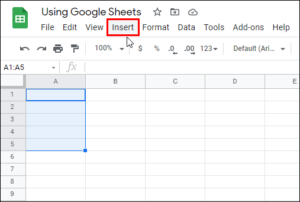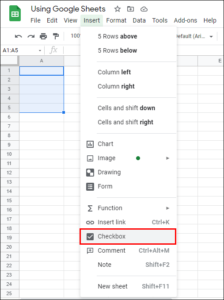 3. Select the checkbox to tick it.
4. Add more items to the list and fill it up.
Doing it on Google Sheets for Mobile
The mobile version of Google Sheets allows you to create checklists unlike Google Docs for Mobile. Here's how to do it:
1. Launch Google Sheets for Mobile and click the + icon at the bottom.
2. Select New Spreadsheet.
3. Next, highlight the cells that will contain the checkboxes.
4. Tap the three dots icon on the upper right corner and from the pop-up menu, select Data Validation.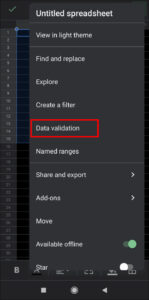 5. Tap the arrow next to Criteria and tap Tickbox. Tap Save.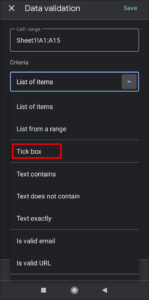 6. The cells that were highlighted will now have the checkboxes.
Rounding Up…
Tick! Tick! And you know you've completed that task – the laundry or the project assigned to your at work. It makes life easier and more efficient. Knowing you can do it on the two Google's app gives you more options. We hope you found this article helpful. If you did, kindly leave a comment and don't forget to share.
You can also check out
How To Edit A Zoom Recording
How to Change your Background in Zoom
How to Change Your Name in Zoom Before a Meeting
How to Change Your Name in Zoom During a Meeting
How to Add Photos on TikTok
How to Know Those That Viewed Your Profile on TikTok
TikTok: How To Edit A Video Caption After Posting
How to Check NIN on MTN, Glo, Airtel and 9mobile
DStv Subscription Package, Prices with Channels
Startimes Subscription Package, Prices, And Channel List For Each Plan
GOtv Subscription Package GOtv Max, Jolli, Jinja and Lite Channel List and Price
GOtv Assigned Channel Number with Channel
GoTV Customer Service Contact, Social Media Handle & Email Address
StarTimes Customer Care Contact, Social Media Handle & Email Address
Top 5 Best Web Browsers for Android
Top 5 Best Music Player Apps for Android
Top 5 Best Alarm Clock Apps for Android
Top 5 Best eBook Reader Apps for iPhone and iPad
Top 4 Best VPN Apps for iPhone and iPad
Top 5 Best Apps for Monitoring Data on iPhone and iPad
Top 5 Best Translation Apps for iPhone and iPad
Top 5 Best Alarm Apps for iPhone and iPad
Top 5 Best Calendar Apps for iPhone and iPad
Top 5 Best Photo Editing Apps for iPhone and iPad
Hope with this, you have learnt How to Create a Checklist in Google Docs and Google Sheets.
Please share and like below, also comment below for any problem faced or encountered.