5 Best Music Streaming Apps for iPhone & iPad 2021
Music Streaming has been on for a number of years now and it has witnessed advancement over time. You could think of streaming as compromising sound quality, but not anymore. The best music streaming apps have even better streaming quality than CD. Many music streaming apps require you to pay for a subscription to access their whole catalogs of songs with only few offering music for free. So let's jump right in and explore the 5 best streaming apps for iPhone and iPad.
1. Apple Music


Apple has been providing its users with music through Apple Music. The app has a massive number of songs from various artists all over the world. You can also download songs for offline listening. The app learns your activities on the app and curates custom playlist that suits your taste. It boasts of Beats 1, a 24-hours per day radio station having top DJs doing their thing. Not only does it have the these features, it is also well designed. If you are an Apple fan, then you can use Apple Music on your iPhone, iPad, Mac and Apple TV. Apple Music goes for $10 per month for an individual or $15 per month family plan.
2. Spotify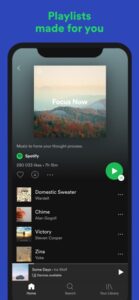 Spotify is the most popular music streaming service having a huge user base. It boasts of a massive music catalog among other great features. It has social features that lets you connect with others through Music. There's also a radio station feature in it as well as podcasts. You'll find there podcasts that are exclusive to Spotify. So the app not only provides music but other types of content. Spotify has a free plan that you can use to shuffle music but you have to make do with ads. For all the features to be unlocked, you need to subscribe $10 monthly. With this subscription, you'll be able to listen to high-quality music and also avoid ads.
3. YouTube Music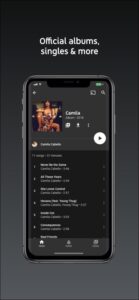 YouTube Music was previously in the dark but with it being merged with Google Play Music, it is now a good choice for music. You already know YouTube which is a massive platform for video content and so YouTube Music serves as an offshoot of it, giving you access to music from all over the world. You can use it free but to get premium features, you have to upgrade to the pro version. The premium subscription will give you access to ad-free listening, offline downloads and more. The Premium subscription costs $10 per month
4. Tidal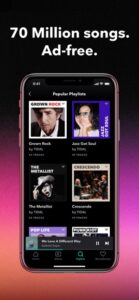 Tidal is another great music streaming app available for iPhone and iPad. It features one of the best audio quality among other app. Tidal surpasses most of the other audio streaming apps in quality. The platform boasts of lossless audio streaming. The sound quality can be likened to that of a CD. Today catalog stands at over 70 million tracks. The music streaming service is suitable for audiophiles who are very interested in high-quality music than anything else. Tidal also has in the package Dolby Atmos surround mixes, plenty of video contents among other features.
5. Amazon Music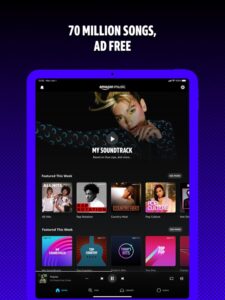 Amazon Music App does the music streaming job well. The platform has a wide variety of songs in the catalog. There are various genres that you can listen to. Amazon music will suggest music to you after learning your music taste over time. So all your listening activities are taken note of, and Amazon Music recommends based on this. There are various playlist for different activities like reading, parties and so on. The app also songs that center around themes like Baroque and Classic Rock. Alexa integrates with the app to deliver hands-free listening.
Rounding Up…
When you want a diverse catalog of songs, you can always get it with music streaming apps. You will be able to access different kind of music and artists, and different genres. We hope you found this helpful? If you did, kindly leave a comment and don't forget to share.
You can also check out
How to Enable Dark Mode on Telegram
How to Download Music from Spotify
Best Keyboard Apps for Android
Top 5 Best Web Browsers for Android
Top 5 Best Music Player Apps for Android
Top 5 Best Alarm Clock Apps for Android
Top 5 Best eBook Reader Apps for iPhone and iPad
Top 4 Best VPN Apps for iPhone and iPad
Top 5 Best Apps for Monitoring Data on iPhone and iPad
Top 5 Best Translation Apps for iPhone and iPad
Top 5 Best Alarm Apps for iPhone and iPad
Top 5 Best Calendar Apps for iPhone and iPad
Top 5 Best Photo Editing Apps for iPhone and iPad
Hope with this, you have learnt about the 5 Best Music Streaming Apps for iPhone & iPad 2021.
Please share and like below, also comment below for any problem faced or encountered.