How to Download Music from Spotify
Spotify is a Swedish music streaming and media services provider. It is operated by Spotify AB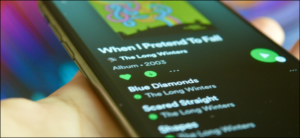 There are times you might be on the plane or in transit and get to zones where there is no internet access. Spotify provided Offline listening for its Premium users which allows them to download their music when there is no internet connection available. Learn how to download music from Spotify on desktop and mobile…
How to Download Songs from Spotify on Desktop
How to Download Liked Songs on Desktop
It is easy to download all your liked songs on a PC or Mac. Open up the Liked Songs section of Spotify on your Mac and Windows and click the Download switch. And that way, you'll have all your liked songs downloaded.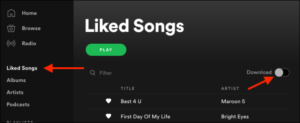 How to Download Playlist on Desktop
To download a playlist from Spotify, perform the below steps:
On the page of the curated playlist you want to download, click the little icon that looks heart-shaped, which you"ll see to the right of the Play button. Doing this will make it available and saved to your library so that it can be accessed easily, if not, the download option will still be hidden.
After that, toggle the Download slider that you'll see at the upper-right corner of any playlist. The download process of the playlist will begin, but note that the time to download may be longer depending on the size of the playlist and how fast your internet connection is.
After they have been downloaded, you will be able to see the downloads in the Playlists section. The Playlists section is on the left-hand side of the Spotify screen.
Downloading Albums and Playlists from Spotify on Mobile
Spotify on Android is slightly different from Spotify on iOS in interface, but the download process is similar. Look for the album or playlist you wish to download. On Android, tap the Download toggle present on the top right; on iOS, tap the arrow facing downward on the top left.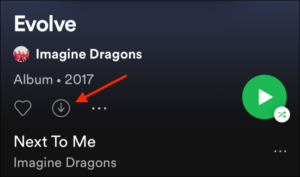 This will bring up a downward-facing arrow to appear below each song in the album, and when each download completes, they turn green. The download completion time depends on your internet connection speed.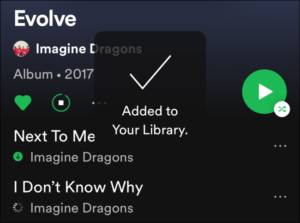 To listen when offline, tap Your Library > Music and your music will be under Albums or Playlists. Any album or playlist that has been downloaded and can be listened to offline, will make the downward-facing arrow green.
If you have to go offline, like when you're on a plane, activate Offline Mode, which will have all the music you have downloaded shown only. To do this on Android, tap Home and the gear icon, then toggle the Offline Mode switch on. On iOS, tap Home > [gear icon] > Playback > Offline.
How to Download Podcasts on Mobile
Spotify can be used to listen to podcast and the app makes you keep your music and podcast all in one place in a convenient way. To use podcasts offline, you can download one-off episodes, or download a specific podcast content as they appear in your library.
First of all, look for the podcast you wish to download. On the podcast's screen, tap the arrow facing download to download any of the episodes available right away. Or let new episodes be added to your library as they are released by tapping Follow. You can then get the episodes download via Your Library > Podcasts > Episodes.
You can also check out
How to Download YouTube Playlist using a Download Manager
View Milliseconds in VLC Media Player
How to Download Facebook Video using a Download Manager
How to Unlock Your Android Device if your Forgot the Password
How to check BVN on MTN, Glo, Airtel and 9mobile
Hope with this, you have learnt How to Download Music from Spotify.
Please share and like below, also comment below for any problem faced or encountered.