5 Best Web Browsers for Android 2021
To access the internet on your Android smartphone, you need a browser. There are many web browsers available on the market. Most Android device come pre-installed with the popular Google Chrome, but this is not the only browser available; there are many others. Though Chrome is a solid browser, but other browsers have features that Chrome don't have. In this article, we explore the 5 Best web browser for Android.
1. Google Chrome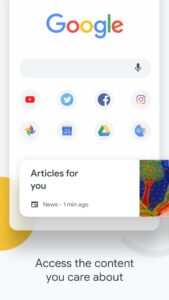 One of the best web browser for Android is the popular Google Chrome. Most Android devices come with this browser pre-installed so you may be using it right now. It has evolved over the years and has brought cool features into the mix. Move between tabs by swiping left or right on the address box. You can even set the display mode to dark. The app features an easy to navigate design which is not cluttered. With Google Chrome, you can sync your browsing data between devices. Google Chrome allows you to block ads and spams which are very useful features.
2. Mozilla Firefox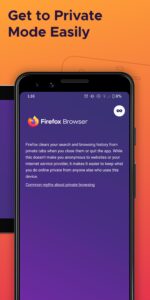 You'll find most web browser for Android taking their source from Chromium which is the open-source version of Google Chrome. This causes them to share similar features, disadvantages and problems. Firefox however isn't in this league, it is one of those browsers that is built on a custom rendering engine – GeckoView. It supports dark mode and allows you to sync your browsing data. There are also other versions of Firefox – Firefox Beta and Firefox Preview which Mozilla has been working on updating it with the new codebase.
3. Opera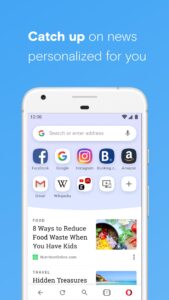 Opera is a very capable browser for Android. One of the oldest, Opera helps you browse websites at a great speed. Downloading also happens on Opera with a commendable speed. You can easily download from various sites without experiencing problems. On the design side, Opera has an intuitive design that makes for excellent navigation. It also has a stripped-down version called Opera Mini. Opera Mini lets you save data when visiting sites that would normally consume much data. If you however need advanced features that are similar to what other browsers on this list has to offer, you should go for the fully-featured Opera browser.
4. DuckDuckGo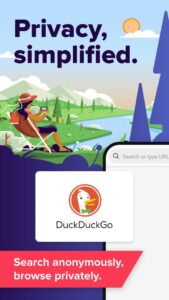 If you like much privacy when browsing, the DuckDuckGo could be what you're looking for. DuckDuckGo is a privacy-centric browser that helps keep browsing secure for you. Unlike browsers like Google Chrome that don't give you full privacy, DuckDuckGo is the opposite of that. The company behind the browser promises that the browser will block all third-party trackers that comes with a site. With DuckDuckGo, you can always be sure that sites you visit use an encrypted connection when available. DuckDuckGo claims that your browsing activities will never be tracked by them.
5. Brave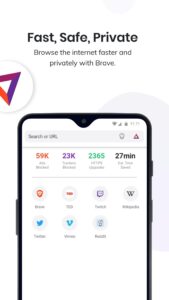 When you talk about privacy-focused browser, you talk of Brave. The browser has a good number of user base having with over 10 million downloads on the Google Play Store. Brave makes sure your browsing session are secure. It features an ad blocker and pop-up blocker both of which are solid. It does not drain battery heavily and it helps to conserve data. It boasts of HTTPS Everywhere, incognito private tabs, and script blocking. Basic features that you would find in every browser are available in Brave like bookmarks, tabs, history and more.
Rounding Up…
Chrome is known to be one of the fastest browsers if not the fastest but other browsers does have features that rivals Chrome. Some are heavy on security, while others have fancy features. Whichever you love, do tell us in the comment section, we'd love to hear from you. Please don't forget to share.
You can also check out
How to Enable Dark Mode on Telegram
How to Download Music from Spotify
Best Keyboard Apps for Android
Top 5 Best Web Browsers for Android
Top 5 Best Music Player Apps for Android
Top 5 Best Alarm Clock Apps for Android
Top 5 Best eBook Reader Apps for iPhone and iPad
Top 4 Best VPN Apps for iPhone and iPad
Top 5 Best Apps for Monitoring Data on iPhone and iPad
Top 5 Best Translation Apps for iPhone and iPad
Top 5 Best Alarm Apps for iPhone and iPad
Top 5 Best Calendar Apps for iPhone and iPad
Top 5 Best Photo Editing Apps for iPhone and iPad
Hope with this, you have learnt the 5 Best Web Browsers for Android 2021.
Please share and like below, also comment below for any problem faced or encountered.