5 Best Twitter Apps for Android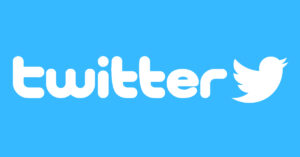 Twitter is a popular social networking site and is used to disseminate information quickly. It is the second popular social network after Facebook and aside making news spread, it's also a fun place catch memes that will make you laugh. Twitter has had it shares of controversy too and has been known to be a host to online bullying but the company is putting in efforts to tackle it. In this post are the 5 best Twitter apps for Android.
Best Twitter Apps for Android
1. Fenix 2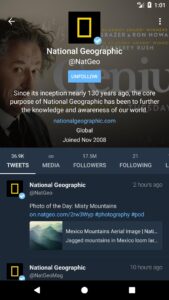 Fenix 2 is the second version of the popular Fenix app with a huge fan base. The app is one of the best Twitter clients on the market. The app allows you to have multiple accounts, is beautifully designed, and has a nice preview for images, videos and GIFs. There's also support for previews from other sites like Flickr, Instagram, Facebook and more. This Twitter app also boasts of multiple light and dark themes that you can set giving you great customisation options. It features heavy customisation for the main screen and you can get to your recent searches or saved lists conveniently. You can get the app for a small price of $2.99. The app works on devices running Android 5.0 and higher.
2. Owly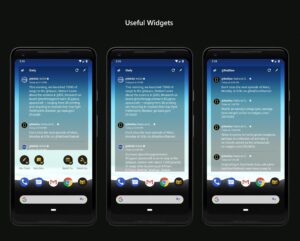 Owly is one of the best Twitter apps on the market. The app doesn't focus on personalisation options, instead, it gives you trends and updates that will make you stay up to date with what is happening. Use Reading list to curate tweets you highlighted from various account and choose the topics you're interested in. The app also provides tweet digest at a scheduled time so that you don't miss updates from your favourite accounts. You can also read tweets based on location by setting up a location radius. Owly has some other features that makes it better than its other competitors. One of them is its ability to convert long tweets into images using a background you choose.
3. Plume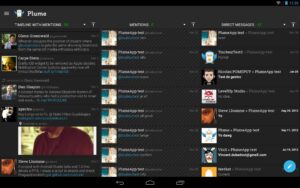 Plume was previously known as Touiteur and is a highly customisable Twitter app. The app lets you colorise the interface of specific friends and even your timeline, share tweets to Facebook, and set up multiple accounts. The twitter app has a smart discussion reader that isolates tweets you're interested in or have contributed to. With Plume widgets, you can send tweets easily even when you are not on the app. Plume also boasts of other features, which include swipe scrolling, geotagging, Bitly URL support, and support for inline conversations.
4. Talon for Twitter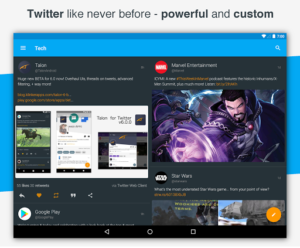 Talon is another app for Twitter. The app has a blend of outstanding features with functionality that gives it a great performance. One unique feature about the app is its ability to "peek" into images, profiles and videos without going out of the timeline. You can receive notifications of your favourite accounts and mute tweets by hashtags, retweets, expressions, users, and Twitter clients. Other features that the app boasts of include native playback of YouTube videos, do not disturb mode, compact timeline layout, and more. These cool features are just some of the what the app packs; you can also customise the look with the Material Design theme engine.
5. Twitter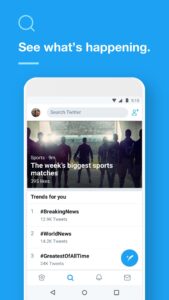 We also include the official mobile Twitter app. The app isn't as bloated as what you'll find in other apps on this list. All you need it to do is what it does, and it does it well. It's also the first to get updated with the newest Twitter features. These features include things like Twitter Moments, newer mute features and live footage. The app is completely free and has great syncing options.
You can also check out
How to Download YouTube Playlist using a Download Manager
View Milliseconds in VLC Media Player
How to Download Facebook Video using a Download Manager
How to Unlock Your Android Device if your Forgot the Password
How to check BVN on MTN, Glo, Airtel and 9mobile
How to Download Facebook Private Video using a Download Manager
Hope with this, you have learnt the 5 Best Twitter Apps for Android.
Please share and like below, also comment below for any problem faced or encountered.