5 Best Translation Apps for Android
One barrier to communication in the world is language difference. Supposing your are from Nigeria who speaks English and needs to converse with a Japanese national online, how would you converse? You either learn the language, have a translator with you or have a handy translator app ready. The first could be difficult and can take time but the last is as easy as going to the Play Store to download a translation app. We present to you the 5 best translator apps for Android.
Best Translation Apps for Android
1. Google Translate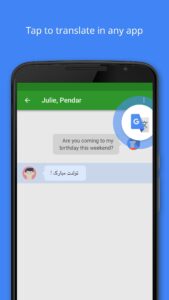 Google Translate is a popular translation app and is loaded with many features. The app translates in over 100 languages and this translation can be done for voice, text, conversation, photo and handwriting. Its features are intuitive and work well across languages. You should note that not all features work for all languages. The app also lets you save translations to a phrasebook. If you need to access translations in a place where is no internet connection, you can download language packs for offline translations. One feature worth mentioning is instant camera translation. With this feature, you can use your camera to capture whatever you want translated and Google Translate will do the rest.
2. iTranslate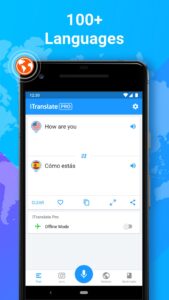 iTranslate is one of the most popular translator app on the Android market and is a great one too. With the app, you'll be able to get hundreds of languages translated for you instantly. The translator app also doubles as a dictionary app. You can use the voice mode to make translations in female or male voices. iTranslate also has the feature that lets you switch between different dialects. You also have a great Phrasebook at your disposal having 250 phrases. It will also provide you with a keyboard expansion and an app for Apple Watch.
3. Microsoft Translator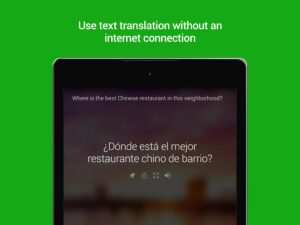 Microsoft pushed out simple and sophisticated Microsoft Translator to the Translation market . It can be used offline and can translate in 42 languages. It is easy to get the offline languages by just downloading each of them. Each of them is about 200MB and can be used when there's no internet connection where you are. Designers at Microsoft did a good job in designing the interface of this app making it practical. The opening screen of the apps has four buttons for quick access. This buttons takes you to speech detection translation, keyboard translation or two-way translation. While Microsoft Translator is well designed than other translator apps, it isn't as versatile as Google Translate.
4. PONS Online Translator
The PONS Online Translator is the digital version of the PONS dictionary. Available on Android, the app is a a comprehensive dictionary having many useful features for users interested in linguistics. It isn't heavy in size as its install size is just 2.5MB. Note that the word search is delivered from PONS database hence the need for an internet connection. It's interface is also clean and user-friendly. Features on the app can easily be accessed by tapping the corresponding tabs present at the top. You have a search function, text translation, favourites list and various settings. The app boasts of a speech recognition feature that allows you to speak words to be translated instead of typing the words.
5. Naver Papago Translate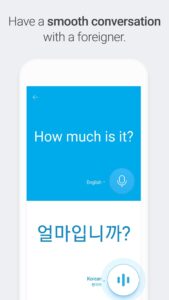 Most translation apps do well in translating European languages, but do not accurately translate Asian languages. The reason for this is that most translation apps are from United States, and companies don't have have access to extensive data of Asian languages. Papago was created to solve this problem Naver, its creator built it to provide language translations precisely and accurately than its competitors. You get the features you have in other apps on Papago, like text, voice, photo, and conversation translations. According to reviews, it's not too good in voice and photo recognition, but it's very accurate in other aspects for the language it supports.
You can also check out
How to Download YouTube Playlist using a Download Manager
View Milliseconds in VLC Media Player
How to Download Facebook Video using a Download Manager
How to Unlock Your Android Device if your Forgot the Password
How to check BVN on MTN, Glo, Airtel and 9mobile
How to Download Facebook Private Video using a Download Manager
Hope with this, you have learnt the 5 Best Translation Apps for Android.
Please share and like below, also comment below for any problem faced or encountered.