5 Best Podcast Apps for Android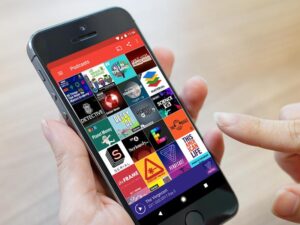 Podcast seems to be popular nowadays as people listen to expert speak on subject they love. Great podcast apps do more than just letting you listen to podcasts; they curate the podcast that are right for you, help you manage your subscriptions, and give you the best audio listening experience possible. Some podcast apps even allow you create your own podcast to share to the world. Check out our selection of the best podcast apps for Android…
Best Podcast Apps for Android
1. Anchor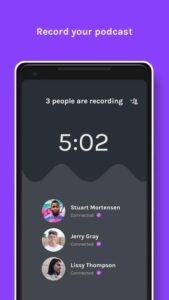 You probably have come in contact with a number of apps that allow you to stream or download your favourite podcasts. Anchor is quite different from them as it allows you to create a podcast yourself. The podcast platform is also a platform for unlimited hosting. With the app, you can record audio, publish it to platforms like Google Podcasts, iTunes. You can also get audio from other sources to be uploaded. The platform provides an opportunity for people who want to make podcasts and make money with them. The app is free to use, as well as hosting and it is ad-free too.
2. Pocket Casts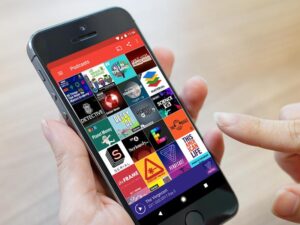 Pocket Casts has been long in the game and many's favourite mobile podcatchers. The app works cross-device and offers cross-platform syncing, and episode auto-downloading. There is a free app as well as a paid app. Aside the cross platform syncing, Podcasts will let you search for podcast based on categories or what you frequently listen to. The podcast app also boasts of organisation tools useful for downloading and streaming episodes. Pocket Casts packs configurable controls that control timeskips, sleep timers and more. The pro version Pocket Casts Plus brings on the desktop and web apps, alongside themes, 10GB cloud storage, and custom icons.
3. Podcast Addict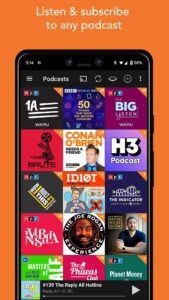 Podcast Addict doesn't just allow you to download podcasts, it also lets you organise, control and manage YouTube channels, SoundCloud, audiobooks, live radio, Twitch subscriptions, and RSS feeds. The podcast can also work as an MP3 player and is compatible with Android Wear, Chromecast, and Android Auto. The app has many options from which you can use and tweak and this presents a downside. Due to the vastness of the settings, you may find it overwhelming. Note that there is no cloud support which is quite unusual in today's podcast apps.
4. Google Podcasts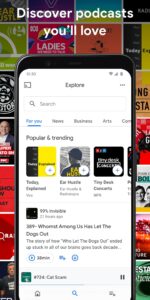 When you talk of the most straightforward podcast apps for Android, Google Podcasts can't be left out. Other apps have an array of navigation menus which can be messy, but Google Podcasts is just simple with three tabs: the Home tab, the Explore tab, and the Activity tab (which contains your downloads, queue, and history). If you are a novice podcast listener, you can take advantage of the simple interface that Google Podcasts has. Even with its simple nature, Google Podcasts doesn't lack in feature, it is still powerful. It has similar tools that you'll find in Pocket Casts, such as sleep timer, and speed controls. Also, it works with Google Assistant and Its compatibility is second to none.
5. Castbox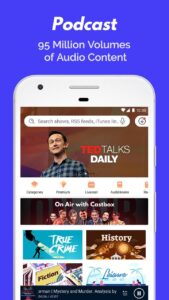 Castbox is a Google Play Awards recipient and has outstanding qualities among other podcast app. The developers had previously worked on Podcast Player, and brought some ideas from it into Castbox. Castbox can be termed as an all-in-one podcast app. It is a podcatchers which hosts more than a million podcasts, cloud syncing, and Amazon Echo and Chromecast support. It has a nice interface that makes finding your favourite podcasts easy. You can even use the sharing option of the app to share the podcasts to social media. As a podcaster, you can make use of some of the Castbox features, such as hosting, advertising and unlimited storage.
You can also check out
How to Download YouTube Playlist using a Download Manager
View Milliseconds in VLC Media Player
How to Download Facebook Video using a Download Manager
How to Unlock Your Android Device if your Forgot the Password
How to check BVN on MTN, Glo, Airtel and 9mobile
How to Download Facebook Private Video using a Download Manager
Hope with this, you have learnt about the 5 Best Podcast Apps for Android.
Please share and like below, also comment below for any problem faced or encountered.