5 Best Launchers Apps for Android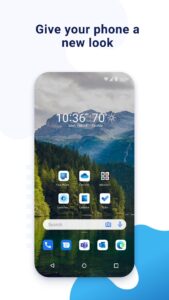 The Android OS is the dominating operating system in the mobile space and the reason is not far fetched; it is highly customisable, providing options to let your device look, feel and function the way you want. Launchers are apps that gives your phone a makeover letting you have a device that suits your taste. With them, you can customise the home screen, app drawer, change themes and do various tweaking. Here, we'll be discussing the top Launcher apps for Android.
Best Launchers for Android
1. Smart Launcher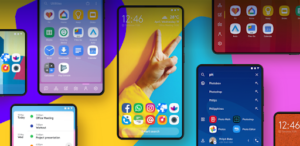 Smart Launcher is not a newcomer in the launcher market. It has been around for a long time. However, with the introduction of Smart Launcher 5, it became more and more better. It is designed to have a grid-less widget placement system and modular page system, but what's most interesting is its app drawer. Your apps are sorted out into several categories and this is done automatically. If you can shell out some money for Smart Launcher Pro, you will be able to create your own custom categories and customise things the way you want. In the package of the launcher is the already mentioned responsive app drawer divided into categories, coupled with the accurate widget placement system and various icon options on the market. All these makes it one of the best Android launchers on Google Play Store.
2. Evie Launcher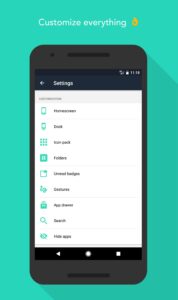 Evie Launcher is one that's not too focused on customisation, but gives you a simpler overall experience. The launcher app, gives you options for app columns and the app dock's width which makes it simple. This is not really a weakness but the simplicityo of the app means it is one of the fastest launchers around, making navigation easy and removing all the technicalities associated with customisation. Evie Launcher is equipped with a powerful universal search function, and lets you do some tweaks if you're willing to invest time. If you're new to Android launchers, Evie Launcher is a good place to start and customise the look and feel of your smartphone.
3. Nova Launcher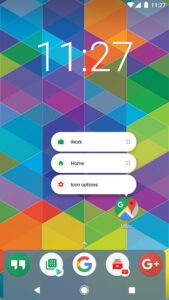 Nova Launcher is one you can't but mention when you talk of Android launchers. It has a combination of sleek, fast and highly customisable features that makes it stand out. Also, with an interface that is extensive and with useful customisation, the launcher app does far above what is obtainable on average launchers. Better still, performance isn't sacrificed as it remains optimal even with the features. Nova Launcher is equipped with tons of options, from icon packs, to color themes, folder settings, and infinite scrolling. The Nova Launcher developers don't relent as they consistently push out updates that adds new features like animations and SeSame Shortcuts.
4. Apex Launcher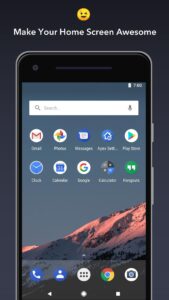 When you talk of launcher apps with stunning appearance, Apex Launcher belongs to this category. It is visually beautiful and can be customised with thousands of themes and icon packs on the Play Store. Lightweight, Apex Launcher is optimised for tablets too. The launcher boasts of 9 customisable home screens and if you wish, you can hide apps from the app drawer. Apps on the app drawer can be categorised into title, installation date, or how frequently they are used. To get more features such as more gesture option and more customisation, you'll need to purchase the pro version.
5. Microsoft Launcher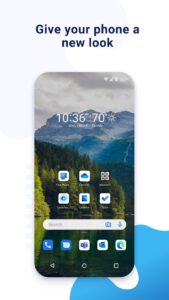 Microsoft Launcher for Android lets you manage your home screen and app drawer in an easy way. The app is suited for people who need a launcher that will aid their productivity. With the calendar to the to-do list, Sticky Notes and Cortana, you can have a productive life in business or work. With the digital assistant, Microsoft Launcher stands out from the rest as it helps you perform various tasks. If you have a Microsoft account, the app is one you'll find useful because you can have all Microsoft products such as documents, calendars in one place.
You can also check out
How to Download YouTube Playlist using a Download Manager
View Milliseconds in VLC Media Player
How to Download Facebook Video using a Download Manager
How to Unlock Your Android Device if your Forgot the Password
How to check BVN on MTN, Glo, Airtel and 9mobile
How to Download Facebook Private Video using a Download Manager
Hope with this, you have learnt about the Top 5 Best Launchers Apps for Android.
Please share and like below, also comment below for any problem faced or encountered.