How to Recover Lost Contacts on iPhone
Even before the advent of smartphones, contacts have been used on phones. It is an important part of our smartphone life that we use to make calls, and even connect to social messaging platforms. But how bad can it be to find that contacts on our iPhone have suddenly disappeared? This could be because of different reasons. We discuss the reasons here, and proffer solution for you to recover contacts on your iPhone
Possible Reasons for Losing Contacts
1. When you do Jailbreak: Performing a jailbreak on your iPhone could lead to the loss of iPhone contacts. Since Jailbreak gives iPhone users the access to modify and tweak their devices, it could make some iPhone contacts get missing.
2. When you upgrade iOS: Whenever you're doing an upgrade to a new iOS, you'd be given an option to use iCloud and sync iPhone data. If you select this option and you've never synced iPhone contacts at all before now, you might find some of your contacts missing from your iPhone.
3. When you force-restart iPhone: This is usually done when an iPhone is frozen and can lead to contacts being lost.
Restore Lost Contacts from iCloud.com
One of the most easiest way to recover iPhone contact is by this method. Using iCloud.com to restore gets your contacts back across all your Apple devices. All you need is a web browser and with the few steps below, you are on your way to having your contacts back on your iPhone.
1. Open your preferred web browser and visit iCloud.com. When the page opens, enter your Apple ID and password. Next, click on the arrow icon which will log you into iCloud.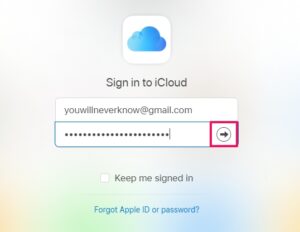 2. You'll be able to get to the homepage after that. From there, select Accounts Settings, which you'd see under your name.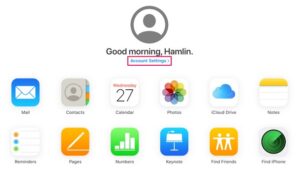 3. After that, look over the bottom of the page and click Restore Contacts. You'll see a pop-up menu.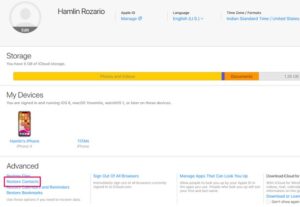 4. This pop-up will show you archives that had been saved previously to iCloud. Simply select an archive, and select Restore which is beside the archive.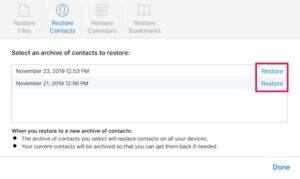 5. Another pop-up will be displayed, asking you to confirm your action. Click on Restore to confirm. You'll have to wait for some time for the restoration to complete.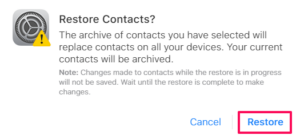 6. Upon completion, a new archive will be saved to iCloud. You should note that restoring contacts from the archive you chose will replace the existing contacts on all your Apple devices. When all is done, click Done and the you are through with the process
Export iCloud contacts from Computer to iPhone
It is also possible to use your computer to restore your iPhone contacts. This is a fairly simple way of restoring contacts and it involves you exporting the contacts from iCloud to your computer after that, sending to your iPhone via email, and then importing them to your iPhone. The steps below will help you achieve this.
1. Log into your iCloud account.
2. Click Contacts.
3. Locate and click the cog icon in Settings. This icon is present at the bottom left. From here, click Export vCard.
4. Next Save the file to your computer.
5. Forward the .vcf file to your iPhone via email.
6. On your iPhone, open the email and the attachment. Select the Add Contacts button. You'll receive a message inquiring if you would like to create new contacts or merge with existing contacts.
You can also check out
How to Enable Dark Mode on Telegram
How to Download Music from Spotify
Best Keyboard Apps for Android
Top 5 Best Web Browsers for Android
Top 5 Best Music Player Apps for Android
Top 5 Best Alarm Clock Apps for Android
Top 5 Best eBook Reader Apps for iPhone and iPad
Top 4 Best VPN Apps for iPhone and iPad
Top 5 Best Apps for Monitoring Data on iPhone and iPad
Top 5 Best Translation Apps for iPhone and iPad
Top 5 Best Alarm Apps for iPhone and iPad
Top 5 Best Calendar Apps for iPhone and iPad
Top 5 Best Photo Editing Apps for iPhone and iPad
Hope with this, you have learnt How to Recover Lost Contacts on iPhone.
Please share and like below, also comment below for any problem faced or encountered.