How to Recall a Message you Sent in Microsoft Outlook
Gone are the days when how we could only messages was by typing out a letter and sending through the postal office. But internet technology has changed this. We can now send messages over long distances through the power of emails. Businesses are using it more than ever and it is an easy and convenient means of communicating.
Outlook is Microsoft's product for handling emails and it is a very good option among the other email service option. Sending messages may be very easy on Outlook but you may feel it's very difficult when you sent a wrong message and you want it deleted. But worry not, it is very easy to recall messages on Outlook. This post explains how to do it.
How to Recall Outlook Messages
To do this, follow the steps below:
1. Get to the email folders pane which is located on the left-hand side of the screen and select the Sent folder.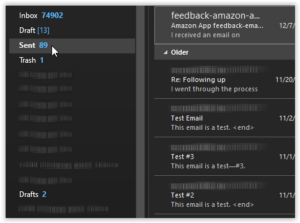 2. On the messages pane, double-click the message you wish to recall. What this will do is to open the message in a different window. Alongside this, there will be various options available.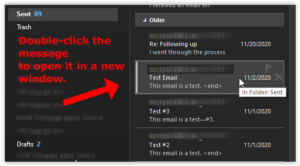 3. Look over the top for the Message tab and click the Actions ribbon or menu option. Next, click Recall This Message so that the messages gets deleted from the other end.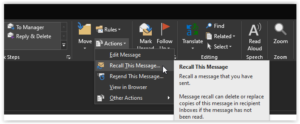 4. Select the "Delete unread copies" or "Delete unread copies and replace with a new message" option. After that, click OK.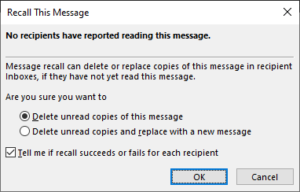 5. To monitor the deletion process, check the box beside "Tell me if recall succeeds or fails…" This will make you receive a status message on the process.
If you checked the Delete Unread Copies and Replace with a New Message option, a new window will come up to create a new message.
Recalling Outlook messages will not be successful if:
1. If the message you are sending is outside your organization.
2. You are on Azure Information Protection.
3. Your recipient is using Cached Exchange Mode and is working offline.
4. The message has been read.
5. The message has been moved from the recipient inbox.
6. You're using Outlook on the web.
7. You're not utilizing a Microsoft Exchange Server to handle your emails in Outlook.
How to Check Recall Eligibility on a Windows PC
You can know if you account is eligible for recalling messages on Outlook through the following steps:
1. Click the File tab.
2. Select Account Settings which is present in the right pane.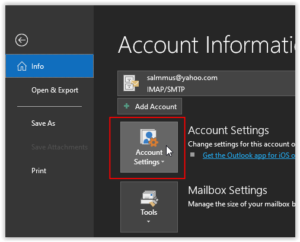 3. When the Settings menu opens up, click Email.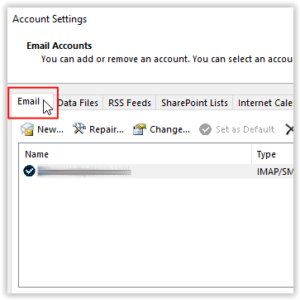 4. Locate the email you're intetested under the Name column and check for the email account details  under the Type column.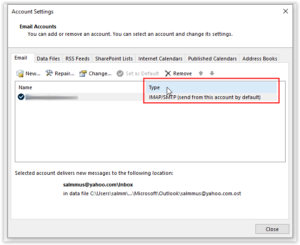 Ensure that the email type is marked Exchange or you will not be able to properly recall any messages.
How to Check Outlook Recall Eligibility on a Mac
1. Select Outlook in the menu bar and click Preferences.
2. Select Accounts.
3. Locate the account in the list and click it.
If your account is eligible, you will find Exchange under the account name.
And that's it! With this guide you will be able to recall messages on Outlook and not worry that the message you don't want read has been viewed. We hope you found this helpful? Please don't forget to drop a comment and share.
You can also check out
How to Add Photos on TikTok
How to Know Those That Viewed Your Profile on TikTok
TikTok: How To Edit A Video Caption After Posting
How to Check NIN on MTN, Glo, Airtel and 9mobile
DStv Subscription Package, Prices with Channels
Startimes Subscription Package, Prices, And Channel List For Each Plan
GOtv Subscription Package GOtv Max, Jolli, Jinja and Lite Channel List and Price
GOtv Assigned Channel Number with Channel
GoTV Customer Service Contact, Social Media Handle & Email Address
StarTimes Customer Care Contact, Social Media Handle & Email Address
Top 5 Best Web Browsers for Android
Top 5 Best Music Player Apps for Android
Top 5 Best Alarm Clock Apps for Android
Top 5 Best eBook Reader Apps for iPhone and iPad
Top 4 Best VPN Apps for iPhone and iPad
Top 5 Best Apps for Monitoring Data on iPhone and iPad
Top 5 Best Translation Apps for iPhone and iPad
Top 5 Best Alarm Apps for iPhone and iPad
Top 5 Best Calendar Apps for iPhone and iPad
Top 5 Best Photo Editing Apps for iPhone and iPad
Hope with this, you have learnt How to Recall a Message you Sent in Microsoft Outlook.
Please share and like below, also comment below for any problem faced or encountered.