How to Enable Dark Mode on TikTok
We love to use our phones every now and then. If it is not meant to be so, why is it called mobile? We take it to our offices, in the bus, or in a picnic.
The advantage of having a smartphone today is unquantifiable. But it also poses a problem. We peer into the screen for long hours and this can cause strain on our eyes.
One way developers have been able to combat this is with the adding of the dark mode feature which reduces the light intensity of their apps. Many apps have adopted this feature but some haven't fully adopted it. One of them is TikTok. Though dark mode is available for Its iOS version, other platform are yet to get it.
In this post we give a guide on how to enable dark mode on iOS.
Enable TikTok Dark Mode in Android
TikTok doesn't support in-app dark mode for Android device as at the time of writing this.
Though it was said that some beta users got the dark mode on their Android device,the feature hasn't been updated for all users on the Google Play Store.
We expect TikTok to release dark mode very soon for Android owing to the fact that iPhone users are already enjoying it.
Enable TikTok Dark Mode on an iPhone
iOS users with their iPhones and iPads have access to dark mode on TikTok. There are two ways of turning dark mode on iOS: via the in-app switch or using the system wide settings. We will explain both methods in the steps below:
It is important that you are running an updated version of iOS from version 13.
1. Launch TikTok on your iPhone.
2. Tap Me.
3. Locate the three horizontal dots in the top right corner which represents menu and tap it.
4. Under the General section, select Dark Mode. You will have two options available: Light or Dark Mode. Tap Dark.
Once you tap Dark, you will find that the TikTok interface changes to dark.
To use the system settings instead of going through the steps above, then the steps below will help out:
First, set TikTok to utilise the Use Device Settings option instead of setting it to Dark in step 4. Once set, TikTok will appear based on the system settings of your phone
Now, here's how to set dark mode in settings:
1. Launch Settings on your iPhone.
2. Select Display & Brightness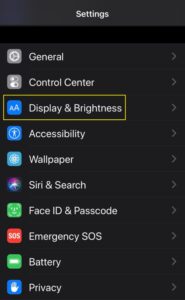 3. Check through the appearance section and locate the Light and Dark options. Tap Dark to enable dark mode.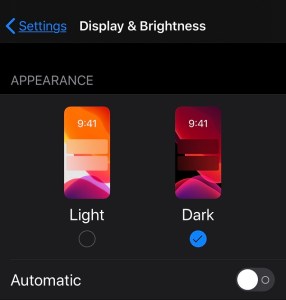 Upon doing that, your iPhone look will change to dark.
There is a more easy way to switch to dark modes. The steps below will reveal that:
1. Swipe down from the top right corner of the screen to bring up Control Center.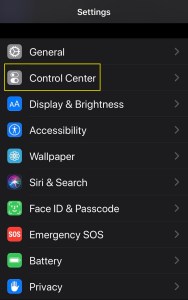 2. Tap and hold the Brightness control to open up more options under it. You will find the appearance mode button in the menu. Switch to dark mode by tapping this button and you can revert to light mode by tapping it again.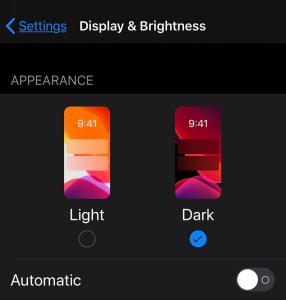 Another more convenient way is to add the Dark Mode switch to Control Center. Do this through the following steps:
1. Launch Settings.
2. Move down the screen to the Control Center option and select it.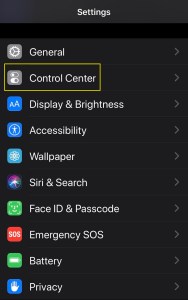 3. Select Customize Controls.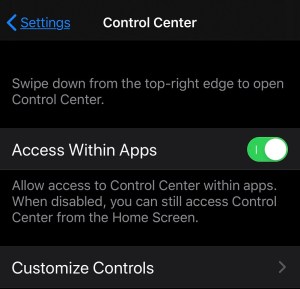 4. When. you're at the More Controls section, tap Dark Mode. Tap and hold the three-line icon to organise the dark mode switch in Control Center.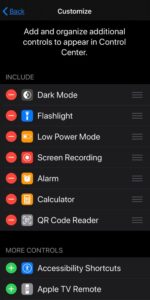 Everytime you open Control Center, you will find that switch there. Tap it go enable or disable the dark mode.
To use the Use Device Settings feature to its utmost potential in TikTok, it is better to enable the switching between light and dark modes of your device. Set this by selecting Automatic instead of tapping Dark Mode in the iPhone Appearance section.
And your TikTok will be as dark as the night and you won't be stressed on the eyes. Dark mode not only give health advantages, but it adds aesthetics feel to your phone. Black is the real deal and you device can take on that look. We hope you could this helpful. Kindly leave a comment and don't forget to share.
You can also check out
How to Add Photos on TikTok
How to Know Those That Viewed Your Profile on TikTok
TikTok: How To Edit A Video Caption After Posting
How to Check NIN on MTN, Glo, Airtel and 9mobile
DStv Subscription Package, Prices with Channels
Startimes Subscription Package, Prices, And Channel List For Each Plan
GOtv Subscription Package GOtv Max, Jolli, Jinja and Lite Channel List and Price
GOtv Assigned Channel Number with Channel
GoTV Customer Service Contact, Social Media Handle & Email Address
StarTimes Customer Care Contact, Social Media Handle & Email Address
Top 5 Best Web Browsers for Android
Top 5 Best Music Player Apps for Android
Top 5 Best Alarm Clock Apps for Android
Top 5 Best eBook Reader Apps for iPhone and iPad
Top 4 Best VPN Apps for iPhone and iPad
Top 5 Best Apps for Monitoring Data on iPhone and iPad
Top 5 Best Translation Apps for iPhone and iPad
Top 5 Best Alarm Apps for iPhone and iPad
Top 5 Best Calendar Apps for iPhone and iPad
Top 5 Best Photo Editing Apps for iPhone and iPad
Hope with this, you have learnt How to Enable Dark Mode on TikTok.
Please share and like below, also comment below for any problem faced or encountered.