How To Delete All Comments On Microsoft Excel
Letting your computer do some complex calculations and computations is really relieving. This what Microsoft Excel helps you to achieve. The software is used by many businesses to handle data and simplify them into an understandable format. Along the line of working on Excel, you may have to put comments to guide your work.
Comments in Excel help you put important markers on your worksheet or is useful for an editor of your work. Comments are very useful when creating drafts of your excel project. There's a high probability that you would be using comments in Excel and this article will help you delete comments in Excel. You wouldn't want to make a presentation with the comments still there.
To remove comments from your Excel worksheet, you can go through any of these three methods.
1. Delete one by one
2. Delete all at once
3. Selectively Delete them
You can employ these various functions to delete comments: "Go To" function, "RevieGow" tab, or run a VBA macro.
Deleting With the Go To Function
To delete comments quickly, use the Go To function. It helps you edit or rearrange your Excel worksheets. Uing the function avails you the ability of making range selections, rearranging data based on various parameters like row differences, columns, formulas etc.
In order to delete what you feel isn't necessary, do the following:
1. Select the worksheet that has the comment you want to delete. Hit F5 on your keyboard.
2. Select Special, then Comments and click OK.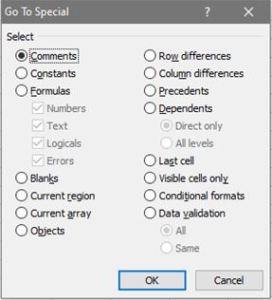 3. Open up a context menu by right-clicking and then select Delete Comment.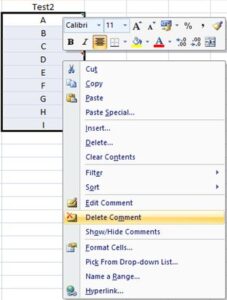 4. By using the Go To option, you will be able to delete all comments that are on that worksheet irrespective of who created them
Deleting with the Review Tab
For you to know how to write comments, there are chances you already know how to delete them. The review tabs lets you write comments and it also makes it possible for you delete them.
1. Select the worksheet you want comments deleted from. Click Review.

2. Select a comment, then select Delete.

This method is limited though, as it can only be done individually for each worksheet.
Deleting with VBA Macro
Microsoft Visual Basic window is also equipped with the ability to do various Excel tasks with the appropriate line of code
1. Press Alt + F11 to launch the window.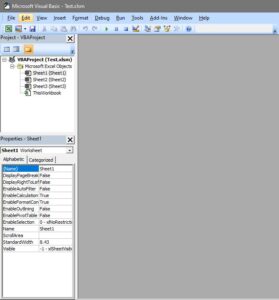 2. Check the toolbar and then click Insert, then Module.

3. Copy and paste the following lines of code into the module.
Sub DeleteAllComments() 'Updateby – insert date using year/month/day format For Each xWs In Application.ActiveWorkbook.Sheets For Each xComment In xWs.Comments xComment.Delete Next Next End Sub
4. Click "Run."

This will cause all the comments in every of your worksheets the be deleted.
To delete a comment in a specific worksheet, select the worksheet, and run the following code.
Sub Remove_All_Comments_From_Worksheet()Cells.ClearCommentsEnd Sub
And with this guide, you will be able to delete comments on Excel. Deleting comment can he time consuming, but now that you know better methods of deleting all comments, it is time to apply it and make your work a neat sheet ready for presentation. Please don't forget to comment and share!
You can also check out
How to Add Photos on TikTok
How to Know Those That Viewed Your Profile on TikTok
TikTok: How To Edit A Video Caption After Posting
How to Check NIN on MTN, Glo, Airtel and 9mobile
DStv Subscription Package, Prices with Channels
Startimes Subscription Package, Prices, And Channel List For Each Plan
GOtv Subscription Package GOtv Max, Jolli, Jinja and Lite Channel List and Price
GOtv Assigned Channel Number with Channel
GoTV Customer Service Contact, Social Media Handle & Email Address
StarTimes Customer Care Contact, Social Media Handle & Email Address
Top 5 Best Web Browsers for Android
Top 5 Best Music Player Apps for Android
Top 5 Best Alarm Clock Apps for Android
Top 5 Best eBook Reader Apps for iPhone and iPad
Top 4 Best VPN Apps for iPhone and iPad
Top 5 Best Apps for Monitoring Data on iPhone and iPad
Top 5 Best Translation Apps for iPhone and iPad
Top 5 Best Alarm Apps for iPhone and iPad
Top 5 Best Calendar Apps for iPhone and iPad
Top 5 Best Photo Editing Apps for iPhone and iPad
Hope with this, you have learnt How To Delete All Comments On Microsoft Excel.
Please share and like below, also comment below for any problem faced or encountered.