5 Best Office Apps for Android
There was a time when office jobs could only be done on paper but now that has changed, we now have technology driving office work. It was first through computers, but technological innovation brought has brought about the use of mobile devices to perform office duties.
The popular Microsoft Office option is not only the one available, Android developers have been developing other office apps for Android. In this article, we explore the best office apps for Android.
1. Microsoft Office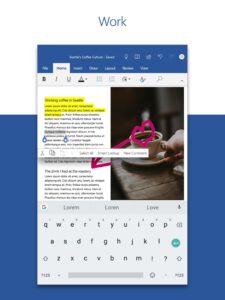 The Popular Microsoft Office is one of the best office apps. In the suite are essential office apps like Word, Excel, PowerPoint, and OneNote. The apps help you achieve productivity in your work and give you the ability to perform office tasks. With Microsoft Office, you can create, view, edit, share documents, presentations, and charts easily. You can have your presentations synced to OneDrive which you can retrieve at any time and edit.
Other than the ability to create new documents, you also have an excellent-looking interface, and collaboration features. Your team can easily make comments on your work thereby giving feedback. Microsoft Office allow you to easily share projects and send them to the cloud also. It has various options for sharing like email, Skype and much more.
Download Microsoft Office Apps
2. Google Office Suite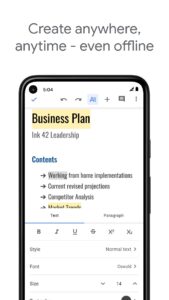 If you need a great alternative to Microsoft Office, you can try out the Google Office Suite comprising of Google Docs, Sheets, and Slides. If you're into the Google ecosystem, then you can easily use the apps with the larger part of the ecosystem. You can easily use your one Google Account to access all the apps. One great thing is that you have the apps connected to your Google Drive, so you can easily have access to them on any device. It features reliable syncing, and collaboration.
The apps themselves have great interface with easy to navigate layout. Docs allows you to style text, use various kinds of bulleted list, adjust alignment, and insert tables. Sheet allows you to merge charts, create charts among other spreadsheet functions. Slide is bundled with options for formatting, and customizing.
3. WPS Office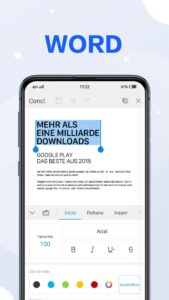 Another excellent Office app is WPS Office which has huge download of over 1.3 billion downloads. Both workers and students can make use of the app. The app comes with various Office features like Word documents, spreadsheet, presentations, Forms, PDF and more.
The app integrates well with Google Classroom, Zoom, Slack and so on. It includes PDF features like PDF Signature, PDF Split, and also PDF annotation. WPS Office allows you to put watermarks on your PDFs. Presentations can be done using WiFi, DLNA or, Miracast. WPS Office also integrates perfectly with Google Drive. The app boast of support for a wide range of office formats and supports 51 languages.
4. Office Suite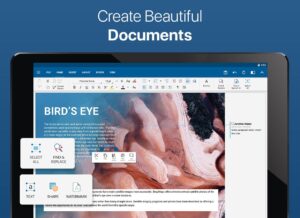 If you're looking for the best office apps for Android, you should take a look at Office Suite. The app has been on the market for a long time and has been iterated with new and better features over the years. In the free version are essential features you'll need. There are also cloud storage features.
The app can work with the common Microsoft formats and also some uncommon ones too. The app has syncing feature to enable you work on multiple devices at different times. It also boasts of features like PDF scanning, and spell checking. It also integrates with cloud storage to help you save your files online. It supports about 68 languages.
5. Xodo PDF Reader & Editor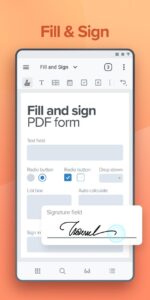 The Xodo app is more of a PDF app than anything else. It let's you create, edit and Mark up PDFs. It is capable PDF management app. You can easily create PDFs from documents, images and web pages. You can even create a blank PDF and add your own text. If you're working with many PDFs, you can merge them together into one.
It is also possible to edit PDFs by adding, removing or adjusting the order of pages. Xodo has compete annotation tools including text highlighting, text underlining, adding of new text and more. You can also add a signature or store your signature for future use.
Rounding Up…
Whether it is for official duties or personal work, these office apps will meet your productivity needs. Gone are the days of paper work, with technology in place, you can do neat and clean work on your Android device. We hope you found this helpful? If you did, kindly leave a comment and don't forget to share.
You can also check out
How to Enable Dark Mode on Telegram
How to Download Music from Spotify
Best Keyboard Apps for Android
Top 5 Best Web Browsers for Android
Top 5 Best Music Player Apps for Android
Top 5 Best Alarm Clock Apps for Android
Top 5 Best eBook Reader Apps for iPhone and iPad
Top 4 Best VPN Apps for iPhone and iPad
Top 5 Best Apps for Monitoring Data on iPhone and iPad
Top 5 Best Translation Apps for iPhone and iPad
Top 5 Best Alarm Apps for iPhone and iPad
Top 5 Best Calendar Apps for iPhone and iPad
Top 5 Best Photo Editing Apps for iPhone and iPad
Hope with this, you have learnt the 5 Best Office Apps for Android.
Please share and like below, also comment below for any problem faced or encountered.