How to Delete a Microsoft Account
There are reasons why people delete their accounts. Maybe they are switching to another platform or are wary of tech companies spying on them. You may have one of the many reasons people do this and your Microsoft account may be what you're looking at to delete. Why it isn't bad to delete a Microsoft account, you should also he aware of the consequences. In this post we expose them to you, and give you a guide on how to delete your Microsoft account.
What You Should Note When Closing a Microsoft Account
Deleting your Microsoft account takes away many things associated with it. The reminders that appear before you delete the account will alert you that Xbox and OneDrive subscriptions will be wiped off. That's not all, you'll lose your shared photos, email, and even your Windows Store wallet.
Knowing this, you should go through your account overview page and peruse it to find out the subscriptions that are on your account and the funds in them. It would be safe to withdraw your money, and cancel the subscriptions there before you delete the account.
Deleting your account will also remove your Gamertag, games and progress. So you must be aware of all this because deleting your account permanently will erase very important data on your account. Skype will also be affected, as the history and account itself would be deleted.
So as not to get into the situation where you have deleted your account and can't access the subscriptions on it to cancel them, it's important to heed to the warnings.
However a good news is that should you change your mind, you can recover the account back but that's within  a 60 days window.
How to Completely Delete Your Microsoft Account 
Deleting from Microsoft Servers removes your account from any Microsoft database thus permanently deleting it. Going through the steps below means you are sure of what you want to do and know the consequences of deleting your account permanently
1. Sign into your Microsoft account from the Microsoft website
2. Enter your Microsoft account details and log in.
3. The left corner has the ' Next' button. Click it.
4. Let Microsoft run your account through verification. It would either use your email address or phone number.
5. Enter the verification code to complete the verification process.
6. Some reminders will pop-up. Simply check all the boxes contained in the reminders.
7. Select a reason for your decision
8. Click on Mark Account For Closure.
9. Click Done.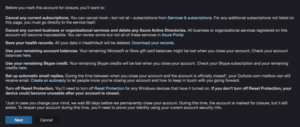 You still have an opportunity to get back your account after deletion and you can only do this within a two-month period. You must be able to prove your Identity to do this.
How to Delete Your Microsoft Account from Windows
You may decide not to delete your account completely, that is from Microsoft servers, and you may only want to delete it from Windows Settings. Follow the steps below to do this:
1. Click the Window button,
2. Click Settings.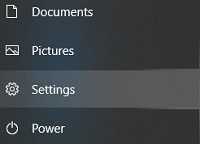 3. Navigate to Accounts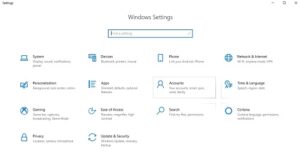 4. Get to your Account tab
5. Move down the screen and click Remove Account.
Note that you can only delete an account if you're logged out from the said account. You can't delete an account that you're are signed into. So to delete an account, just sign into another account, or create a local account. After that, just follow the steps above.
You can also check out
DStv Subscription Package, Prices with Channels
Startimes Subscription Package, Prices, And Channel List For Each Plan
GOtv Subscription Package GOtv Max, Jolli, Jinja and Lite Channel List and Price
GOtv Assigned Channel Number with Channel
GoTV Customer Service Contact, Social Media Handle & Email Address
StarTimes Customer Care Contact, Social Media Handle & Email Address
Top 5 Best Web Browsers for Android
Top 5 Best Music Player Apps for Android
Top 5 Best Alarm Clock Apps for Android
Top 5 Best eBook Reader Apps for iPhone and iPad
Top 4 Best VPN Apps for iPhone and iPad
Top 5 Best Apps for Monitoring Data on iPhone and iPad
Top 5 Best Translation Apps for iPhone and iPad
Top 5 Best Alarm Apps for iPhone and iPad
Top 5 Best Calendar Apps for iPhone and iPad
Top 5 Best Photo Editing Apps for iPhone and iPad
Hope with this, you have learnt How to Delete a Microsoft Account.
Please share and like below, also comment below for any problem faced or encountered.