How to Copy a Table from a PDF Document to a Word Document
Like you know, Microsoft Word lets you manipulate and process text among other document contents. Not only can you work with text, you can also format them in Word. Word also allows you to work with things like tables. While a docx. document can be edited, a PDF cannot be edited directly. You'll need to first convert the PDF document to an editable Word document. You can't copy and paste the content to get the best result; it will result in loss in formatting. So you want to first find a way to make your PDF editable and then copy the table to be edited in Word. In this post, we'll show you how.
Open PDF in Microsoft Word App
You can edit a table in a PDF by opening the said PDF in Microsoft Word. This can be done on the newer version of Microsoft Word. Follow the steps below to achieve this:
1. Right-click the PDF file to open up other options. Click Open with.
2. Click Word as your preferred app.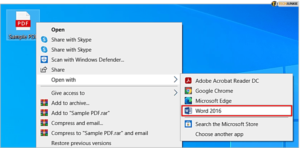 3. If you don't find Word in the drop-down menu, simply click  Choose Another App. Next, select Locate Another App on this PC and select the Microsoft Word EXE file.
4. This will prompt a new window that reads "Word Will Now Convert your PDF to an Editable Word Document…"
5. Hit OK. This would cause the PDF document to be opened in Word.
This steps will get the whole PDF converted but if you just want some portion of the document or a table, do this:
1. Click the move icon in the top-left corner. This will select the table.
2. After doing that, right-click on the table. Next, select Copy.
3. Navigate to the Word document where you want the table pasted.
4. Right-click on the document and hit Paste.
Use Acrobat Reader to Convert PDF to Word
With Acrobat Reader, you can view and edit PDF documents. Not only are these possible, you can also use it to convert PDF to Word document. First, you need to install it and then you can follow the steps below:
1. Locate and open the PDF document with Acrobat.
2. Click the File tab which you'll see at the top-left corner of the screen.
3. Select Convert to Word, Excel or PowerPoint. Click the Export to Word button next.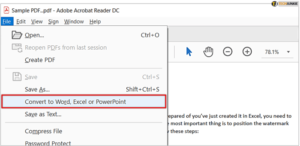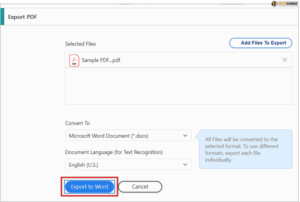 When the PDF document has been converted to a word document, you can use the steps above to copy or paste the table where you want it to be.
Convert a Document to PDF Using Word
You may want to do the exact opposite by converting a word document to PDF so we thought to share the process with you. Here's how to do that:
1. Open the document you wish to convert in Word.
2. Select the File tab and click Save As.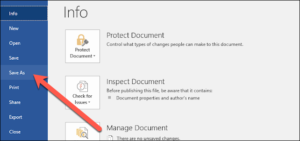 3. When the Save As screen opens, select your preferred location for saving the PDF.
4. Next, click the dropdown arrow close to Save As Type and choose "PDF (*.pdf)" from the options in the drop-down menu.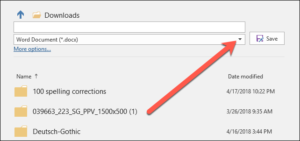 5. Specify a filename if you wish to and then hit the Save button.
This will cause the document to be saved in PDF format.
Rouding Up…
PDFs offers a great way to view document and transfer them easily, but what happens when you want to copy something like a table? You just have to convert the PDF. And as you can see from the article, it is not a difficult process. We hope you found this article helpful? Kindly leave a comment and don't forget to share.
You can also check out
How to Enable Dark Mode on Telegram
How to Download Music from Spotify
Best Keyboard Apps for Android
Top 5 Best Web Browsers for Android
Top 5 Best Music Player Apps for Android
Top 5 Best Alarm Clock Apps for Android
Top 5 Best eBook Reader Apps for iPhone and iPad
Top 4 Best VPN Apps for iPhone and iPad
Top 5 Best Apps for Monitoring Data on iPhone and iPad
Top 5 Best Translation Apps for iPhone and iPad
Top 5 Best Alarm Apps for iPhone and iPad
Top 5 Best Calendar Apps for iPhone and iPad
Top 5 Best Photo Editing Apps for iPhone and iPad
Hope with this, you have learnt How to Copy a Table from a PDF Document to a Word Document.
Please share and like below, also comment below for any problem faced or encountered.