How To Cancel Apple App Store Subscriptions
The Apple Store avails Apple users apps and services that make their devices more useful to them. So you want to learn a new language, learn to code or have access to play a game, you may just have to pay for a subscription to access these benefits.
Apple makes available to their users a convenient means of monthly billing which many users find useful. What about when you realise you no longer need to use a subscription-based app or service? You will want to cancel it right?
Due to the money-making model of many businesses, they offer services with recurring subscription attached. You might have even forgotten to cancel your free trial which has made you lose money for apps and services you didn't use.
With Apple controlling how you interact with subscriptions, you are not at a financial risk of being over-charged or getting your financial information stolen as you can cancel these subscriptions.
We discuss here how to cancel your iTunes or App Store Subscriptions.
Cancel iTunes & App Store Subscriptions
You can cancel subscriptions on Apple using two method. It is possible to do it with your iPhone or iPad as well as through iTunes on your computer. The two methods are explained below:
Cancel iTunes & App Store Subscriptions in iOS
iOS users can easily cancel subscriptions on their iPhone or iPad. Do this by the following:
1. Navigate to Settings > iTunes & App Stores.
2. Navigating to this place differs with different versions of iOS.
If you don't see the Subscriptions option under Payment & Shipping in Settings, then you have to go to iTunes & App Store on your iPhone.
3. Tap your Apple ID above on the page. Ensure you tap the Apple ID that is linked to the account that has the subscription if you have multiple ID.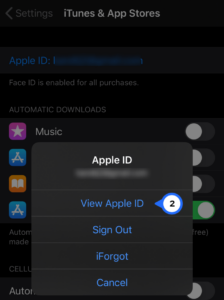 4. Select View Apple ID. You may have to use Touch ID, Face ID, or a passcode to authenticate.
5. Move down the screen and select Subscriptions.
6. Find and select the subscription you wish to cancel.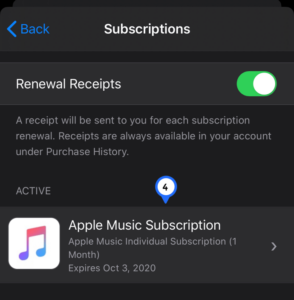 7. Hit Cancel Subscription
You will see the Cancel Subscription button down the subscription page.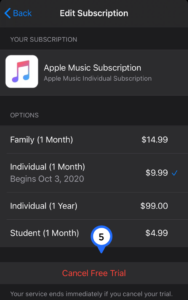 8. Tap Confirm to verify the cancellation process.
For recurring subscriptions that you have canceled, you will still find them in your Active list until the date they expire with their non-renewal nature. When the date has been reached, it will become inactive and you won't be charged again.
Cancel iTunes & App Store Subscriptions on iTunes
If you wish to cancel your Apple Store subscriptions on desktop, you can do that through iTunes. Windows and macOS users can do this on their machines. Run through the following steps to do this
1. Launch the iTunes program on your PC or Mac and ensure you are logged into your account. Do this by navigating from the menu bar to Account > View My Account. You will need to enter your iTunes password when prompted.
2. Look under Subscription and click Manage. You will find Subscription in the settings section where you'll find all your subscriptions. After that click the Manage button.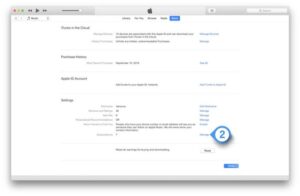 3. Locate the service you wish that cancel and click Edit.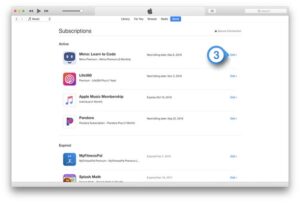 4. Click Cancel Subscription and confirm your action.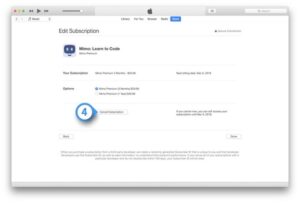 And that's it! You don't have to pay for what you're not using anymore. Get to the subscription page and cancel that subscription that's sapping your money. Free trials may be great but not until you found out that that $10 could be used for something else. We hope you found this post helpful. Please do comment and don't forget to share.
You can also check out
How to Check NIN on MTN, Glo, Airtel and 9mobile
DStv Subscription Package, Prices with Channels
Startimes Subscription Package, Prices, And Channel List For Each Plan
GOtv Subscription Package GOtv Max, Jolli, Jinja and Lite Channel List and Price
GOtv Assigned Channel Number with Channel
GoTV Customer Service Contact, Social Media Handle & Email Address
StarTimes Customer Care Contact, Social Media Handle & Email Address
Top 5 Best Web Browsers for Android
Top 5 Best Music Player Apps for Android
Top 5 Best Alarm Clock Apps for Android
Top 5 Best eBook Reader Apps for iPhone and iPad
Top 4 Best VPN Apps for iPhone and iPad
Top 5 Best Apps for Monitoring Data on iPhone and iPad
Top 5 Best Translation Apps for iPhone and iPad
Top 5 Best Alarm Apps for iPhone and iPad
Top 5 Best Calendar Apps for iPhone and iPad
Top 5 Best Photo Editing Apps for iPhone and iPad
Hope with this, you have learnt How To Cancel Apple App Store Subscriptions.
Please share and like below, also comment below for any problem faced or encountered.