5 Tips to Speed up Windows 10
Working on a slow PC can be frustrating. It can not only slow down your work but reduce your overall efficiency. Even if you have a PC that's slow and seems like you need to replace it, worry not! There are tips you can follow that will speed up your machine and make it better and faster. In this article, we reveal 5 ways to make your PC faster.
Tips to Make your PC Faster
1. Restart your PC
You may be one of those people that keep your computer running for weeks at a time. And Windows 10 will do the needful – make your PC sleep and still continue when you restart the machine from sleep. With time, your computer start to slow down if you do this. To fix this, ensure that you shut down your system when you are through with it. Be sure to save your work before doing this. If your computer is too slow to bring up the Windows menu, simply hold down the Power button until the system goes off.
2. Disable Startup programs
Enabling Fast Startup can make your PC slow to start. This is because when it boots, there are too many programs that will start to run. Here's how to fix it: Click the Startup tab. If you can't find the Startup tab, click More Details. From the Startup tab, check for the list of programs that run when your computer is turned on. If you discover a problem that shouldn't be starting up with Windows, right-click and click Disable.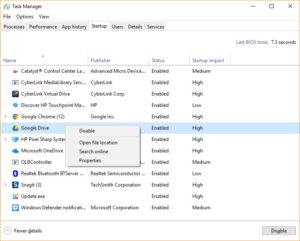 3. Clean Up Your Disk
To do this, click Disk Cleanup from the Start menu. Doing this launches a tool useful for deleting unwanted junks, offline web pages, installer files at once. The Recycle bin may also contain lots of files you don't need on your hard disk. This will work in improving speed mostly if your drive is almost full. You can also schedule disk defragmentation to take place regularly, using the Optimize Drives tool. Find this tool by searching for it in the Cortana search box.
4. Adjust your power options
There are several preset plans that helps your power needs. The default that Windows sets for you is Balanced, which uses performance and energy consumption as metrics to save power. You may consider the latter as important if your laptop is being powered by battery or you're trying not to spend much on electricity. Power Saver Plan being on won't help matters as it limits the performance of your machine to save energy.  It is better to use the High performance plan which uses more energy, but will get your machine sped up.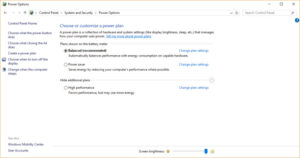 5. Check computer for malware
Your computer being slow may be due to malware. Malicious programs like viruses, adware, spyware, take up a lot of system resources like memory, processor and hard drive. Even with Windows 10 having Windows Defender Antivirus, your computer can still be infected. Running a full virus scan in Windows Defender can reveal the viruses in your system and delete them.
You can also check out
DStv Subscription Package, Prices with Channels
Startimes Subscription Package, Prices, And Channel List For Each Plan
GOtv Subscription Package GOtv Max, Jolli, Jinja and Lite Channel List and Price
GOtv Assigned Channel Number with Channel
GoTV Customer Service Contact, Social Media Handle & Email Address
StarTimes Customer Care Contact, Social Media Handle & Email Address
Top 5 Best Web Browsers for Android
Top 5 Best Music Player Apps for Android
Top 5 Best Alarm Clock Apps for Android
Top 5 Best eBook Reader Apps for iPhone and iPad
Top 4 Best VPN Apps for iPhone and iPad
Top 5 Best Apps for Monitoring Data on iPhone and iPad
Top 5 Best Translation Apps for iPhone and iPad
Top 5 Best Alarm Apps for iPhone and iPad
Top 5 Best Calendar Apps for iPhone and iPad
Top 5 Best Photo Editing Apps for iPhone and iPad
Hope with this, you have learnt 5 Tips to Speed up Windows 10.
Please share and like below, also comment below for any problem faced or encountered.