5 Best Android Apps for Monitoring Data
Data speeds have become better and so is data usage on the increase. With streaming sites like YouTube and sites that have heavy files for download, one can find himself or herself consuming more data that he or she wants. To avoid this, it is better to have a data monitor on your device. Here, we have the 5 best data monitor apps for Android.
Best Data Monitor Apps for Android
1. My Data Manager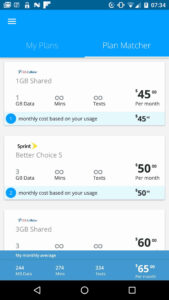 My Data Manager is a data monitor for Android. Though free, it still doesn't display ads. The app monitors mobile Wi-Fi and roaming data. All you need do is to enter your data limit, renewal period and renewal date, and the app will do the rest for you. After that, tap the summary tab and you'll get an overview of your data usage for mobile, Wi-Fi and roaming. This app tracker does more than just this; it also displays a list containing apps that are eating up your data, mobile or WiFi. With this you have a hint on how you use your data and adjust your usage accordingly. Another great thing about the app is that it lets you set alarm about your data usage. You can utilise this feature to be notified when you reach a specific limit in your data usage.
2. GlassWire Data Usage Monitor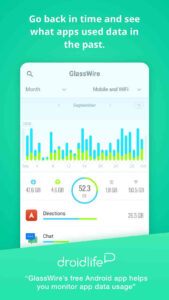 Glassware is one of the most popular apps that monitors data usage. You can use the app freely or purchase a premium plan. One great thing about the the app is that it sends you an alert whenever a app you just installed uses your data for the first time. With this alert, you can decide to either uninstall or restrict the app from using your data. There are also other interesting features bundled in the package such as notification bar which displays live updates of your data usage and furnishes you with details about your internet speed, daily, weekly, and monthly usage for both your mobile data and Wi-Fi. Another thing about the app is that it alerts you once you've reached your data usage limit.
3. Traffic Monitor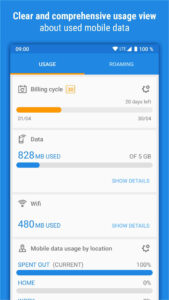 Traffic Monitor brings many features for your data usage needs. It is one of the best data monitoring apps on the Android market. Not only does it monitor your app's data usage, it also does speed test, supplies you with network info and check signal quality. With the speed test, you can know the speed and latency of your 3G, 4G and WiFi network. These details are categorised into upload, download and ping speed. The coverage map feature will tell you the network availability based on your current position. There's also a integrated task manager which displays all running apps and gives you the ability to close apps that are consuming memory.
4. Data Usage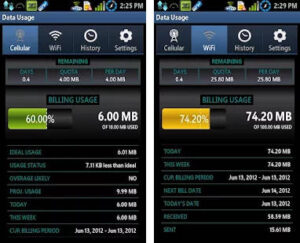 With Data Usage, you can get a great overview of how you use your data. The app seperates details for WiFi and Cellular, so that you can make changes where it is needed without having problems differentiating each of them. It is even possible to set limits on your cellular data usage so that you can be alerted when you are close to such limit. Though the user interface looks old, but its great features make up for it. The app can work on any kind of network as it's not restrictive as regards this. The app also has a dedicated widget that will keep you updated on your current data usage.
5. Datally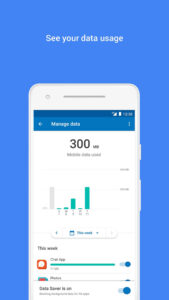 Datally is one of the most downloaded data usage monitor apps for Android. This is not surprising due to the fact that it is from Google. Though Datally was made primarily to save your mobile data, it is also built with a data usage monitor. The data monitor feature gives you details about the usage by individual apps, and the usage trend over time. There are a few outstanding features in Datally like the bedtime mode which will automatically turn off your data at night. There's also a data saver in Datally, which blocks the background data for all or some specific apps you've chosen, so that you can conserve data.
You can also check out
How to Download YouTube Playlist using a Download Manager
View Milliseconds in VLC Media Player
How to Download Facebook Video using a Download Manager
How to Unlock Your Android Device if your Forgot the Password
How to check BVN on MTN, Glo, Airtel and 9mobile
How to Download Facebook Private Video using a Download Manager
Hope with this, you have learnt the 5 Best Android Apps for Monitoring Data.
Please share and like below, also comment below for any problem faced or encountered.