How to See Which Apps are Using the Most RAM on your PC
You could find your PC very sluggish which is never the usual thing you encounter and wonder what's wrong. Trying to open more programs ends up futile and the machine isn't responding. What is happening is that you have used up your RAM working memory and the computer has moved to using its virtual memory. When this happens, it is important to know which programs are using most of your memory. By using Windows Task Manager, you can identify these programs and do justice to their annoying nature.
1. On your keyboard, press Ctrl+Shift+Esc. Doing this will launch the Windows Task Manager. You  can also access this program by right-clicking the Windows taskbar and selecting Start Task Manager from the menu that shows up.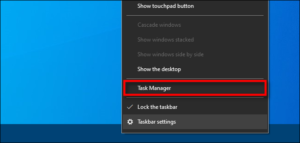 2. Locate the Processes tab and click it. This tab will show you all the processes currently being run on your machine.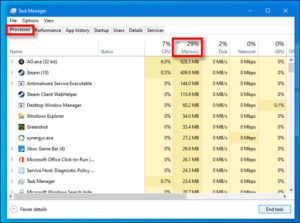 3.  Click the Memory column header until an arrow shows which will sort the processes by the amount of memory each is taking up. The processes eating up the largest memory will be displayed up, while the smallest are shown down.
4. Click Show Processes From All Users to bring up the processes that may be running on other user accounts. If your prompted, enter an administrator password.
5. Locate the process entry in the Description column. Checking through this column will reveal what the process does. You should note that you may not be able to identify some processes because their names are not easy to understand. For instance, Smss.exe represents Windows Session Manager.
6. If you can't identify the process easily and you really want to know what it is used for. Select "Go To Services (s) from the drop-down menu. You'll see the process with which it is associated with.
7. If you don't see any service listed, then that particular process doesn't have any service associated with it.
8. You can see more information about the process by right-clicking a process and selecting Properties. When the Properties dialog box opens up, click the Details tab and you'll see additional information.
Now That You've Seen Processes Using Your RAM
Once you're on the Window where the program processes are, it's a good idea to check for apps that might be significantly sapping memory. This page can make you identify suspicious programs. What you term "suspicious" depends on how you normally do your machine. If you're into video editing and running 4K video projects is what you typically do frequently, it may not be surprising to find those processes taking up large amount of memory.
But in a case where you a process is using the memory and is unrecognisable, you can exit the program using the normal way, or you might even consider killing the process. To kill a process locate the process, and select it from the Task Manager and hit End Task. This can even apply to memory-hogging application that doesn't respond.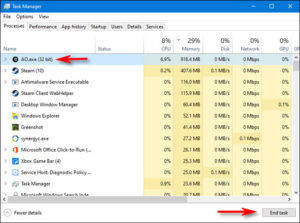 After that, this particular program will close. If it doesn't, try restarting your system.
If you continue to have issues with running out of memory, you may consider upgrading by adding more RAM to your PC.
You can also check out
DStv Subscription Package, Prices with Channels
Startimes Subscription Package, Prices, And Channel List For Each Plan
GOtv Subscription Package GOtv Max, Jolli, Jinja and Lite Channel List and Price
GOtv Assigned Channel Number with Channel
Top 5 Best Web Browsers for Android
Top 5 Best Music Player Apps for Android
Top 5 Best Alarm Clock Apps for Android
Top 5 Best eBook Reader Apps for iPhone and iPad
Top 4 Best VPN Apps for iPhone and iPad
Top 5 Best Apps for Monitoring Data on iPhone and iPad
Top 5 Best Translation Apps for iPhone and iPad
Top 5 Best Alarm Apps for iPhone and iPad
Top 5 Best Calendar Apps for iPhone and iPad
Top 5 Best Photo Editing Apps for iPhone and iPad
Hope with this, you have learnt How to See Which Apps are Using the Most RAM on your PC.
Please share and like below, also comment below for any problem faced or encountered.