How to Run Diagnostic Tests on your iPhone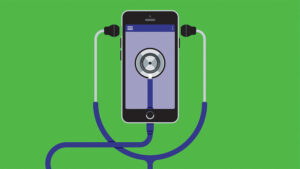 You want to know if your iPhone is in good health? You want to know the state of the hardware of your iOS device? Then the tools we've listed below can help you find out how if your iPhone is in a perfect state or not. These diagnostic tools can be useful if your iPhone is posing some problems or you just got a second-hand iPhone.
Using TestM to Run Diagnostic Tests on iPhone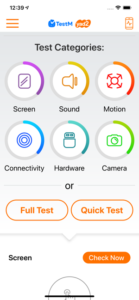 With TestM, you can run test that checks your sound, camera, connectivity, screen, and other features. It allows you to run a full test, which tells you the position of the supported features. There's the quick test feature which just checks a few main components. You can also use TestM to run test on a group of components, like your connectivity or camera. The diagnostic app also lets you test just a single feature. Many of the tests involves you interacting with your phone, like listening to audio or touching a specified area of the screen. After the test is completed, you are given a status report which lets you know if there are any issues with your iPhone. There are also sharing options in TestM that allows you to share the report via messaging, email or other services. TestM is not ad-free so you'll have to endure the ads, which is a downside.
Launch the app on your iPhone and exit from the introductory screen by swiping. The app also needs some permission to be granted so that it can work properly. Some buttons would have to tapped to be able to get you to the main screen where you'll see the Quick Test or Full Test options. To start the Quick Test, tap the Quick Test button. Tap Begin and this would start the first test which involves your screen and front camera. The second test is about the earpiece where you're asked to listen to three numbers and then type them on the keyboard. The third test does a check on high-frequency sounds.
The Full Test checks more features than the Quick Test. In the Full Test mode, 20 different diagnostics are conducted, involving your Bluetooth, Wi-Fi, cellular, light sensor, camera, accelerometer, charger, touch screen, your microphone, and more
When the tests have completed, swipe down the screen. This will take you to a screen having a button Create My TestM Report; tap this button. The report will reveal the general state of your phone. To see a detailed and more specific position of each components, tap the Test Results arrow. Each components are given a grade of either green, red or unchecked status. A green grade shows that the component works well, a red grade shows that there's a problem, while Unchecked status tells you that component wasn't checked.
Using Phone Diagnostics to Run Diagnostic Tests on iPhone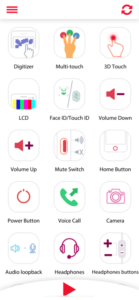 Phone Diagnostics works on iPhone to provide tests that can be run to check the performance of various aspect of your iPhone. With the app, you will be able to check the speaker, microphone, Wi-Fi, touch screen, camera, flash, cellular access, sensors multi-touch capabilities, and other components. Start the test by tapping the button for the test you want to run. You can also use the Play button to run all test one after the other.
The multi-touch test prompts you to place three fingers on the iPhone's screen. Taking the motion test involves that you move your phone around. The video recording test uses the rear camera to shoot a quick video, while the camera test takes photos via the front and rear cameras. The GPS test makes a verification of your location on a map. The test app doesn't give any results or report, but you can tell the test outcome from the colours of the test button. Every successful test makes the button green, while a failed one makes it red.
You can also check out
How to Download YouTube Playlist using a Download Manager
View Milliseconds in VLC Media Player
How to Download Facebook Video using a Download Manager
How to Unlock Your Android Device if your Forgot the Password
How to check BVN on MTN, Glo, Airtel and 9mobile
How to Download Facebook Private Video using a Download Manager
Hope with this, you have learnt How to Run Diagnostic Tests on your iPhone.
Please share and like below, also comment below for any problem faced or encountered.