How To Factory Reset Your Chromebook
Factory resetting your Chromebook may be necessary due to different reasons. Maybe it has become so slow, or it has some issues to be fixed or you want to give it out and you need your data off it. Which ever way, this guide provides you with steps to help you factory reset your device.
Factory resetting a Chromebook is very easy to do. Your Google Account is associated with your chrome book which makes it easy to do backup and the then further reset the device. What this also means is that you can easily restore your apps, files and folders to any Chromebook, thanks to your Google Account.
The steps below will help you backup and factory reset your Chromebook.
BackUp Your Chromebook
Starting the process involves you backing up your data so that you don't lose important files.
The Chromebook is based on Chrome OS, which is a derivative of Linux. The Chromebook was designed not to store up large amount of data. Since Google Drive is the main place for storage, there isn't much to back up.
However, you may have some local document stored on it that you don't want to lose forever, so it's important to back them up.
Tap the small circle icon which you'll see in the lower-left hand corner of the desktop screen. You can also press the Search button on your keyboard.
The Chromebook launcher will come up from where you can open your file browser. You can launch the file browser either from the recent applications if it is there or finding it in the All Apps menu.
The Files app will open showing you your files. And folders. The left side of the browser has several menus with your Downloads folder and Google Drive account included.
You can backup files in two ways:
1. Google Drive: Files that you upload to your Google Drive will appear on any device that has your Google Account signed into.
2. Storage Devices like an HDD: You can also transfer files and folders in the Files App into a USB disk or an Hard Disk Drive.
Factory Reset a Chromebook Via HotKeys
This is an quick way to reset your Chromebook and especially if you can't access your Chromebook's settings.
1. Sign out of Chromebook by navigating to the system information panel and hitting Sign Out.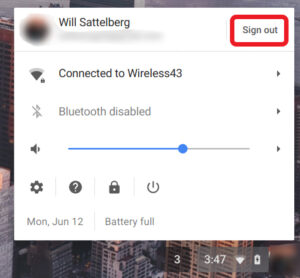 2. After signing out of your account, press and hold Ctrl+Alt+Shift+R. This will prompt a screen to open with a message that reads "Reset this Chrome device". With this message are some explanation which is known as Powerwashing.
Powerwashing means factory resetting your device which is what we want. Click the Powerwash button, or if prompted click the Restart button and after that, click the Powerwash button.
The reset process will now begin. You may then be asked to confirm you action. Do this and the reset will be done.
Reset Your Chromebook from Settings
The settings menu also has the factory reset option from where you can perform the action.
1. Tap the system information panel, but don't sign out, instead click the settings gear icon which will bring up the Settings menu.
2. Move down the screen to the bottom and select Advanced.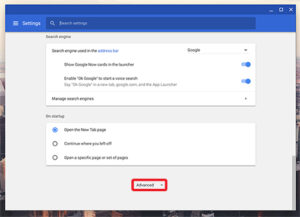 3. Go down to the bottom, and locate the reset options. There are two reset options there:
Reset: Which will return your settings to default but won't delete your data.
Powerwash (factory reset): Doing this will delete all your accounts, files and apps from your Chromebook.
Locate the powerwash setting by navigating that menu that takes you where you will reboot your Chromebook as we discussed in the hotkey method.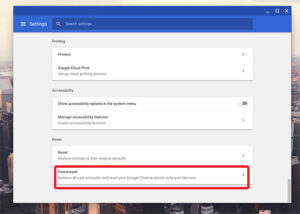 After rebooting, you will be taken back to the powerwash screen. Click Powerwash and confirm you action and your Chromebook will be factory resetted.
Due to Google being tied to the Chromebook, it very easy to back up files on the device. It is even more simpler than what is obtainable on PC and Mac. Most people tend to store more files on their PC or Mac making it take longer time to back up. Factory resetting is necessary for different purposes and this guide will be helpful to serve them. We hope you found this guide helpful. Kindly leave a comment and don't forget to share.
You can also check out
How to Check NIN on MTN, Glo, Airtel and 9mobile
DStv Subscription Package, Prices with Channels
Startimes Subscription Package, Prices, And Channel List For Each Plan
GOtv Subscription Package GOtv Max, Jolli, Jinja and Lite Channel List and Price
GOtv Assigned Channel Number with Channel
GoTV Customer Service Contact, Social Media Handle & Email Address
StarTimes Customer Care Contact, Social Media Handle & Email Address
Top 5 Best Web Browsers for Android
Top 5 Best Music Player Apps for Android
Top 5 Best Alarm Clock Apps for Android
Top 5 Best eBook Reader Apps for iPhone and iPad
Top 4 Best VPN Apps for iPhone and iPad
Top 5 Best Apps for Monitoring Data on iPhone and iPad
Top 5 Best Translation Apps for iPhone and iPad
Top 5 Best Alarm Apps for iPhone and iPad
Top 5 Best Calendar Apps for iPhone and iPad
Top 5 Best Photo Editing Apps for iPhone and iPad
Hope with this, you have learnt How To Factory Reset Your Chromebook.
Please share and like below, also comment below for any problem faced or encountered.