5 Best Radio Apps for iPhone and iPad
Most people enjoy music from Apple Music or Spotify. These music platforms have risen in popularity over the years. Still, radio hasn't been displaced, instead the internet has pushed it further. With your iPhone and the internet, you can listen to music and various radio show on radio apps. This post contains the best radio apps for iPhone.
Best Radio Apps for iOS and iPadOS
1. TuneIn Radio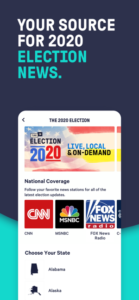 With TuneIn Radio, your iPhone gets loaded with over 100,000 radio stations that can be played anywhere. TuneIn also boasts of millions of podcasts and on-demand programs you can listen to at work or in a bus. You can use your iPhone to listen to radio contents or even connect it with your car and enjoy your ride. Searching for content is a function that's excellent on TuneIn. The app allows you to easily search for new stations, shows and podcasts. TuneIn will even allow you to bookmark those stations so that you can keep track of them. TuneIn does work with virtual assistant Siri letting you control things with voice commands.
2. iHeartRadio
iHeartRadio is a free to use and download radio app that works in many part of the world. It's has a well-designed interface that is easy to use and allows you to have access to both radio stations and podcasts. iHeartRadio will suggest local radio stations according to your present location. You have options to choose from artist radio, live radio stations and more from the home page screen. There are various music genres to choose from, or you can listen to top hits. If you're have a favourite radio artists, you can know more about them and follow them with the app helping you track when they have new releases.
3. RadioApp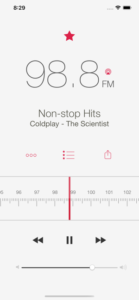 RadioApp works like the old-school radio dial. With RadioApp, you have that feel on your iPhone. Once launched, the app will detect radio stations within your location. This is done automatically. You can employ the slider to tune to the station you want to listen to. The app is loaded with 40,000 stations from around the world. If you want to search for a specific station, do this by pulling down from the main tuner screen. Use Siri functionality to start playing a station with your voice. You can wake up to a specific station by setting an alarm that will do this for you. You also have a timer available. RadioApp works with iCloud to enable you sync your listening activities to another iOS device.
4. Radio.com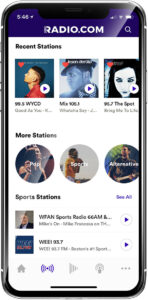 Radio.com will help your get various radio contents spanning music, talk radio or podcasts. Radio.com will give you access to radio stuffs anytime, and anywhere you are. For it to work, you need to connect to the internet via cellular connection or WiFi connection. Radio.com works and behaves like TuneIn Radio and gives you the ability to stream over 300 radio stations and 1,100 podcasts. You can always get new and fresh content as they are being added daily. Sport lovers will find Radio.com useful because it gives you commentary in the sports-style. It is easy to search for and access stations for NFL, NHL, MLB, and NBA.
5. MyTuner Radio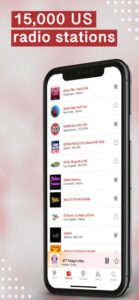 Another useful app for listening to radio is the MyTuner Radio app. The app hosts over 50,000 stations from different parts of the world. There are also various podcasts available and ranking to help you see the most popular ones. MyTuner Radio allows you to search for a specific station or do the search by location of genre. After you found the stations you love, you can add to the favorites list so that you can access them easily. An highlight of the radio app is that it grants you that ability to view recently played songs on many stations. You can also create playlists and listen to songs on Apple Music and Spotify. You can extend the app to work in your car and not only your iPhone only. The app works on CarPlay alongside iPad, Apple Watch and Apple TV.
You can also check out
Top 5 Best Music Player for iPhone and iPad
Top 5 Best eBook Reader Apps for iPhone and iPad
Top 4 Best VPN Apps for iPhone and iPad
Top 5 Best Apps for Monitoring Data on iPhone and iPad
Top 5 Best Translation Apps for iPhone and iPad
Top 5 Best Alarm Apps for iPhone and iPad
Top 5 Best Calendar Apps for iPhone and iPad
Top 5 Best Photo Editing Apps for iPhone and iPad
Hope with this, you have learnt the 5 Best Radio Apps for iPhone and iPad.
Please share and like below, also comment below for any problem faced or encountered.