4 Best TV Remote Control Apps for iOS
There's probably an app for almost everything now and more are coming. Have you ever considered being able to switch shows on your TV with your iPhone? Sounds interesting right? Well, it is possible.
With your iPhone, you can send signals to an IR receiver, and it is transmitted to your TV in a way it would understand. Here is a roundup of the best remote control apps for iPhone.
Best TV Remote Control Apps for iOS
1. Unified TV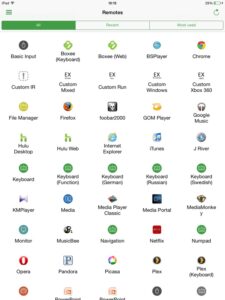 A great choice to make when it comes to TV remote apps is the Unified TV remote control app. The app can work with a wide range of devices and manufacturers. It supports devices such as TVs from major brands, satellite boxes, and cable boxes. Some game consoles can also be controlled with the app like the Xbox One and PlayStation 4. Another device that the app works with are streaming devices including Nvidia Shield, Apple TV, and Roku. You can also use it to control projectors from Canon, BenQ, InFocus, Dell, and so on. A good number of features are bundled with the app including widget support, NFC support, and Click and Tasker integration. Unified TV can only work when your device is IR blaster-powered, but if it isn't like that in the case of an iPhone, you'll need to get an external IR Blaster device.
2. Anymote Universal Remote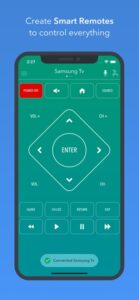 If you own a IR blaster-enabled device, such as an older smartphone like the Samsung Galaxy S6, or HTC One, then you can use Anymote to control your TV. Unfortunately for iOS users, there isn't an IR blaster built-in. So you would have to buy an external IR Blaster device. With the app, it is possible to transform your smartphone to a remote control. You'll be able to control a wide range of appliances, such as TVs, DVD players, or any other device that works with IR commands. There are cool features bundled in the app including the capability to create custom remotes that host a number of commands from various devices. It also gives you the ability to create custom macros. It can also works as a Wi-Fi remote to control various devices and apps including VLC, and Sonos Speakers.
3. Apple TV Remote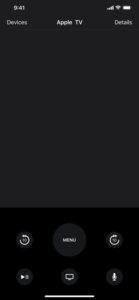 For your Apple TV, you can have it controlled from your iPhone through the official app made for it – Apple TV Remote. The app lets you use touch gestures and text input on your iPhone's keyboard. It comes bundled with support for Siri, on-screen song lyrics for music, and even a Game Mode. The app also works with your iPhone's accelerometer and gyroscope, which will collect useful data for Apple TV games and other apps.
4. SURE – Smart Home and TV Universal Remote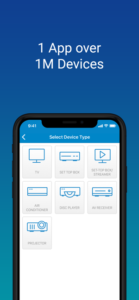 With SURE, you can have your phone control your TV so far it has an built-in IR blaster. If your phone doesn't have this, the. A WiFi-to-IR convertor will come in handy. With a phone that has the IR capabilities, the app will help you control your smart TV, smart lights, media streamer, air conditioner and more. You have at your disposal the voicemail control functionality, a built-in media player, and you can stream media from your phone to TV.
You can also check out
Top 5 Best Music Player for iPhone and iPad
Top 5 Best eBook Reader Apps for iPhone and iPad
Top 4 Best VPN Apps for iPhone and iPad
Top 5 Best Apps for Monitoring Data on iPhone and iPad
Top 5 Best Translation Apps for iPhone and iPad
Top 5 Best Alarm Apps for iPhone and iPad
Top 5 Best Calendar Apps for iPhone and iPad
Top 5 Best Photo Editing Apps for iPhone and iPad
Hope with this, you have learnt the Best TV Remote Control Apps for iOS.
Please share and like below, also comment below for any problem faced or encountered.