5 Best Video Editing Apps for iPhone and iPad
Smartphones are increasingly becoming powerful, capable of handling highly intensive tasks. The latest iPhone is one smartphone with powerful qualities. From its powerful Bionic A13 chip to its camera which is capable of shooting 4K video, it is rivaling some desktop computers. It is not only possible to shoot videos with an iPhone, you can also edit videos on them. This post reveals the 5 best video editor apps for iPhone and iPad.
Best Video Editing Apps for iPhone and iPad
1. LumaFusion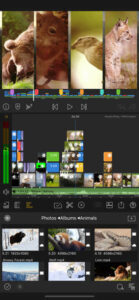 LumaFusion is a feature-rich video editor for iPhone. It has robust set of features that enables you to edit videos on a professional level. YouTubers not only use the app, it is also used by mobile journalists and professional video producer who need something powerful and do not want to carry an editing rig with them. One of the highlights of the app is its UI. It is a neatly designed app and you won't find annoying ads in it. In LumaFusion, you can edit videos in landscape and even portrait mode. Switching between both modes isn't difficult too and this is really useful when you have to work with various videos having different aspects ratios. You can edit up to 6 video and audio tracks for videos, audio, photos,  titles and graphics and another 6 audio tracks for music, narration and sound effects.
2. iMovie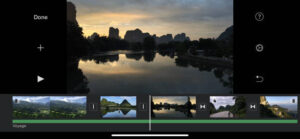 iMovie is Apple own's video editing apps and it comes built-in Apple devices. While it is not as powerful as Luma Fusion, it packs a neat, and intuitive interface that will enable you to easily edit footage, add music, narrations and photos. The app which was launched in 2010 has its latest version supporting 4k on iPhone 6s, iPhone 6s Plus, iPad Air 2, iPad Pro, and later devices. iMovie allows you to export your videos to iCloud storage, and stream them to an Apple TV through Airplay. The app does integrates well with Apple Photos, Messages, and Mail. While it may not be suited for professional editing, its straightforward nature will help anyone who wants to edit a video do so quickly without much stress.
3. Videorama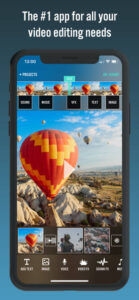 Next on the list is Videorama, a solid video editor. Upon launching the app, you are presented with three different video orientation options: landscape, portrait, or square. The square size is the best for Instagram. One of the best features of Videorama is that it allows you to download free videos and photos from Pixabay. The app also lets you download and use video effects, copyright-free music and sound effects. The editing timeline has on it various editing tools, including tools for adding  text, photos, filters, and music. The video slider which is positioned at the top houses four more tools. The tools allow you to edit a clip, duplicate it, delete it, and add transition effects. The free version of Videorama is limited as it only allows you to create short 720p video with a watermark on it. You can pay for the premium version to have access to all the pro features.
4. Videoshop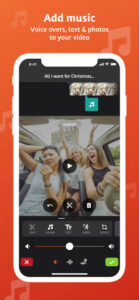 If your iPhone is of an older model, and you want a app similar to iMovie, without the price, you can choose Videoshop. The app is powerful and once you get used to the interface, the possibilities are limitless. Videoshop lets you record videos directly from the app, or you can import any video from your camera roll. Once you have the files in the app ready for edit, you can cut them into multiple clips, add narration and text, merge clips, and more. Once you're done with your compilations, you can add filters and themes from the app, and give the video a title before exporting. Just like iMovie allows you to do, you can export your video to Photos, Dropbox or share it to a social platform like YouTube or Instagram.
5. Splice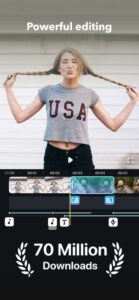 Splice is from GoPro, makers of the best action cameras. With the app, you can import photos and videos, to edit and make them into a movie. The app works in a simple way, letting you import videos, edit them, and marking the important parts. After importing the video, you can add music and then the app clips the entire video in accordance to the markings you made. After this, you can crop, add text and effect to the video. You can also add transitions between various parts of the video. The app allows you to share your video after you're done editing. You can share to video platform like YouTube or social media like Facebook and Instagram. Splice will let you save videos to your camera roll too.
You can also check out
Top 5 Best Music Player for iPhone and iPad
Top 5 Best eBook Reader Apps for iPhone and iPad
Top 4 Best VPN Apps for iPhone and iPad
Top 5 Best Apps for Monitoring Data on iPhone and iPad
Top 5 Best Translation Apps for iPhone and iPad
Top 5 Best Alarm Apps for iPhone and iPad
Top 5 Best Calendar Apps for iPhone and iPad
Top 5 Best Photo Editing Apps for iPhone and iPad
Hope with this, you have learnt the 5 Best Video Editing Apps for iPhone and iPad.
Please share and like below, also comment below for any problem faced or encountered.