How to Create a Bootable USB Drive for Installing Windows 10
Do you know you can install Windows 10 on a computer with a USB flash drive? Maybe you don't have an idea, but hang on, we're here to help. With Microsoft rolling in improvements to the Windows 10 operating system, it's a cool thing to have it on your laptop or desktop. The good thing is that you can use that spare USB flash disk to do a clean install of Windows 10 and still keep that flash disk to future installation purposes. Here's what you need to know about creating a bootable USB drive…
Using Windows Media Creation Tool
Before you begin, ensure that your USB flash stick is formatted and that it is at least 8GB in size. If you're set and ready to install Windows 10, you can use any of the several methods that exist. But one of the easiest method is using the Windows 10 Media Creation Tool.
1. Get this to your computer by heading to the Microsoft Download Windows 10 page and click Download Tool Now.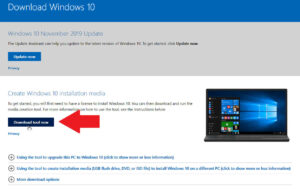 2. Download and save the tool to your PC. The file size of the tool is about 20MB, so is shouldn't take long to download.
3. After it has been downloaded, launch the Media Creation tool and click Accept when you are prompted.
4. Two options will be available to choose. Choose Select Create Installation Media for another PC and click Next .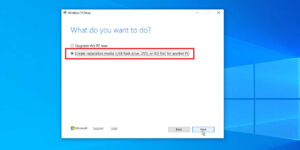 5. Select a language, Windows 10 Edition and system Architecture. If you find that these setting cannot be changed, simply clear the checkbox marked Use the Recommended Options for this PC. Click Next again.
6. Select USB flash drive, then Next. After that, choose the USB flash drive you want the installer in.
7. Hit Next to start the downloading of Windows 10 installation files.
Wait for the files to be downloaded and the bootable USB Windows 10 installer to be created. The time taken for download will depend on how fast your internet speed is. A large file size will be downloaded, so take this into consideration. After it has been downloaded and the Windows 10 media created, you can use your bootable flash stick to install Windows 10.
It you have a device that doesn't support the Windows 10 media creation tool – like macOS or Ubuntu, you can still get the Installation files to your computer. Just visiting the Download Windows 10 Disc Image page and then use any of the Windows 10 image tools like Rufus or WinToUSB to create a bootable disk.
Using Rufus
1. Download and install Rufus tool from its website.
2. Launch the software.
3. Navigate to the Drive Properties window, select your preferred USB drive in the Device field.
4. Locate the Boot selection field and click the Select button beside the Boot selection field to select your Windown 10 ISO file. The ISO file is the installation file you downloaded from the Windows 10 Disc Image page from Microsoft.
5. Change the Image option field to Windows to Go. You can also decide to change the Volume label to something like Windows 10.
6. Hit the Start button.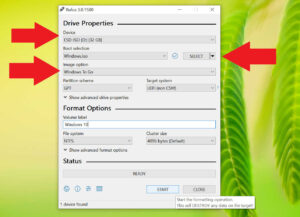 7. On the next screen, select the Windows version you want fo be installed on your USB stick and click OK. You'll get a prompt alerting you that Rufus will clear all the data on your USB drive. Click OK to continue.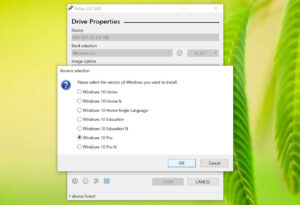 8. Rufus will then load the files into the USB disk and you will have a bootable USB drive.
Installing Windows 10 on a Computer via USB disk
After your bootable disk has been created, everything you need to do after to install Windows 10 is fairly straightforward.
1. Firstly, insert your flash disk into a USB port on the computer you want Windows 10 to be installed to.
2. Restart your computer while the USB drive is inserted.
3. When your computer manufacturer's logo shows, press F12 or F2 (depending on your manufacturer).
4. Your computer will prompt you to boot from various disk options. Normally, it would boot from where Windows was previously installed but now you'll need to boot from the USB drive. Boot from USB and hit enter.
From here, continue the install procedure and Windows 10 will be installed on your computer.
You can also check out
Top 5 Best Web Browsers for Android
Top 5 Best Music Player Apps for Android
Top 5 Best Alarm Clock Apps for Android
Top 5 Best eBook Reader Apps for iPhone and iPad
Top 4 Best VPN Apps for iPhone and iPad
Top 5 Best Apps for Monitoring Data on iPhone and iPad
Top 5 Best Translation Apps for iPhone and iPad
Top 5 Best Alarm Apps for iPhone and iPad
Top 5 Best Calendar Apps for iPhone and iPad
Top 5 Best Photo Editing Apps for iPhone and iPad
Hope with this, you have learnt How to Create a Bootable USB Drive for Installing Windows 10.
Please share and like below, also comment below for any problem faced or encountered.